Let's admit it – online data privacy is becoming a major issue in our lives.
In recent years, several large, multinational corporations have been feeling the heat as people are becoming increasingly aware of the potential of privacy breaches online. Yet, when running a business, you cannot do away with data – in fact, you need to embrace it wholeheartedly.
Thankfully, you can collect, vet, and store data yourself – this is called first-party data.
As people become more averse to the concept of third-party data and browsers get rid of cookies, first-party data has started proving itself to be an excellent source for gaining insights about your target audience without violating their privacy.
With first-party data, you can collect relevant and contextual information that furthers your business goals and ditch the cookie-cutter (pun intended) approach associated with third-party data. When utilized wisely, first-party data can be an invaluable asset that raises your bottom line to the next level.
Key Takeaways:
First-party data is more useful than second-party and third-party data in understanding your audience.
The more control you have over the data you gather, the better you can use it.
Better sales-marketing alignment and improved customer experience are just two side benefits of using first-party data, the primary one being revenue growth.
What Is First-Party Data?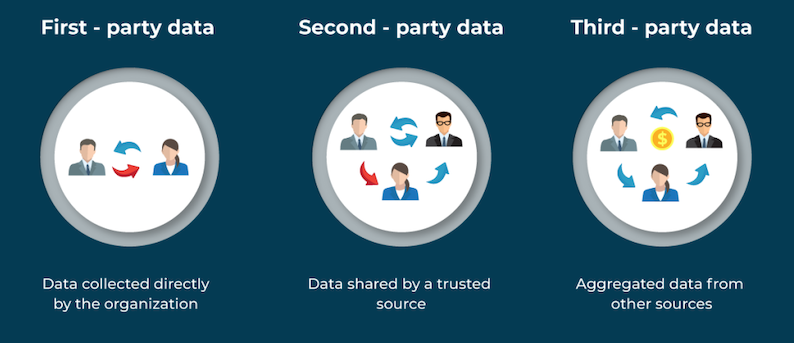 Source: WordStream
The modern market runs on data — it is everywhere and forms the foundation of selling. But the question is, what is the need for all this data?
You need data to find out where your target audience is, how to best reach them, and bring them into your funnel. Then, once their interest is piqued, you need data to communicate with them effectively – to qualify and nurture your leads and eventually convert them. Even after the sale is made, you still need data to keep track of how they're using your product so that you can cross-sell and upsell as the need arises.
In essence, your business can't survive without data in the world we live in.
Data is divided into three types based on how it is collected:
First-party data

is what your team collects through its own efforts. This is the data you collect directly from your target audience through email signups, website visits, social media interactions, lead magnets, or more.

Second-party data

is what you get from a vendor or a partner. Essentially, it is someone else's first-party data that you're allowed to collect directly from another company's audience or get as it is. Two or more organizations might also join hands to swap data and share insights.

Third-party data

is data bought from market research companies or data aggregators that gather data through various online and offline channels. Third-party data is the most common of the three. The same set of information is sold to anyone who purchases it – it isn't customized for your use, and it's up to you to mine it for insights.
Out of these three types of data, 92% of leading marketers believe that using first-party data to build an understanding of their target audience is critical to business growth. There's no doubt that first-party data is more valuable than the other two types.
But how do you achieve this growth? What are some specific areas in which you can leverage first-party data?
Advantages of Using First-Party Data
With the explosion of digital channels, connecting with your target audience and leads has never been easier. But this also means that their privacy can be violated just as effortlessly too.
Salesforce's State of the Connected Customer report showed that 46% of internet users feel that they are losing control over their data. Third-party data might alienate consumers as it isn't easy to personalize its application. So here's how to leverage your first-party data: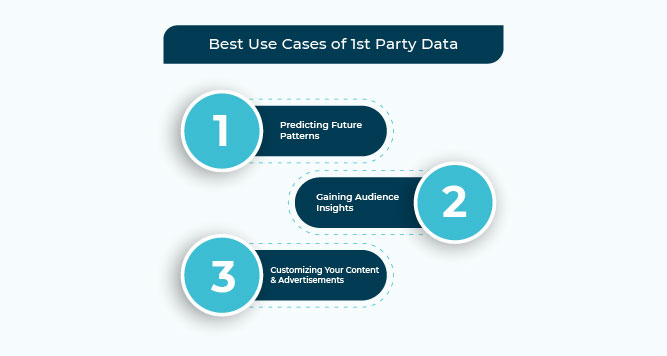 Source: AudiencePlay
1. Stricter Privacy Compliance
45% of all internet users in North America use ad blockers. With time, this number will only increase.
As the ethical debate surrounding third-party data usage rages on, governments have been forced to develop regulations such as GDPR, CCPA, and LGPD, imposing restrictions on third-party data usage through strict guidelines.
Permission-based first-party data, therefore, is the need of the hour.
This is where the concept of "consent" comes in. All data protection rules and guidelines stipulate the need for consent when using individuals' data.
With first-party data, obtaining consent is simpler. Since your audience and/or leads have already engaged with you, they willingly give you your data and trust you to use it wisely and personalize solutions for them.
2. Lower Cost of Data Collection
A significant factor that sets first-party data apart is the costs surrounding it.
With third-party data, you need to purchase your data stack from a data aggregator. The costs depend on the nature of the data you are purchasing, the market value of that data to you, the amount of data you are looking for, and the level of quality you need.
Further, there is the cost of importing the data into your processes, integrating it into your marketing and sales tech stack, and ultimately formatting it in a way your sales team can use.
Comparatively, first-party data is virtually free.  You probably already have the tools to collect it (such as email automation software). You know the exact format in which you want the data, so sorting, organizing, and formatting the data is simpler if you've invested in the right Customer Data Platform (CDP). Plus, you can accurately estimate the time and effort involved in using it.
Even better, a lot of first-party data might be available to you free of cost right now! All historical sales and customer data that you've amassed also counts as first-party data – so you already have a small database of first-party data that you can run with right now.
Granted, the process of planning what data to collect, how to collect it, and actually collecting and storing it is certainly more time-consuming. However, given that you end up with relevant and personalized data, the accuracy and reliability save you a lot of costs down the line.
3. Superior Data Quality & Accuracy
When you're buying data from someone, you never know how accurately it was collected.
Moreover, as data is passed from one company to another, it is bound to get distorted (or at least a bit less understood) to a certain degree. With first-party data, you define the exact methods of collection, storage, and application. Plus, you get it directly from the horse's (consumer's) mouth. So, as long as you employ scientific methods of data collection and do your due diligence, you can count on your data to be correct.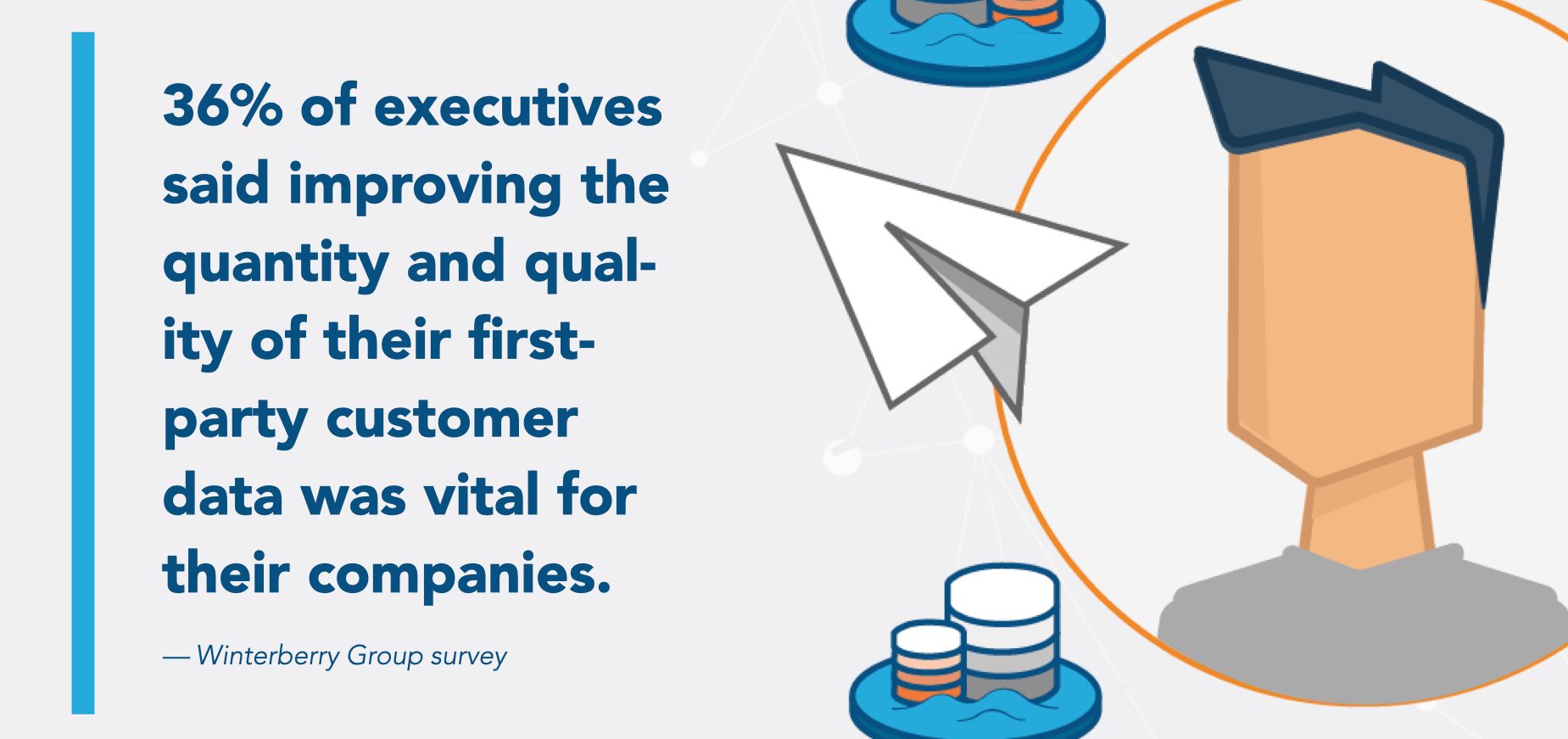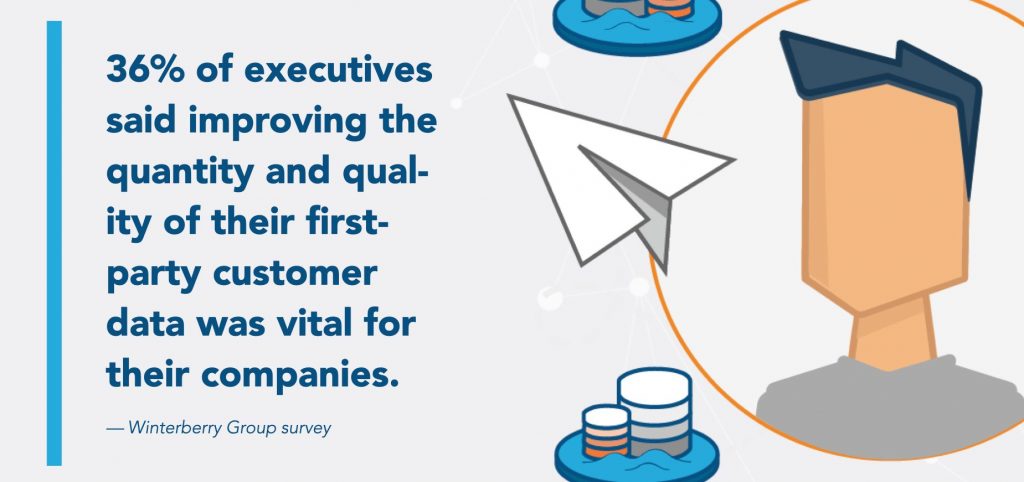 Source: Blue Conic
The elimination of middlemen also means more interactions with your audience or leads at multiple touchpoints. This serves to provide additional indirect data to you in the form of behavioral patterns and preferences.
4. Closer Sales-Marketing Alignment
Marketing teams can fuse all this information together and build a more reliable and validated lead database. Further, they can score leads more accurately, resulting in more and better Marketing Qualified Leads (MQLs). The sales team has more confidence in the reliability of this data. Reps spend less time validating MQLs, giving them more Sales Accepted Leads (SALs) to work with.
It's worth revisiting that when you are collecting first-party data, you're doing it completely your way. From the methods and channels of collection to the approach, to the exact data fields – it's all under your control. If your goal is to close the loop on each and every lead, if you're looking for consistent brand messaging to each customer, all the way from a digital marketing channel to a physical dealership where they walk in, then consistency of data becomes all the more important.
Lastly, since you're collecting the data yourself, your marketers or sales reps also get the chance to observe how a lead or prospect interacts with your brand.
With all this information at hand, you can build a Single Customer View (SCV) or 360° customer view of your prospects as they convert into customers. This way, your sales reps can observe your target group's buying patterns or habits, familiarize themselves with your leads, personalize their pitches better, communicate more effectively, and ultimately make more sales.
5. Enhanced Customer Experience
First-party data is collected when your customers interact with you at multiple touchpoints along the customer journey – you know what they click on your landing pages, how many emails they read, and what they talk about with your sales or customer service reps.
You can progressively profile your customers with online forms, registrations, web, and app event tracking, and so on.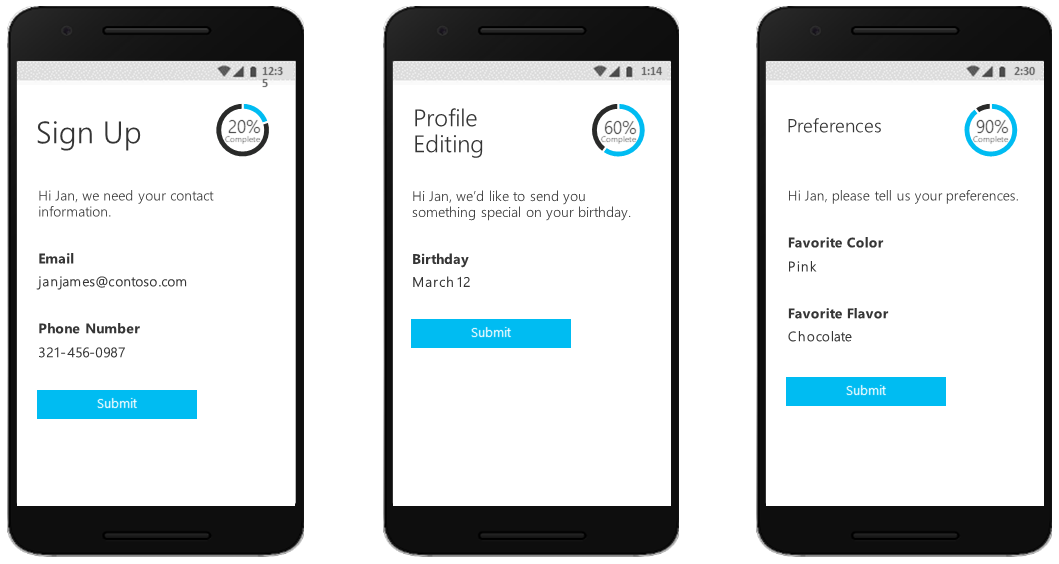 Source: Microsoft Azure
Providing customers with a consistent customer experience is critical for multi-location businesses. First-party data helps you prevent a disconnect between your marketing messages and experience at the local dealership, outlet, or franchise. It also allows you to identify and latch on to opportunities for upsells and cross-sells.
How to Collect First-Party Data
The time and effort you need to put in are probably the only downsides associated with collecting first-party data. Since you alone are responsible for the whole data collection process – and its outcomes – it's essential to plan well.
Here are four steps to efficient first-party data collection:
Make sure that you have sorted out your current data to identify gaps that need to be filled. Knowing what data you need to collect is key to putting it to good use!

There are several digital and physical channels – such as social media, email marketing, polls, and surveys – that let you collect data. These channels provide you with unique perspectives on your prospects and customers because of their unique natures. Know which channel to leverage and when.

To properly manage your data, invest in a Data Management Platform (DMP) and a Customer Data Platform (CDP). A DMP allows you to streamline data collection from multiple data sources and tools, structure it, and share it with other platforms such as ad exchanges. A CDP helps you aggregate and organize your data, forming a unified customer view that can be used in marketing and sales processes.

Ensure that your first-party data is democratized and available to all departments and teams. This would align the Marketing, Sales, and Customer Support departments, provide your sales reps with the right information they need to close, and ensure a consistent experience for all your customers.
Use Your First-Party Data Strategy Wisely
First-party data provides you with a competitive edge in your industry because of its relevance, accuracy, and cost-effectiveness. It is the difference between winning and losing for the local sales rep who's supposed to handhold your customer at the tail end of their buyer's journey.
Without a strategy to collect, use, and build upon your own data, the future of your organization is bleak in a digital-first world. You can't stagger forward with your eyes closed while the competition is zooming by with a clear view of the road ahead.
Do you run a multi-location business with critical knowledge gaps along your customer journey? Are you struggling to find out what your customers need? Schedule a call with us to know how you can use what you know about your audience to drive sales and revenue.
Featured image: Pxfuel