High-quality dealer lead generation is one of the most important aspects of keeping your business healthy and profitable. 
There are unique advantages and disadvantages dealers face that they need to know before launching a lead generation campaign.
For example, fellow dealers may have succeeded with a certain strategy you may want to copy. However, doing so can be a double-edged sword since different dealers in different locations will have mixed results using the same strategies.  
Salespeople can help generate leads, but they find themselves at a significant disadvantage in the age of the internet. Consumers' access to information means salespeople aren't as valuable when educating consumers on products.
So how can dealers make the most of their unique circumstances and generate high-quality leads regularly?
There are a few key methods we'd like to share.
Key Takeaways
Automation is king. Generating leads is no longer just about placing content in the right part of your website. You have to be able to quickly capture customer information and respond to them automatically for the best results.

Email marketing is still the most effective lead-generation strategy.

Optimizing your website for local SEO is a critical step in dealer lead generation.

Automation Is the Answer
Automation can help you optimize every aspect of your dealer lead generation campaign.
Through automation, you can:
Capture more leads and improve the quality of those leads through automated nurturing.

Provide support for customers who are researching with automated chatbots.

Design and execute high ROI

automated email marketing campaigns

.

Efficiently route leads to your best sales reps without thinking about it.

Close your data loop and improve attributions to keep perfecting your process.
MXTR Can Do All of This for You
We at MXTR are passionate about the utility of marketing automation. Our powerful platform is designed from the ground up to save you time and resources on marketing while increasing your return on investment.
We specialize in helping dealers and multi-location brands capture and respond to leads using unique automated solutions. 
We take a holistic approach when designing automation packages. MXTR prefers to partner with dealers rather than only provide a service.

Our platform will help you capture, nurture, and attribute more leads with pinpoint accuracy. 

Our simple interface means all stakeholders can easily stay on top of lead generation efforts.

MXTR will help you retain more customers and increase their lifetime value.
Five Examples of Dealer Lead Generation Tactics That Work
Certain strategies will work for you regardless of whether you can automate any part of your dealer lead generation. Here are five of them.
1. Content Marketing
Content marketing is the best way to capture and hold customers' attention while educating them about your product.
Focus on creating content that customer can access no matter their preferences. Create video, audio, images, and written content like blogs. Try to ensure you have content ready to go for every step of the customer journey. 
The key aspect of great content marketing is ensuring that your customers have a clear call-to-action present at all times during their content journey. 
Ensure your lead capture forms are short and sweet and that links directing customers to them are omnipresent on your website and social media posts.
2. PPC and Retargeting
PPC, or pay-per-click, is a great model for dealers hoping to generate fresh leads. They are safe investments because you can choose a budget in advance and then calculate your ROI.
Similarly, retargeting works by directing advertising toward customers who have already visited your website or social media pages. Focusing ads on customers who have already shown interest is an easy way to generate higher-quality leads.
3. Email Marketing
Direct email campaigns are still the highest ROI lead generation campaigns for a reason. On average, you'll generate $36 for every $1 you spend on email marketing.
Customers enjoy the ability to communicate with dealerships on a more personal level. Email reaches customers where they are, no matter where they are. Email can also contain all kinds of marketing content, and automation platforms mean you can easily personalize this content.
4. Local Search Engine Optimization
Most of the traffic that hits your website will come from search results.
SEO is important to optimize on every level but is particularly important for dealers who need to generate lots of local traffic to generate leads and drive conversions.
Here are a few key principles that will help you optimize your website's local SEO:
Ensure your website content includes references to your location and what you sell.

Optimize your Google

My Business

profile. Doing so will help ensure Google is referencing your business when a customer searches something like "car dealerships near me."

Ensure your website's references to your dealership's name, address, and phone number are correct and consistent.

Create content specifically for locals. For example, a blog post like "Best SUVs for Winter Weather in Illinois."

Include a page on your website with your dealer locations.
5. Referral Campaigns
Consumers are more likely to trust advertising when they perceive it as authentic. For this reason, there is no better ambassador for your brand than a happy customer.
Try creating a referral campaign like this one to boost your lead-generation efforts.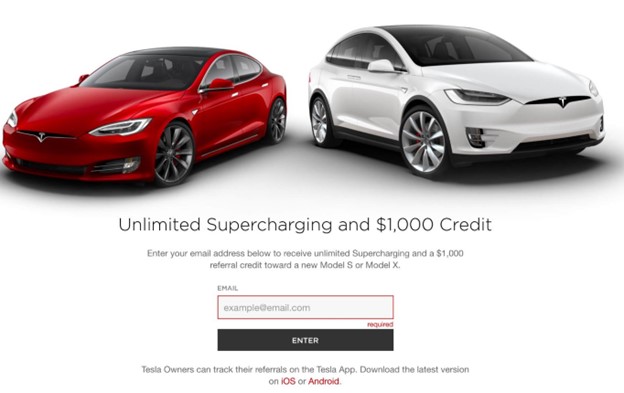 Source: Teslarati
For more examples of how to design a lead generation campaign for a dealership using social media, see this great video series by Joshua Daniel:
Trial and Error May Be Necessary
Just like every business, your dealership is unique in many ways. Everything from your location to the product you're marketing and the people you hire to sell it will affect the success of your lead generation.
Whether you're automating your efforts or pursuing leads the old-fashioned way, you may not know which strategy is best for your dealership until you've tried a few.
If you're interested in how MXTR's automated platform can perform most of this work for you, click here to request a demo today.
Feature Image: unsplash.com