Your marketing and sales teams are only as strong as the data they have.
And put to use.
"Know your customer," they say. Aggregating, organizing, accessing, and processing the right customer data is key to unlocking a seamless lead nurturing and conversion process. To marketing professionals, data reveals who their target audience is and how to grab their attention. In the case of sales reps, data helps make communication more personalized and compelling to drive purchases.
Marketers and salespeople had to invest long hours in painstakingly compiling the right information from multiple sources for a long time. Even today, 42% of sales reps feel like they do not have enough information before making a sales call, as per a report from D&B.
If you're one of these salespeople, a Customer Data Platform (CDP) is your knight in shining armor. It gathers and amalgamates information from various first-party and third-party sources, forms a comprehensive picture of every lead and customer, and equips sales professionals with a vital perspective of who they are selling to.
Key Takeaways:
Availability and usage of the right customer data give you a clear edge over the competition.
The single most important function of a CDP is to unify siloed data.
CDPs combine multiple data types from multiple sources and help build a single, centralized view of every customer.
What Is a Customer Data Platform and What Does It Do?
A Customer Data Platform (CDP) is a software that collects and compiles a variety of data about customers from various first-party sources. 
It creates a persistent, consolidated, and centralized database of customer data that can be accessible to all teams within an organization as well as all third-party stakeholders on an as-needed basis. This database is referred to variously as a "360° customer view" or "single customer view."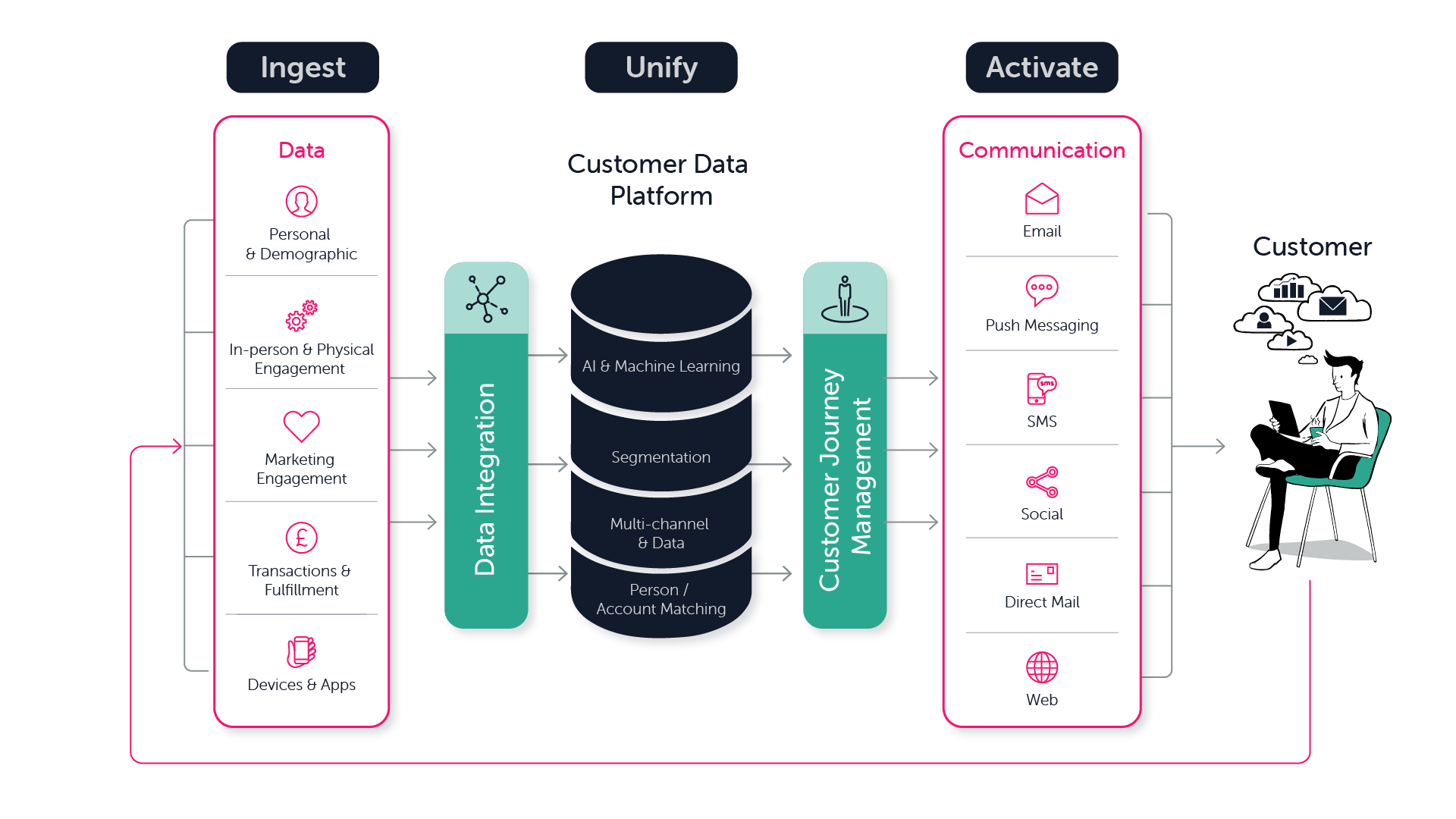 Source: Clevertouch
The most important purpose of a CDP is to unify siloed customer data.
A survey by Treasure Data revealed that 54% of companies consider data silos to be the biggest challenge in leveraging their data. As a result, they face difficulties in putting together an accurate view of their customer journey.
Just to be clear here, data silos also include the different types and segments of data stored across various marketing automation and sales enablement tools. While different formats of data are necessary to get insights into customer behavior, businesses also need a unified vision for a well-rounded insight into who they are selling. This is critical to optimizing marketing and sales processes.
And how does a CDP unify first-party data?
Once data has been added to the CDP, it undergoes various data processing actions, including cleansing, validating its authenticity and reliability, formatting, and de-duplicating. Then, through a process called identity resolution, it gets unified into a 360° customer view.
Once all the data from first-party sources has been collected, compiled, and unified, the customer view can be enriched by adding second and third-party data.
What Kind of Data Does the CDP Aggregate?
A CDP compiles up to half a dozen different types of data – depending on whom you ask – to form a single customer view. The ultimate goal is to give your salespeople different angles of looking at the existing customer base and refine their tactics to sell, upsell, and cross-sell your products as and when the opportunity arises.
Some of the major types of data we're talking about here are:
Demographic Data
A customer's identity and attributes are the most basic types of information available about them. These include simple information such as the customer's name, where they live, their age and sex, what company they work for, and their designation.
Also known as demographic data, this data is a statistical representation of a customer's socio-economic background. It gives great insights into a customer's purchasing power and the factors that drive their purchases.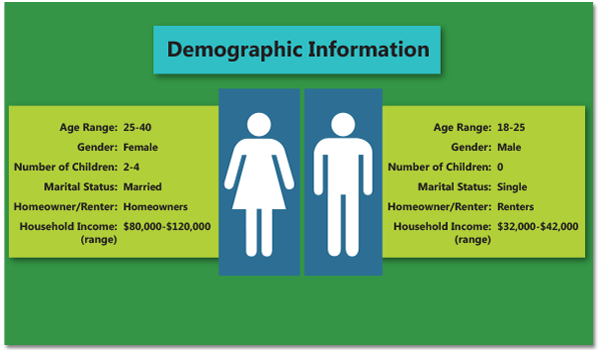 Source: Melissa
Sales reps can use demographic data to prioritize leads and prospects who have the most inclination and decision-making power to purchase your product. Knowing the lead's background is a great start – it allows salespeople to have more productive conversations and foster deeper bonds with them.
Behavioral Data
Behavioral data describes a customer's actions that are relevant to the sales funnel. It is a record of every touchpoint a customer had with a brand and what transpired therein.
Examples of behavioral data include visiting the company website, downloading a lead magnet, and signing up for an email list. All these activities give salespeople an idea about how invested a customer is in understanding and interacting with the organization. 
Prospects that have greater and more valuable interactions are more likely to purchase because of their greater interest. As a result, they're assigned higher lead scores. This allows sales reps to prioritize whom to contact first and how to pitch to them. The customer's interaction history also helps personalize the pitch.
Attitudinal Data
Attitudinal data is a collection of the customer's intent, interests, opinions, and preferences — the things that define their attitude towards the products or services you offer as well as their sentiment towards your brand.
Understanding attitudinal data is crucial to improving your business offerings. It helps you gauge customer satisfaction with your products – you need to constantly solicit feedback and make improvements. Organizations usually collect attitudinal data through surveys, usability tests, and focus groups.
Now that we know the various types of data the CDP collects, let's see what insights you can derive from it and what you can do with these insights.
1. 360-Degree Customer View
The 360° customer view that your CDP creates gives you a holistic view of individual customers. It also helps you build your buyer personas and ideal customer profiles. When harnessed correctly, this data can be used by your marketing, sales, and customer service departments to engage your audience with various multi-channel campaigns and provide them with a high-quality customer experience.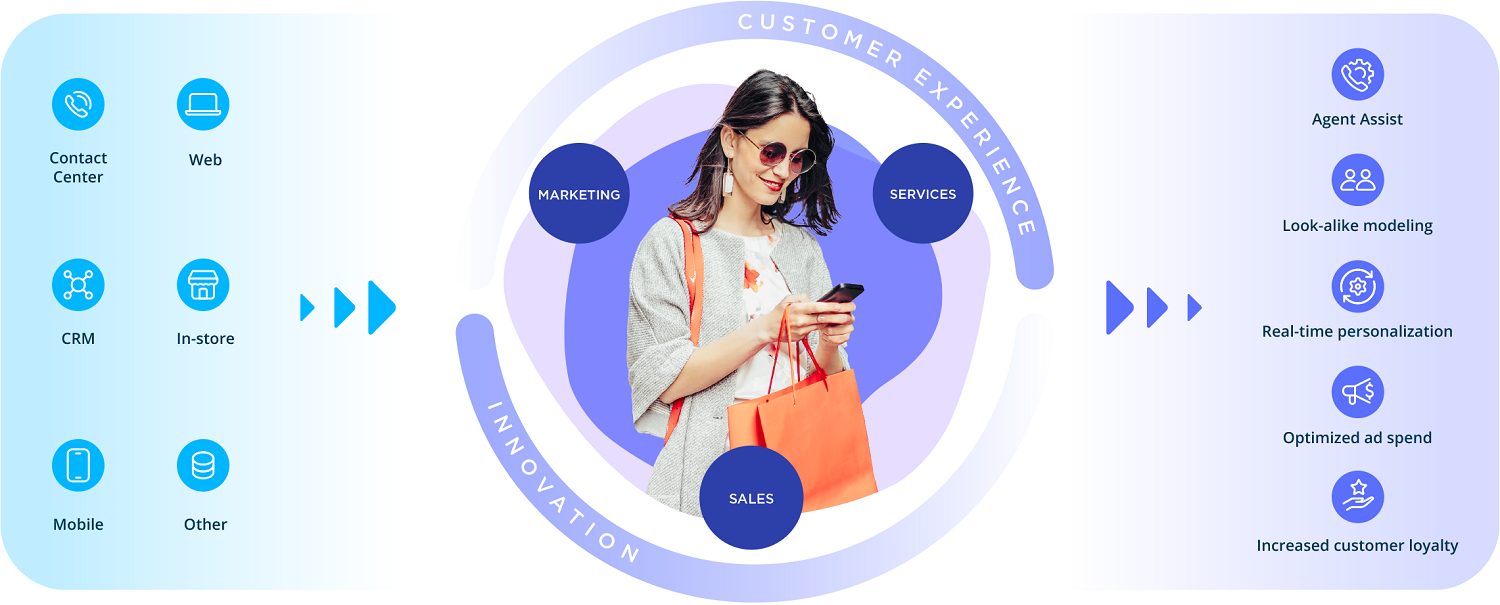 Source: Treasure Data
Salespeople frequently tend to forget that a customer is more than just a "profile" or a "target." While the ideal customer profile provides deep insights into who is being targeted, every customer is still different. They are individuals with nuanced personalities and backgrounds.
A unified view allows sales reps to understand customers on an individual level and form deeper, personal connections with them, with the result that the quality of communication and engagement is far improved than otherwise.
2. Democratized Data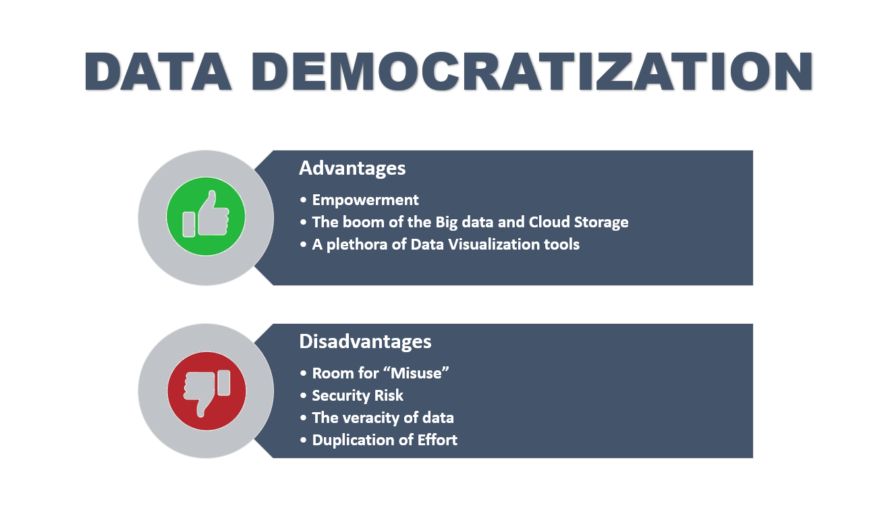 Source: Datacated
Democratization of data is the process of making data available to individuals and team members across your organization (and outside) as and when they need it. As discussed earlier, this means your CDP can provide on-demand data access to different departments and teams.
Data democratization adds customer support to the sales-marketing alignment mix and ensures a consistent and smooth buying experience for the customer. Internally, it facilitates better cooperation and coordination among these teams.
This is critical in multi-location businesses and franchise networks. Better accessibility of data leads to better sales enablement – sales reps can prepare personalized pitches and offer customized deals while management gets full visibility on consumer activity and execution of the marketing and sales strategy.
3. Competitive Advantage
According to a study by Forbes Insights, 97% of corporate executives believe that the availability of the right customer data can give them a significant edge over their competition.
Clearly, customer data plays a huge role in beating the competition.
An in-depth understanding of your customers provides you with great insights into their likes, dislikes, opinions, beliefs, values, and psychology. It pinpoints the factors that drive their purchase decisions, including why they choose your brand. This is crucial for local sales reps at dealerships or retail outlets of multi-location businesses who have to deal with direct questions from customers as to why they should buy your product over that of the competition.
Use customer data as input into your competitive strategy and optimize your marketing and sales tactics accordingly. You can feed this info right back into your sales process and close more opportunities for cross-selling and upselling. Increasing mindshare is a virtuous cycle that leads to increased market share.
4. Enriched Customer Experience
A survey by Treasure Data and Forbes Insights reported that over 50% of consumers are likely to form an opinion about a brand solely based on their experience with it. Ditto for choosing it over the competition. Regardless of the product, the customer experience an organization offers plays a large role in determining its success in sales.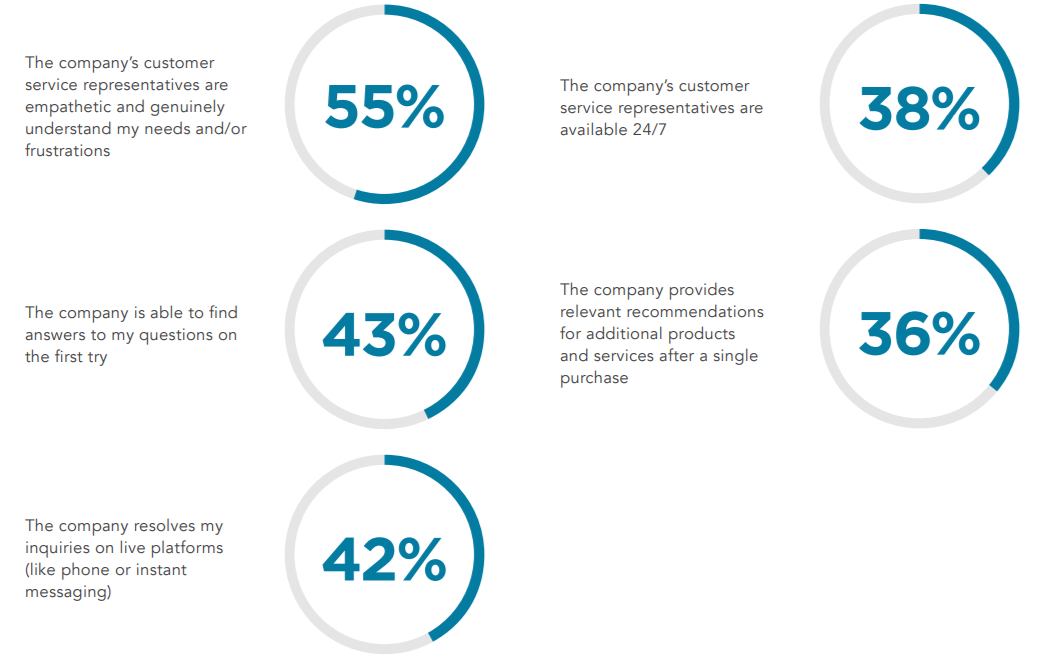 Source: Treasure Data
This is where data comes in. When you have contextual information about your customers readily accessible through your CDP, you can use it to optimize and enrich the experience you provide to your customers.
Again, it's important to remember that personalization forms an important component, if not the basis, of enriching CX. With the right customer data, salespeople can have more insightful conversations with leads, foster trust, and ultimately improve the chances of a sale.
5. Greater Operational Efficiency
It's become pretty clear so far that customer data is crucial to not just selling but also interactions among all departments of an organization.
However, sorting through myriad sources of data, discarding noise, compiling the right information for various business objectives, and packaging the data in a usable format are all cumbersome tasks. Automated CDPs make all this a breeze with minimal manual intervention.
Several CDPs also have pre-built integrations with major SaaS platforms that you use to automate marketing and sales activities. This facilitates better import-export of data to third-party platforms.
Chances are, any CDP you deploy will fit into your sales workflow with minimal customization or configuration.
The Future of Data Management
Customer Data Platforms provide a multi-faceted solution that can benefit several departments and functions in a business. They have traditionally been associated with marketing analytics and regulatory compliance, but today, they find great use in sales too. In fact, CDPs are crucial to ensure that customer experience doesn't become disjointed when a lead flows through the sales funnel from a brand marketing campaign to a local dealership or franchise.
We can help you collect and understand customer data, streamline your buyer's journey, and empower your sales reps to close more deals with our automated sales platform. Book a free demo, and let us show you how!
Featured image: Unsplash