Operating a franchise can be rewarding but also challenging, especially when franchise sales hit a slump. This is why you should explore valuable sales strategies you can apply to your franchise when things get rough.
The pandemic was a major blow to many franchise businesses. In 2019, franchise sales represented $473.4 billion of the U.S. GDP. In 2020, that dropped by 5.7% to $446.3 billion. In 2021, many franchises started on the path to recovery. This is expected to continue in 2022.

Source: franchise.org
If your sales have been struggling, keep reading to refresh your sales cycle principles and explore seven strategies you can use to boost your sales back up to where they need to be.
Key Takeaways
Optimizing every step of your sales cycle can help improve sales.
Renew the passion you initially felt for your franchise and hire managers and staff who feel the same way.
Focus on customer service and quickly resolve any problems.
Running promotions and hosting special events can help bring in new customers and boost your sales.
Understand the Sales Cycle
Depending on the type of franchise business you run, you might heavily rely on the traditional sales cycle. If there are parts of the cycle you are struggling with, this could be why your sales are slumping.
The sales cycle includes seven steps:
Finding leads:

This is where you find potential new customers. Many businesses use email, phone, or social media to do this.

Connecting with leads:

Once you have your leads, make a connection before you start a sales pitch. This might mean sending them relevant blog links or other resources. 

Qualifying Leads:

In this step, you will find some leads are interested in your products while others are not. Focus on the

qualified candidates

.

Presenting to prospects:

Once you have a qualified lead, they turn into a prospect. So now is the time to introduce yourself and start presenting your

sales pitch

.

Overcoming objections:

Most prospects will not immediately sign on. Work through whatever objections they have and communicate your value and benefits.

Closing the deal:

This is one of the most difficult stages in the sales cycle. You can try instilling a sense of urgency or behaving as if the prospect has already agreed to purchase to encourage them to sign the contract.

Nurturing new customers:

Once the deal is closed, it is important to show your new customer how much you appreciate them. Be sure to smooth out any bumps in your onboarding process. Continually investing in new customers will ensure they are satisfied.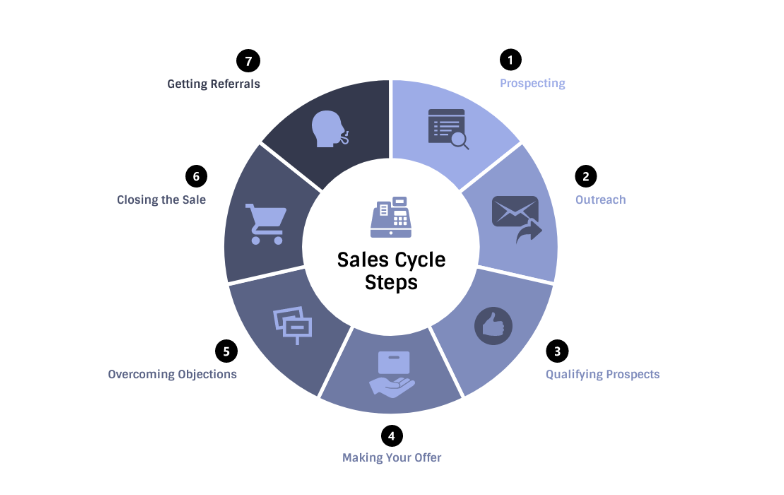 Source: crunchbase
7 Tips to Give Franchise Sales a Boost
Whether you are a small retail franchise or a larger service-based B2B brand, you can use these tips to help increase your sales.
Find Renewed Passion for Your Products or Services 
When you first started your franchise, you probably felt excited about the business. Perhaps that enthusiasm has waned over the years. If you are struggling to feel excited about your products and services, think back to when you first started. Try to bring back the passion you initially felt.
When business owners are passionate about their clients, products, and services, this should naturally lead to better service and hopefully improved sales.
Have the Right Team 
You need a team that is just as passionate about your franchise business as you are. This means hiring one or more managers who are trustworthy, experienced, and can take charge when you are not available. You also need to make sure everyone on your team has the training and tools they need to succeed at their jobs.
Make Customer Service Your Top Priority 
Customer service should be one of your top priorities. Satisfied customers are the only reason you are in business. If you do receive any complaints, make sure you find a resolution that satisfies the customer quickly, as this can lead to customers viewing your business even more favorably than before. This is called the service recovery paradox.
Keep a close eye on review sites and social media posts so you can quickly respond to and resolve problems. Businesses with a strong reputation for customer service are usually the most successful.
Focus on Marketing and Advertising 
As a franchise, your parent brand likely has strict rules about marketing and advertising. Make sure you pay close attention to what is and is not allowed. Use your marketing budget to spread the word about your business. This may include direct mailers, email marketing, social media ads, and maybe even billboards. If customers don't know that you exist, they won't visit your business.
Concentrate on Customer Retention 
When sales are struggling, focus on the customers you do have. Loyalty programs can make customers feel valued and may lead to more referrals. You can encourage referrals with exclusive discounts or other valuable gifts.
Run Promotions 
During slow times, running exciting promotions can draw more customers to your business. Depending on the type of franchise you run, this could be a percentage off when customers spend a certain amount, a buy-one-get-one promotion, or other types of exclusive deals. Promotions add some excitement and usually encourage customers to spend more.
Host Special Events 
Your franchise may be able to host special events for customers like birthday parties, work celebrations, or club meetings. You can also try hosting some of your own events. You can contact a local artist to display some of their work or hire a musical group to perform live music.
If your franchise is a restaurant, this video shares some specific tips that you can use to help boost sales on slow days.
Improve Your Sales with MXTR Automation
If you are experiencing slow sales, you do not have the money or time to waste on ineffective marketing techniques. MXTR can help. We work with franchise businesses of all sizes and help them automate certain marketing steps to improve customer retention and nurture new leads.
With an automated process, you can focus more of your attention on running your business instead of sorting through lists of generated leads. Are you ready to learn more?
Schedule a demo today to see how automation can improve your marketing, nurture leads, and grow sales.
Featured Image: istockphoto