Company success depends on a group effort within your business, from sales reps to managers and supervisors. When you work together to equip and enable sales agents, your company will increase sales. However, analyzing sales team performance is challenging without the help of the right automated systems.
Learn how to improve sales team performance using technology and advanced training so you can convert more leads.
Key Takeaways:
Look beyond sales results to accurately measure your sales team performance in context.

Invest in training, sales tools, and data management systems to improve your sales performance.

Aligning your teams with consistent data and processes ensures everyone is working towards the same goal and with the same information.
How to Analyze Sales Team Performance
The more data you have, the clearer your analytics will be. For example, looking merely at which sales agents met their quarterly quota only gives a glimpse of the whole picture.
You still have dozens of factors to consider, such as how many sales did the agent lose? That tells you the quality of leads the agent receives. Another factor to consider is how loyal those customers are. If an agent converts a dozen customers, but only two remain loyal, you know that your company doesn't measure up to your sales promises.
Use these metrics to analyze your sales team performance thoroughly:
Deals closed (compared to total opportunities)

Average deal size

Churn rate

Conversion rate

Profit earned
MXTR helps multi-location companies gather and analyze the data they need for a comprehensive view of sales team performance.
What Impacts Your Sales Team Performance
When the metrics alert you to issues in sales team performance, you can start by looking at the agent and direct factors influencing their performance. However, consider indirect internal and external factors that might impact their performance.
Some potential influencers of your sales team performance include:
What tools do they have

What data can they access

How satisfied are sales agents in their job

How

satisfied customers

are with their experience
6 Tips to Improve Sales Team Performance
What can you do to enable your sales team to achieve greater success through more conversions and higher customer satisfaction rates?
Here are six tips for incorporating into your sales strategies.
1. Align Your Sales Teams
A consistent process ensures that all your teams work with the same framework. For example, the sales process might include when to move leads from marketing to sales and what steps agents should take to convert the leads.
Keeping this framework consistent across sales teams and company locations improves customer experience. Customers will know what to expect, which improves their satisfaction. Satisfied customers are more likely to convert.
A consistent experience relies on consistent data. Using a centralized system for tracking and managing leads aligns your sales process no matter what agent touches base with the lead.
Other departments can also use that consistent data to improve their strategies. For instance, marketing can use sales data to ensure they generate and qualify leads that turn into sales.
2. Train and Equip Sales Agents
Sales enablement starts with a foundation of training and equipping. Highly equipped agents are more likely to convert leads and surpass quotas.
Some of the top sales enablement strategies to increase sales team performance include:
Regular company training

Self-education resources

Access to further education, like courses and webinars

Mentorship programs
Research shows that 90% of employees with mentors have higher job satisfaction.
Equipping your team with knowledge is half of the process. Next, you should equip them with the necessary tools to implement that knowledge. For example, providing tools for tracking and understanding leads helps sales agents deliver personalized pitches.
3. Reward Sales Team Performance
Sales agents usually have a commission pay structure that rewards performance. However, you can give your sales team an extra incentive to meet quotas through additional programs.
One of the most popular incentives is the Special Performance incentive Fund (SPIF). Half of the companies that use SPIF saw a boost in profits. SPIF is a short-term incentive. Often businesses might use the incentive to encourage the sale of a specific product or during the holidays.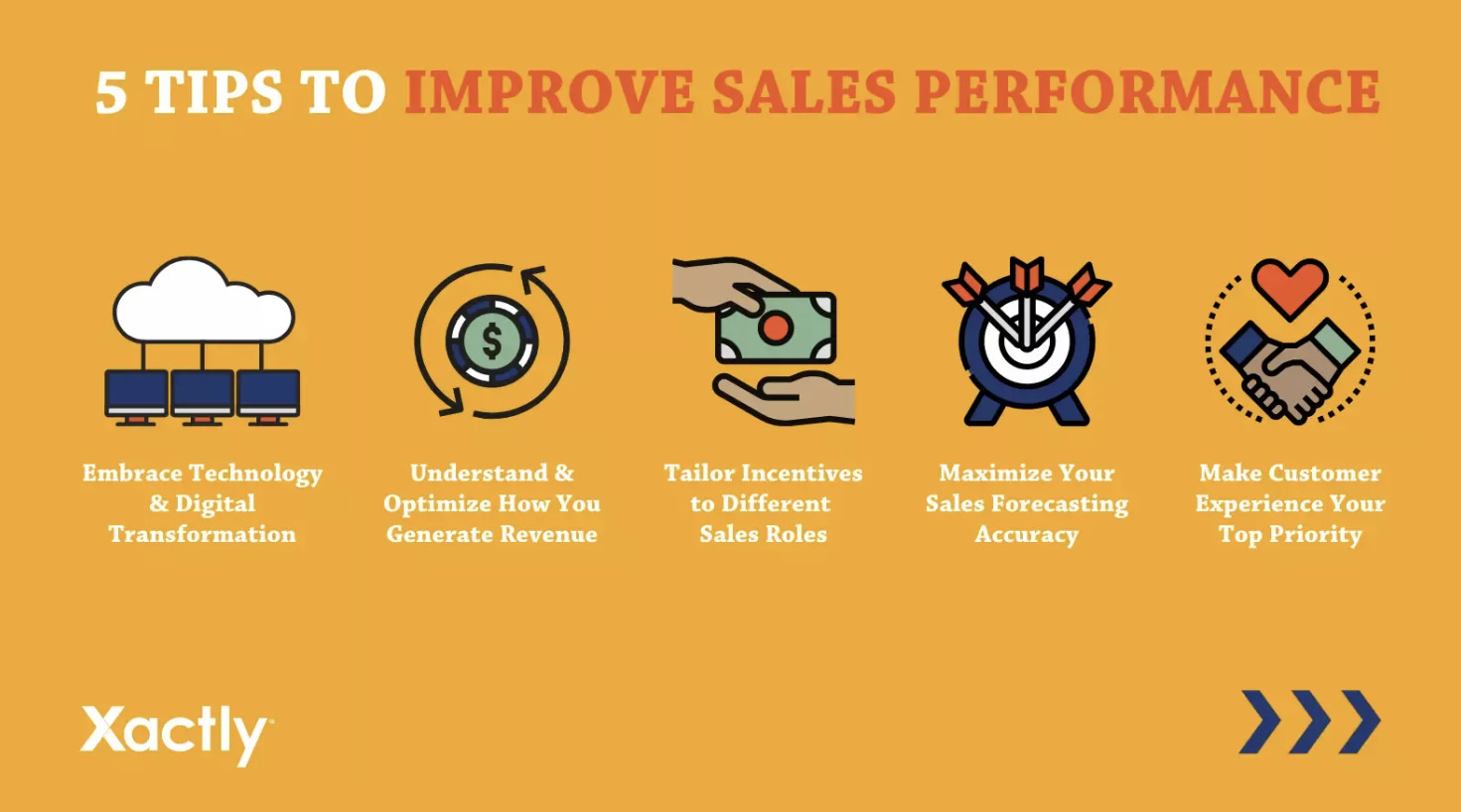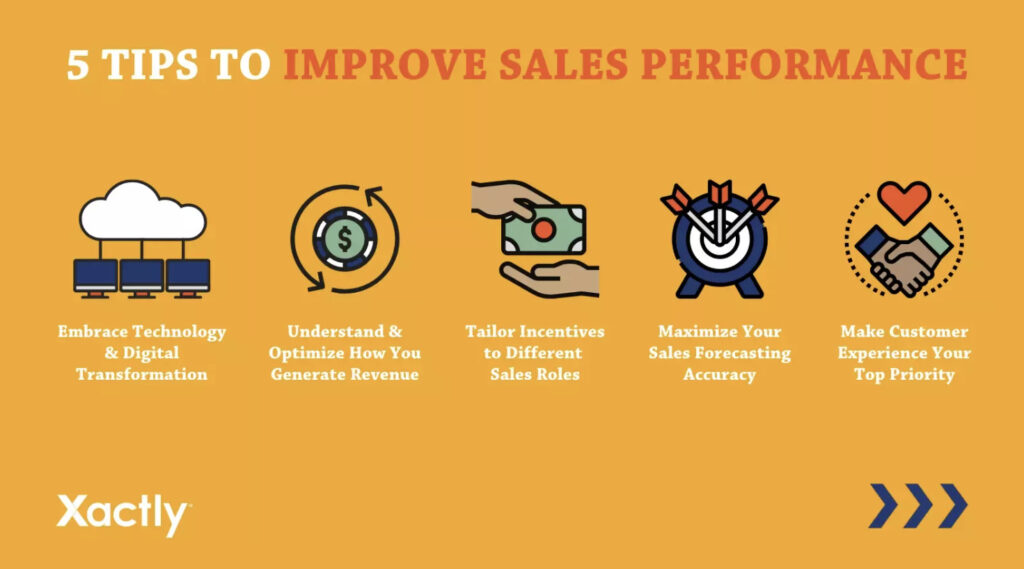 Source: Xactly
4. Automate More Processes
The digital transformation is speeding up as businesses expect results faster, and customers want more advanced experiences. Adopting technology for tracking, securing data, and improving customer experience also improves your sales results.
In 2020, 80% of businesses fast-tracked their digital transformation, which allows companies to adjust to changing customer behavior faster. In addition, sales reps spend less time performing manual tasks. Now your teams have the support of automation and entire databases of information to improve their performance.
With your teams wasting less on manual tasks, they can spend more time selling, improving your sales. Businesses can also track performance more easily since agents perform more tasks digitally, allowing companies to offer better tools and training for agents based on performance and accurately reward agents.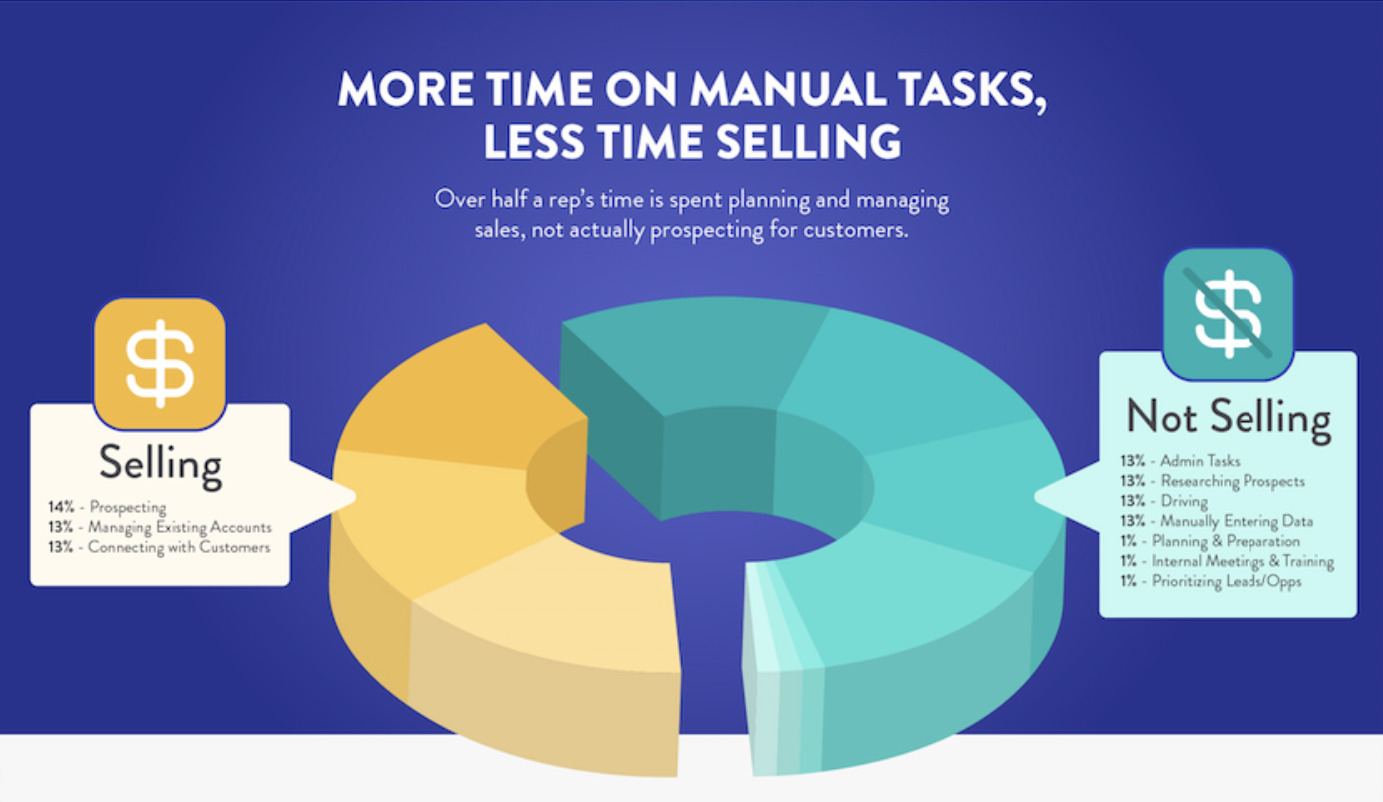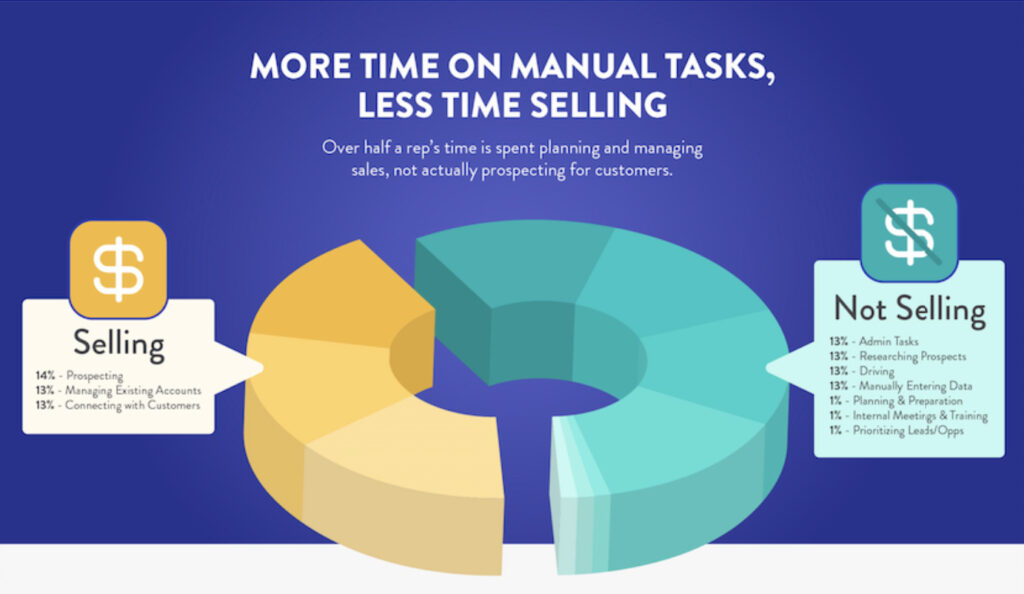 Source: Spotio
5. Use Data to Forecast Sales
Use a combination of past sales patterns and forecasting to create more attainable sales goals and benchmarks. For example, if your sales team is consistently underperforming, there's a chance that the sales goals aren't reasonable compared to changing customer behavior.
Using data to analyze potential sales outcomes can help sales leaders predict issues before they occur and build proactive strategies.
For example, you can expect shifts in sales and hire new sales agents to care for the increase in purchases. Then, you don't lose out on leads because you don't have enough agents to handle the incoming calls and leads.
6. Monitor Sales Performance
Tracking sales performance allows you to adjust your strategies and offer assistance sooner when problems arise. If you wait until the end of the quarter to analyze sales, you'll already have lost several dozen leads and conversion opportunities.
Instead, create weekly or even daily performance reports, depending on the number of sales you have a day. The reports help you see problems like weak points in the sales process where you lose leads.
Your sales report will also motivate your sales agents. Sales agents who see regular performance updates know how close they reach their goals and can identify improvement opportunities.

Stay on Top of Your Sales Data
MXTR helps multi-location businesses track and analyze sales data. With our software's support, you'll be able to identify more areas to improve and close more deals.
Schedule a demo to see how our marketing automation platform improves sales performance.
Featured Image:  istockphoto