While corporate plays an essential role in selling your goods, individual dealerships offer easily accessible points where customers can view and purchase brand products in their region. However, dealerships often face the challenge of attracting the right audience to the physical dealership, especially in a digital age.
What can you do to increase foot traffic in a dealership to boost your regional sales?
Learn eight dealership marketing ideas to use today to promote your dealership business.
Key Takeaways:
Build trust with the community through events, partnerships, and sponsorships.

Use local advertising like newspaper ads and billboards to reach the local audience

.

Build individual marketing strategies by region rather than using the same corporate marketing for all locations.

1. Become Part of the Community
The benefit of having several regional dealerships is building a local presence. However, the dealership isn't part of a community unless it participates in community events. To increase the number of visitors to your store, participate in more community events and visit other locations in the community.
For example, sponsor a float during a holiday parade, set up a booth during a spring festival, or contribute to a local charity. You're helping the community and building relationships. The community will grow to trust and depend on you beyond your products and services.
That trust will overflow into their service needs. The next time they need equipment, hardware, or other products, they'll be more likely to visit your dealership.
2. Display Physical Ads
With all the buzz around digital advertising, dealerships might forget the reach a physical sign can have. Digital ads are the best option for reaching a broad national or international audience. However, dealerships aren't trying to get consumers several states over.
A regional dealership's audience is local consumers. A billboard or street sign would be enough to reach the local audience where everyone can see it. That's why the average ROI of billboard advertising is 497%.
You don't have to rely on your audience to search specific keywords or stumble on your ad. Instead, anyone in the area who drives or walks by knows where your dealership is.
Other local advertising options include posting signs in stores, advertising in local publications, and sending direct mail to neighbors.
3. Partner with Local Brands
Dealerships that want to build trust with the community and attract new customers should start with businesses that already have an established customer base. You can create partnerships with those brands.
There are several ways to partner with a non-competing brand. For example, a local real estate company might promote your flooring options to customers.
4. Offer Incentives
Special in-store incentives will draw new and loyal customers to your physical dealerships. For example, some promotions a dealership might offer include:
In-store discounts

Free items

Tickets to exclusive events
The incentives don't necessarily have to be for purchasing products. Sometimes a gift is all you need to attract customers to your dealership. Once the customers are in the store, your sales agents have a higher chance of converting or collecting the lead's contact information to nurture that lead.
5. Showcase the Dealership Online
A staggering 4.70 billion people use social media. Use your social account to promote products available in-store or new inventory your customers should check out.
For increased visibility, consider creating additional social media accounts for each dealership location so you can focus on location-specific inventory. The social media accounts can also have regionally relevant information, like if the dealership is closing early due to inclement weather or is open later because of a special event.
For example, Bobcat has a separate Facebook page for every dealership location. These pages increase its local online presence and allow it to offer relevant, local updates about each specific dealership.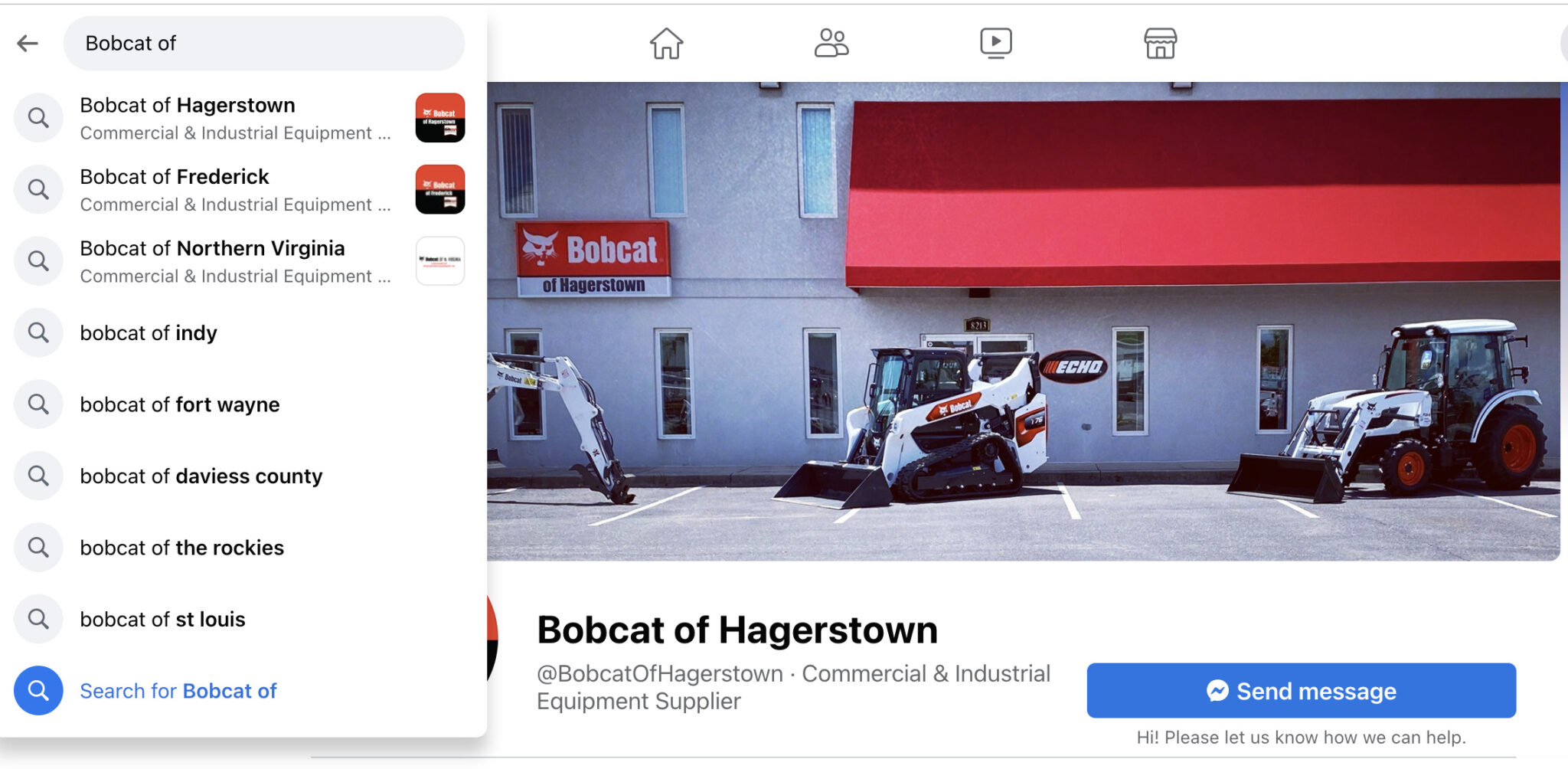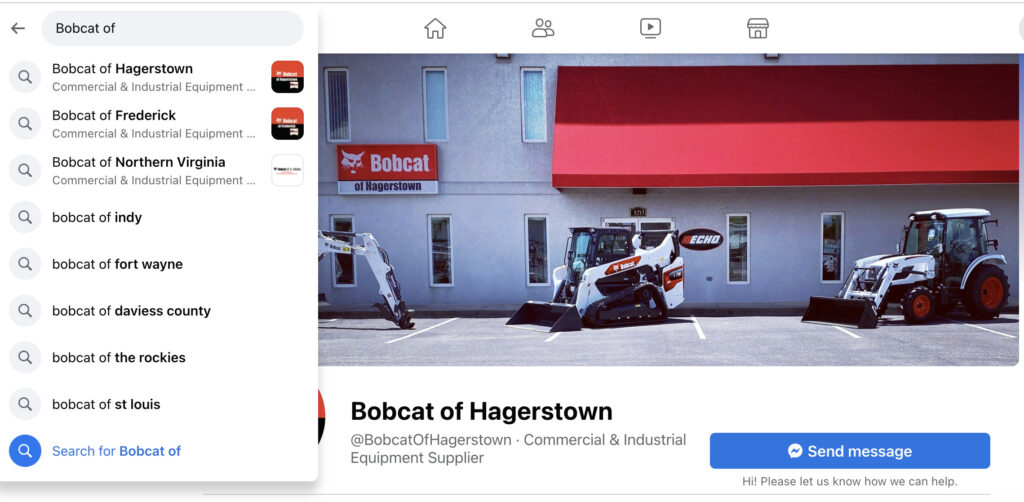 Source: Facebook
Your social media channel is also your platform for showcasing the benefits of in-store visits. Your customers can try products and speak with knowledgeable sales reps, so those can be two main highlights on your social channel.
6. Make Your Dealership Easy to Find
More customers will likely come to your dealership if it's easy to find.
In 2022, the search phrase "open now near me" increased by 400%. Customers use "near me" searches to find local stores and dealerships for products. These searches pull up results based on location information search engines find online.
To increase the chances of your dealership appearing in local searches, frequently add your dealership locations. For example, a Google business page will significantly impact whether you'll appear in searches.
Some additional information the business page includes are:
Address

Contact information

Opening times

Website

Reviews

Social media accounts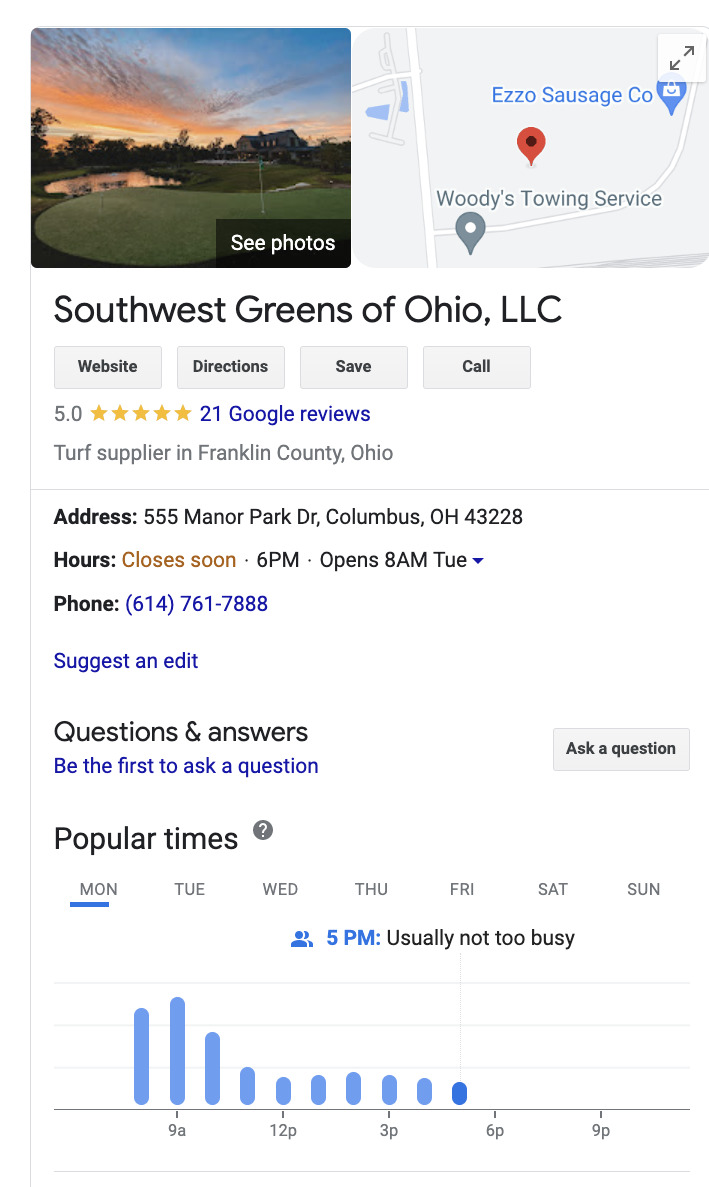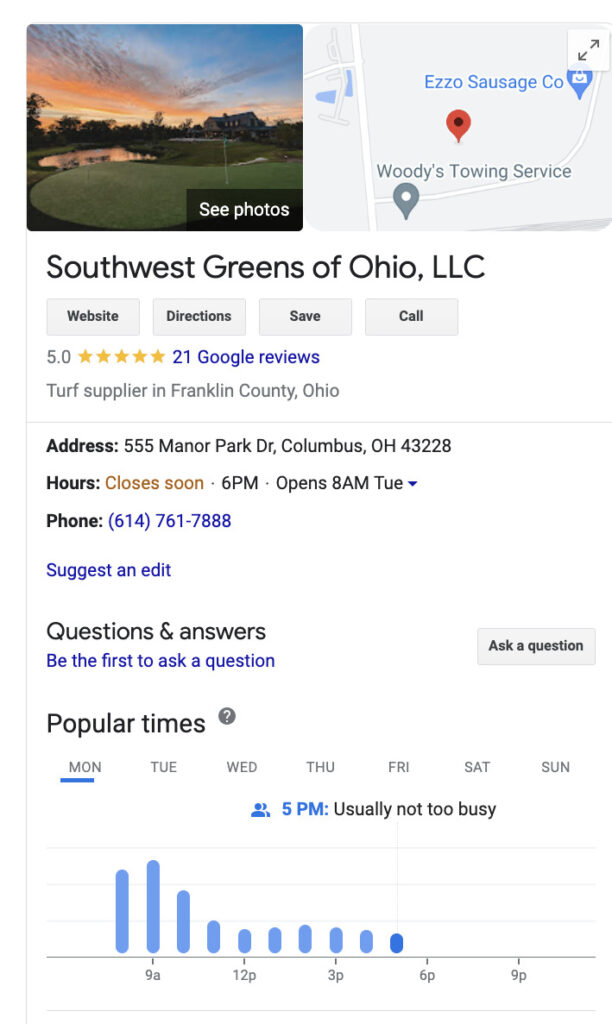 Source: Southwest Greens
Add your dealership address to your social media accounts and website alongside your store hours so customers can find when and where to go.
7. Host an Event
Hosting an event at the dealership allows customers to learn where you are, see your inventory, and meet your sales agents. The event might be a sales-related event where you're showcasing new products. Again, offer free tickets or gifts to encourage attendance.
However, the event might also be educational. For instance, you might host a speaker who talks about the industry. A Bobcat dealership could educate customers about machinery care, while a synthetic turf dealership might discuss installation or types of turf.
The event not only brings in foot traffic but also adds quality leads to your sales pipeline. You can send special offers to attract those leads later to the store.
8. Market by Region
Geo-fencing and other regional marketing strategies ensure the right audience is seeing your marketing efforts. Regional stores will see the best results if they connect with customers within their region.
Brands should avoid sending the same marketing content to customers in each region. Instead, consider creating unique marketing strategies and sales pipelines for each area relevant to those customers and the nearest dealership location.
Connect with Your Local Market
MXTR helps franchises connect with leads and distribute those leads to the nearest local dealer. Building your marketing strategy around dealership locations will boost foot traffic and increase sales.
MXTR helps corporate connect all individual marketing strategies, which improves your tracking and allows you to analyze dealership performance. Corporate can ensure that each dealership receives the tools it needs to succeed.
Schedule a demo to see how our marketing automation system is helping dealers consistently attract and convert customers.