When building a sales strategy, it makes sense to focus the most on lead generation – the more leads that you drive in, the higher the number of conversions will be, as will the revenue. This is why the lead generation portion of the sales funnel is also so much larger than the nurturing and conversion segments.
So, it's no wonder that the majority of companies portion out over half of their entire marketing budget on lead generation alone.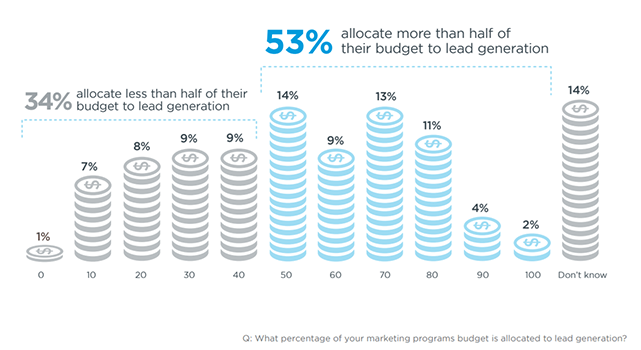 Source: BrightTALK
But with marketing budgets dropping precariously lower in the past year, teams need to make sure they're getting the most bang for their buck from each of their strategies and campaigns.
There are many different approaches here, and it is impossible to say that one is better than another. Email, PPC ads, and even event marketing can be quite effective for acquiring new leads. But ultimately, the success of any strategy you choose starts with fantastic content marketing – which is exactly why it needs to be the building block for any sales strategy.
Let us explain.
Key Takeaways:
Mapping your content to the buyer's journey is important because consumers are now performing most of the research themselves.
Content marketing helps you engage your audience more closely, getting to know them better and influencing their perception of your brand in the process.
When done right, content acts as the glue between your sales and marketing departments, binding them to shared strategies.
Know Your Customers Better
The strength of your content marketing lies in your team's understanding of your audience's interests, needs, desires, and concerns. Thankfully, by implementing a content strategy, this understanding will only get better.
Content marketing requires lots of research for topic ideas, keywords, engagement strategies, brand voice, and so on. Most marketers spend between 1 to 6 hours on a single piece of content – while 26% will spend well over 7.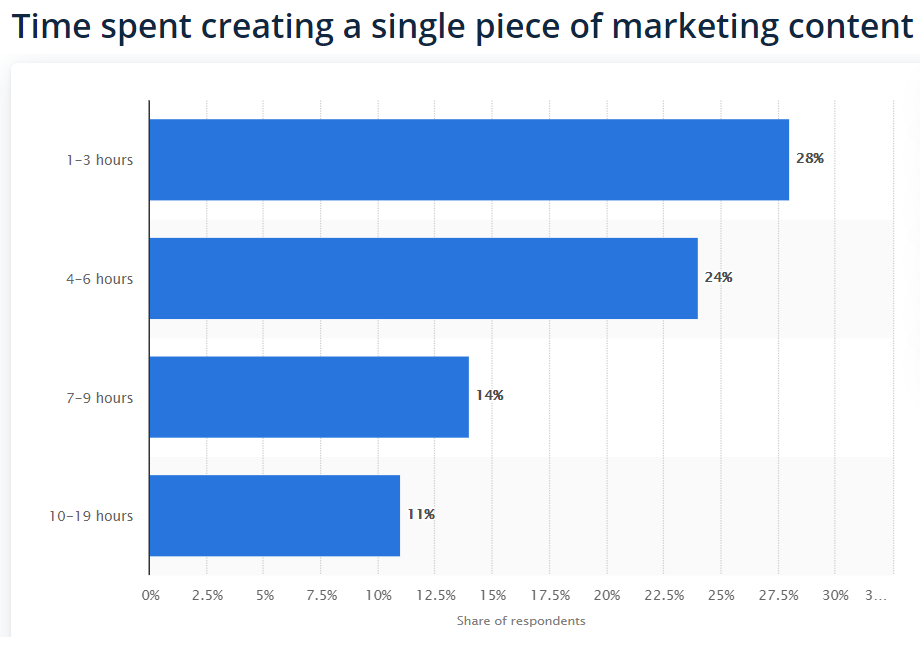 Source: Statista
The quality of your content depends on how well you know your audience. But you'll get to know them better by monitoring how customers react.
Large franchise brands and businesses spread over multiple locations have a hard time getting to know their audience better because of the sheer number and diversity of consumers who come to them. By taking the time to conduct in-depth market research and monitoring online conversations, marketing and sales teams can get a far better grasp on their audience and put together more targeted advertising initiatives.
Catch Them in the Research Phase
Marketers have to face the facts: today's consumers are a lot smarter and more difficult to attract. They have access to endless amounts of information and purchasing options. As a result, they are more than willing to take the time to conduct research themselves when finding and comparing solutions.
In fact, Gartner found that 45% of the customer journey now revolves around independent research, both online and off. The buyer's journey is no longer linear either – during the solution exploration phase alone, consumers will go through dozens of steps back and forth before they even come close to making a decision.
This means your sales reps – no matter how knowledgeable they are – have little opportunity to influence the decision (because of the lack of interaction opportunity before the decision is made). However, since customers are actively searching for relevant information, a solid content strategy can give you a strong competitive advantage. The secret lies in how well you align your content creation and marketing efforts to your buyer journey.
Deal with Customer Questions Consistently
Content marketing gives your sales and marketing team the ability to answer FAQs and address common concerns or perceived risks. Again, this ties back to the modern customer journey; when moving through the consideration phase, customers will search for answers to their perceived risks or concerns.
A solid content marketing strategy gives your brand more control and allows you to speak to every customer directly. This also provides dealers, resellers, and other channel partners with guidance for "local-level" brand messaging, while lightening the load on the sales team when it comes to closing the deal.
For instance, a single "source of truth" gives sales reps at dealerships or franchises a head start and makes it easier for them to convert the customer. It also ensures that all your physical locations are delivering a consistent customer experience and giving standardized answers to common questions.
Improve Sales-Marketing Alignment
One stumbling block that holds so many businesses back from reaching their highest potential is a lack of sales and marketing alignment. When sales and marketing teams are on totally different pages, lead nurturing, and conversions are simply impossible.
Thankfully, content marketing can act as the bond that brings these two important departments together. Content marketing applies to absolutely every step of the buyer's journey; in fact, you could argue that content is what nudges customers from one step to the next.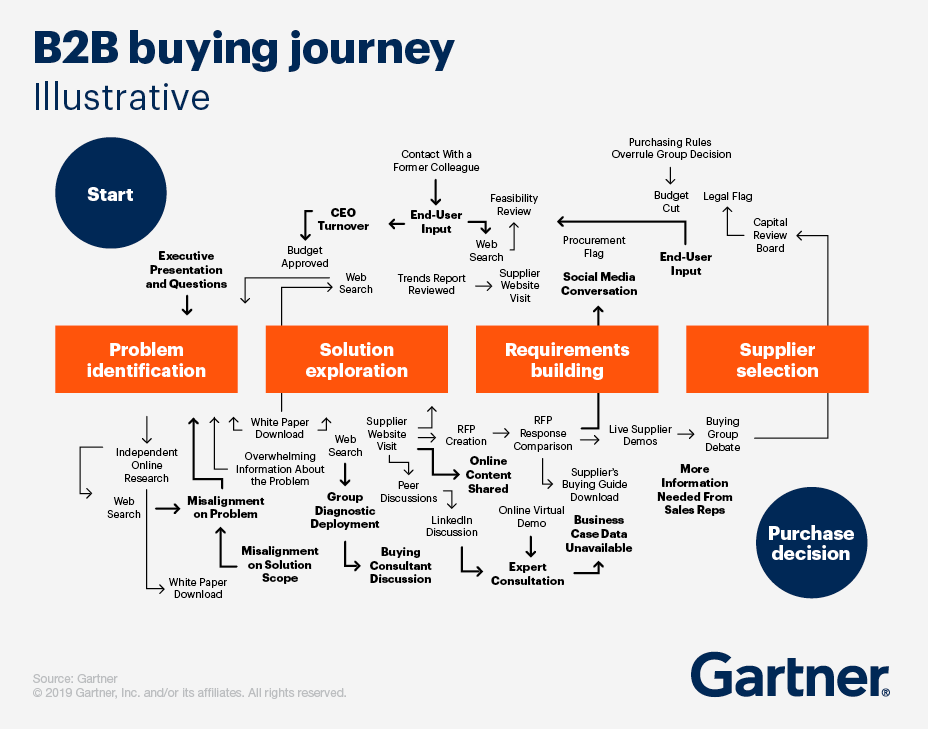 Source: Gartner
This means that marketing and sales teams must work together to fill in the gaps in the buyer's journey with relevant content. This helps to mesh both sales and marketing goals for a unified approach.
Content helps create actionable strategies for the buyer journey, allowing teams to effectively implement automation for lead generation, lead routing, and lead nurturing.
For marketing and sales teams at multi-location retailers, dealership, and franchise networks, this translates to:
Seamless passing of leads from marketing to sales and providing them with a consistent experience online and offline

Continued brand relationship and visibility into lead activity at local levels

Better lead nurturing due to availability of data on the content consumed by them and the actions they've taken
Control Your Brand Perception
A bad reputation or even a slightly negative perception can send customers running. Research estimates that about 22% of customers will consider other options after reading a single negative review about a company – and this number grows substantially (up to 70%) if more bad reviews are found, according to data from Moz.
Thankfully, content marketing gives your brand some of its power back to control the narrative and audience perception. Research-focused content can help you position your brand as a thought leader in your niche or industry. Practical information and fact-based content will make your brand more trustworthy.
Further, having a library of valuable content on your website helps to streamline the research process for customers. If they can find web pages, blog posts, or videos that give them the data they're searching for, it could push them to make a purchase decision much faster than otherwise.
Convince and Convert with Content
Consistent messaging and share of mind are crucial when it comes to lead generation and nurturing, particularly for multi-location enterprises. A unified approach to content creation and marketing has to be at the basis of every marketing and sales decision. Your content is a guide not just for consumers but also for the organization itself.
At MXTR Automation, we align your content strategy to your sales funnel and tweak it to optimize your lead generation and nurturing processes. Schedule a free demo today to see how our platform supports sales initiatives with practical yet powerful automation capabilities that meet customer expectations and demands.
Featured image: Pexels