Imagine a scenario where your marketing department is working tirelessly to attract and qualify leads in time for your peak selling season. After a well-executed multichannel campaign, they collect amazing leads from the company's ideal target audience pool.
However, when the leads are sent over to Sales, they don't convert into customers.
This picture, while heartbreaking for both the departments involved, is a reality for a number of businesses. In fact, large companies that work on a national or international level through franchises and dealerships frequently face this problem without any clear ideas on how to overcome it.
Marketing and sales are two very different activities. Yet, if Marketing does not aid or empower Sales, neither of them can function effectively. A misalignment between the marketing and sales departments can leave the latter with insufficient information and resources to engage and nurture leads effectively.
Thankfully, there is a simple solution to this problem: sales enablement. At the basic level, it is a strategic, ongoing process that fosters valuable brand-prospect conversations at each customer journey stage.
Key Takeaways:
Sales enablement about implementing systems and processes that facilitate informed interactions between sales reps and prospects.
Sales enablement gives your sales team sufficient data on leads to nurture them effectively.
You need to make sure your CRMs and marketing automation platform are being used to further your sales enablement strategy.
What Is Sales Enablement?
In the simplest terms, sales enablement means making sure your salespeople have the skills, resources, tools, and information to maximize value from every buyer interaction.
Why do you need sales enablement?
More pertinently, why do you need to pay special attention to the idea? Isn't it a given that you need to support your sales team to the fullest, you might ask.
Marketing teams routinely use several tactics and strategies to lure in the leads – from different channels (digital or offline) using different means (such as content marketing or social media ads).
However, when these leads get passed on to the sales department for conversion, the reps frequently have no idea how to go about nurturing them because they don't know how they were acquired in the first place. A study by Dun & Bradstreet found that a whole 42% of sales representatives feel they don't have sufficient information before making a call.
With markets becoming more competitive by the day, your customer journey needs to be as seamless and perfect as possible if you want to shorten sales cycles and maximize revenue.
This is where sales enablement comes in – it involves providing sales teams with all the necessary resources and data they need to bridge any disjoint leads might experience throughout the nurturing process. Ultimately, this makes both lead qualification and conversion easier and quicker.
So what are some steps you can take to put in place an effective sales enablement strategy for your company?
Here are some sales enablement best practices you can follow:
1. Align Marketing with Sales
Sales-marketing alignment lies at the heart of sales enablement.
However, more often than not, it is conspicuous by its absence. When a business is unable to close enough leads or meet revenue targets, civil wars frequently break out between sales and marketing teams. Marketing blames Sales for not converting leads while Sales insists that Marketing doesn't send quality leads.
Sounds like a complete nightmare, right?
If you want to ensure you don't end up in a similar position, consistent, cooperative education and training are crucial.
Both departments need to have a consistent idea of what the ideal customer looks like, how the buyer journey plays out, what role each individual or team plays in this process, and how they can support each other.
Making sure that Marketing can provide relevant data and information to Sales at all times requires shared goals, shared systems, overlapping activities and KPIs, and unified tracking and measurement.
When such transparency is maintained between the two departments, Marketing will be able to enable sales effectively by providing it with the right data at the right time. Sales will have a better idea about what transpired before the lead reached them, allowing it to make full use of the data and tools available.
When that happens, we call it sales-marketing alignment. Businesses with effective sales-marketing alignment are 67% better at closing deals, as per research from Marketo.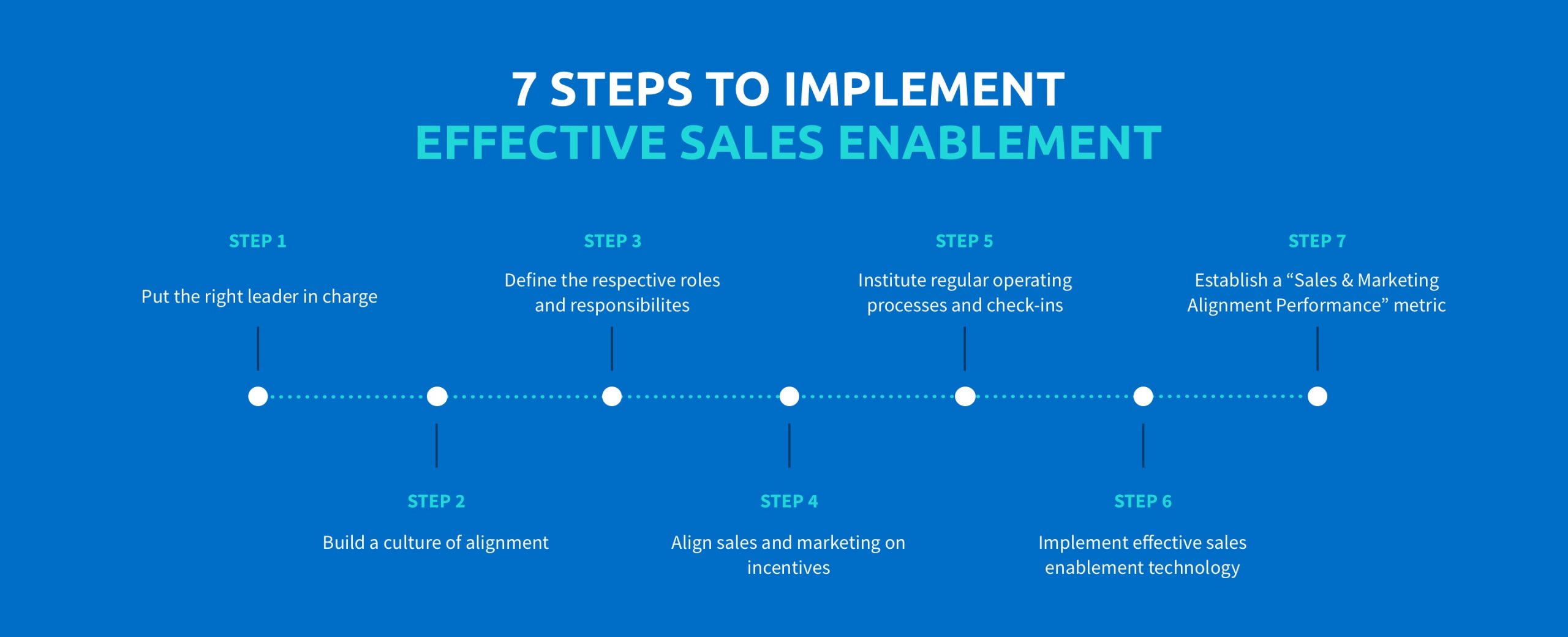 Source: Highspot
2. Make Lead Information Easily Accessible to Sales
You might think a CRM is a given at most large companies today. GetBase reported that 91% of companies with more than 10 employees use a CRM. It is arguably one of the best ways to ensure that all relevant information about leads and customers is accessible on-demand to whoever needs it. And yet, only 46% of sales teams confirm using CRM software to its fullest.
No wonder customer-facing sales reps don't seem to find relevant information when they need it. Today, only 36% of a sales representative's time is spent actually selling products and services to leads. The remaining is wasted hunting around for data that a sales enablement process could have easily provided them. Many times, they lack even basic information such as the best way to contact a lead!
With a centrally managed, updated, and easily accessible lead database (or a good CRM), you can ensure that your sales team always has the right data collateral at hand to convert leads effectively.
But you're not done yet.
3. Make Leads Visible to Both Sales and Marketing
It's not enough to just make lead data available to sales; you need to make sure they actually use it.
How? Make leads flash in front of their eyes! Force those follow-ups now!
Boosting lead visibility is an extension of sales-marketing alignment.
For multi-location organizations in which sales happen at the franchise our dealership outlet, lead visibility from the top is very low. Once the marketing team has forwarded the leads to Sales, they have no idea what became of it or whether it is being nurtured.
Since the sales team is clueless about how the leads have been generated, from which channels, and what messaging has been targeted at them so far, they face a wavelength mismatch and serious disconnect when actually interacting with the lead. For this reason, reps sometimes give up on the chase faster than they would have if they'd been armed with the right intent data.
What's the solution here? Incorporate sales enablement into your content marketing by delivering consistent messaging to your audience throughout their journey. Map your content to your customer journey and make sure you route back input from both Marketing and Sales to content at the appropriate stages of the funnel.

Source: Upland Software
Again, a combination of content, marketing workflows, and sales automation is the key to increasing lead visibility. This way, both departments know the status of the lead and their position in the funnel at this exact moment. Potential customers, for their part, get a much more consistent buying experience.
4. Use Automation for Tracking and Feedback
Interdepartmental collaboration and joint training are not sufficient in themselves for establishing full sales-marketing alignment. Marketing and Sales need to be constantly in touch so that they can communicate to each other what they're doing, what they plan to do, and how it affects shared goals and KPIs.
Talking of KPIs, there are some clear sales metrics that will indicate the success or failure of your sales enablement initiatives.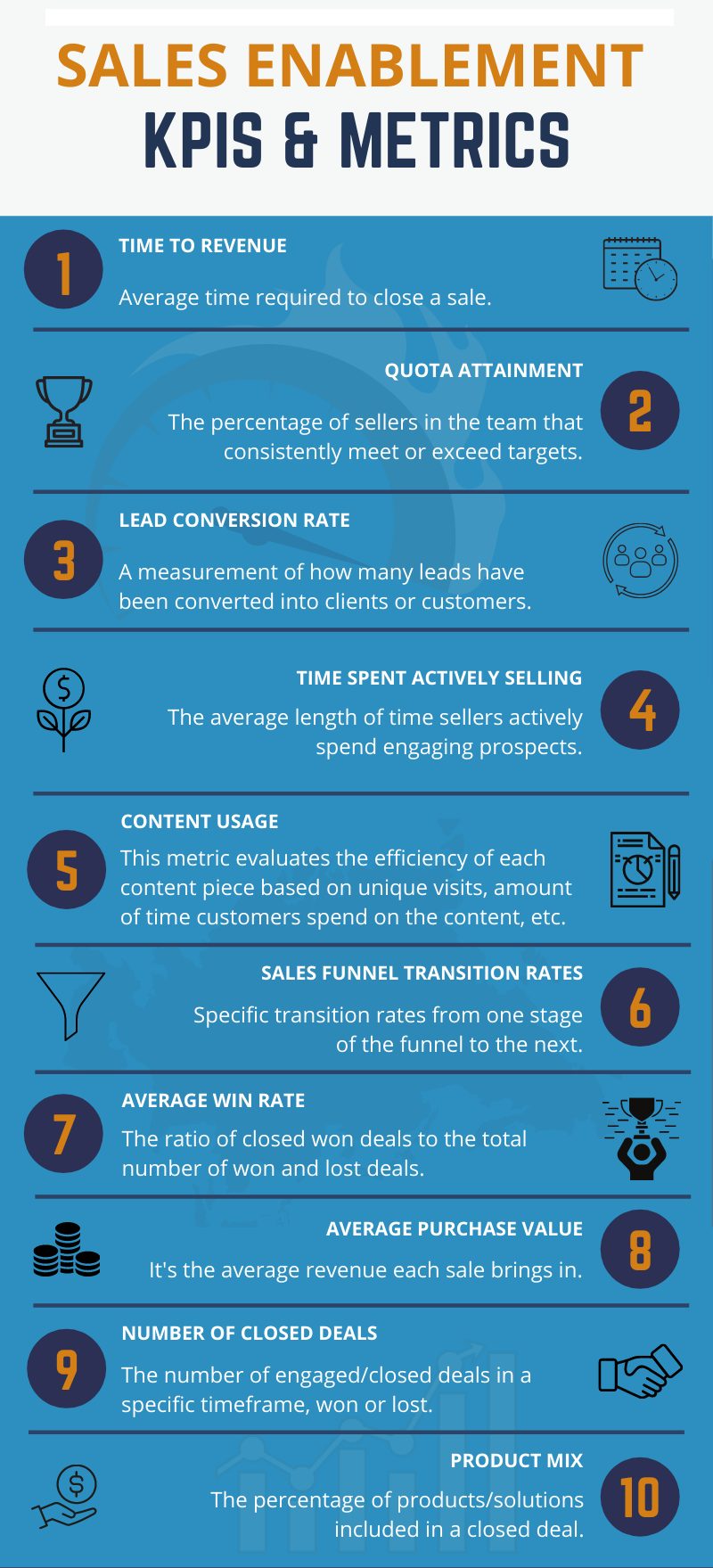 Source: Sales Hacker
You need to constantly track these metrics and channel any learnings back into your marketing and sales strategies. This way, you can avoid any bumps down the road and keep interdepartmental friction to the minimum.
The right marketing automation and sales enablement software enable easy and quick access to information. With the right data and multi-channel communication resources available at their fingertips, sales representatives will feel a lot more confident about dealing with leads. They'll also be able to refine their approach on the go and walk customers back and forth through their journey as needed.

Source: BigRadar
Sales Enablement Is Sales Optimization!
Ensuring that your sales team is working at an optimum level is essential for leveling up your revenue. If your reps don't have the skills, resources, tools, or info they need, you're in fact holding back your product or service from achieving its potential.
With sales enablement, you come one step closer to solving a fundamental problem of a leaking sales funnel: not providing potential customers with a consistent brand experience.
If you're looking to implement an effective sales enablement strategy along with powerful marketing automation across your locations, get in touch for a demo of MXTR today!
Featured image: Unsplash