Social media is the perfect place to not only generate leads but also to form a strong relationship with them. However, getting started with social media lead nurturing is often easier said than done. Many brands get impatient and skip to the selling phase without first providing value and establishing trust.
In this article, you'll learn the first step in using social media as a brand, plus five tips for generating qualified leads interested in what you offer.
Key Takeaways:
Social media lead nurturing starts with choosing the right social media platforms for your brand.

Always complete and optimize your social media profiles for the best results.

Be willing to engage with others if you want your leads to skyrocket.
Getting Started with Social Media Lead Nurturing
These days, there are tons of social media platforms to choose from. There's Twitter, Facebook, Instagram, LinkedIn, TikTok, and Pinterest, just to name a few. And it can be tempting to make sure your brand has a presence on each and every one. However, this simply isn't realistic, especially if you have limited time and resources to create high-quality content for each platform.
For that reason, you need to be selective about which platforms get your attention when focusing on social media lead nurturing. You don't want to pour time and energy into something that simply isn't working to drive new leads.
But how do you choose the right platforms? Here are some helpful tips: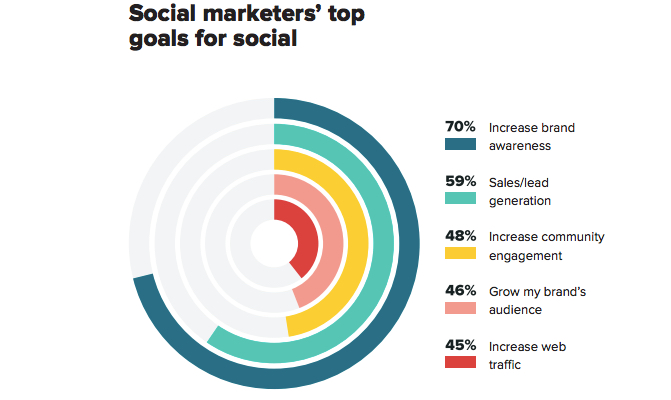 Source: Reve Chat
Determine Your Social Media Goals:

Knowing what you hope to achieve from using social media is smart. Then, you can create a list of platforms that are most likely to help you achieve those goals. For example, where are you most likely to generate leads? Factoring in the following two tips will help.

Know Where Your Audience Spends Time:

If your audience isn't actively using a platform, why would you invest in it? You want to be where they are, so you stand a better chance of getting your content in front of them. Otherwise, you'll fail to reach the right people.

Consider Your Strengths:

Each platform offers different ways to allow your strengths to shine through. For example, Instagram Stories is great for casual, behind-the-scenes content. Facebook is ideal for written posts. And short-form video is ideal for TikTok. Which platform will allow you to truly showcase your abilities as a creator?

How to Generate Leads from Social Media
Social media is an incredible tool for attracting people to your brand and making new connections. But how can you turn those connections into leads? Here are some tips for social media lead nurturing:
1. Optimize Your Profiles
Before diving straight into social media lead nurturing, you need to actually attract leads first. To do that, it helps to have a profile that's complete and optimized. An incomplete profile sends the wrong impression, so make sure all important fields are complete. This includes having a profile photo, a bio, a link, header images (where applicable), and anything else that's recommended. You can also optimize your profile by including target keywords that will help you show up in search results.
2. Create Sharable, High-Value Content
Considering there are about 3.78 billion daily active social media users worldwide, it's more important than ever that you take extra steps to stand out from the crowd. The best way to do that is through the content you publish. Content allows you to provide value, showcase your authority, and tell a story that draws in an audience.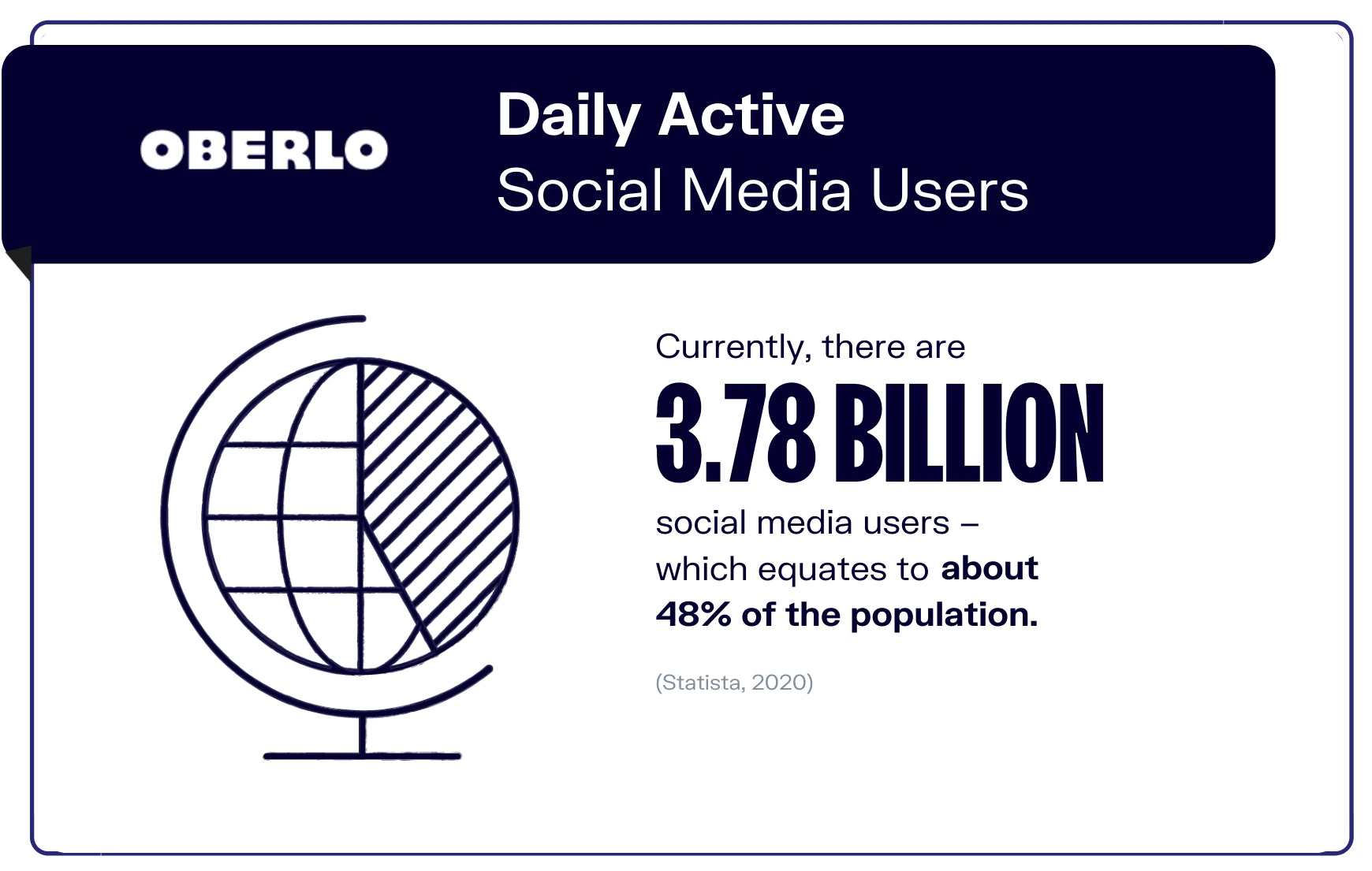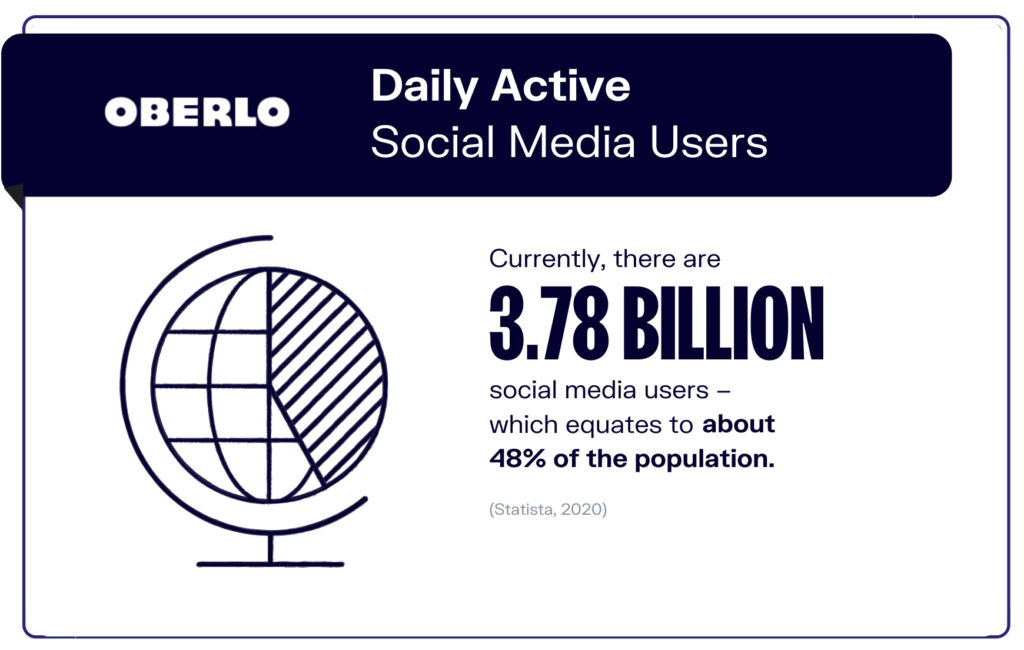 Source: Oberlo
Consider their pain points to create shareable social media content that your target audience will love. What are they struggling with that you can offer a solution for? This will give them a reason to keep coming back because they'll learn they can count on you for quality posts.
3. Spend Time Engaging with Others
A huge part of the social media lead nurturing process is having conversations. Many brands show up on social media simply to share content and fail to engage with others on the platform. However, a huge part of the social media lead nurturing process is having conversations. 
People want to do business with brands they know, like, and trust. That will require you to talk to people, whether it's in your comments section or through direct messages. You have to be willing to start and participate in conversations if you want to cultivate strong relationships that take someone from being a follower to a paying customer.
4. Invest in Social Media Advertising
If attracting leads organically seems like a slow process, consider investing some cash in spreading the word about your business and its offerings. Running ads on platforms like Facebook and Instagram can yield tremendous results. In fact, 77% of B2B and B2C marketers said they relied on ad retargeting on Facebook and Instagram to engage those who have already interacted with their brand in some way.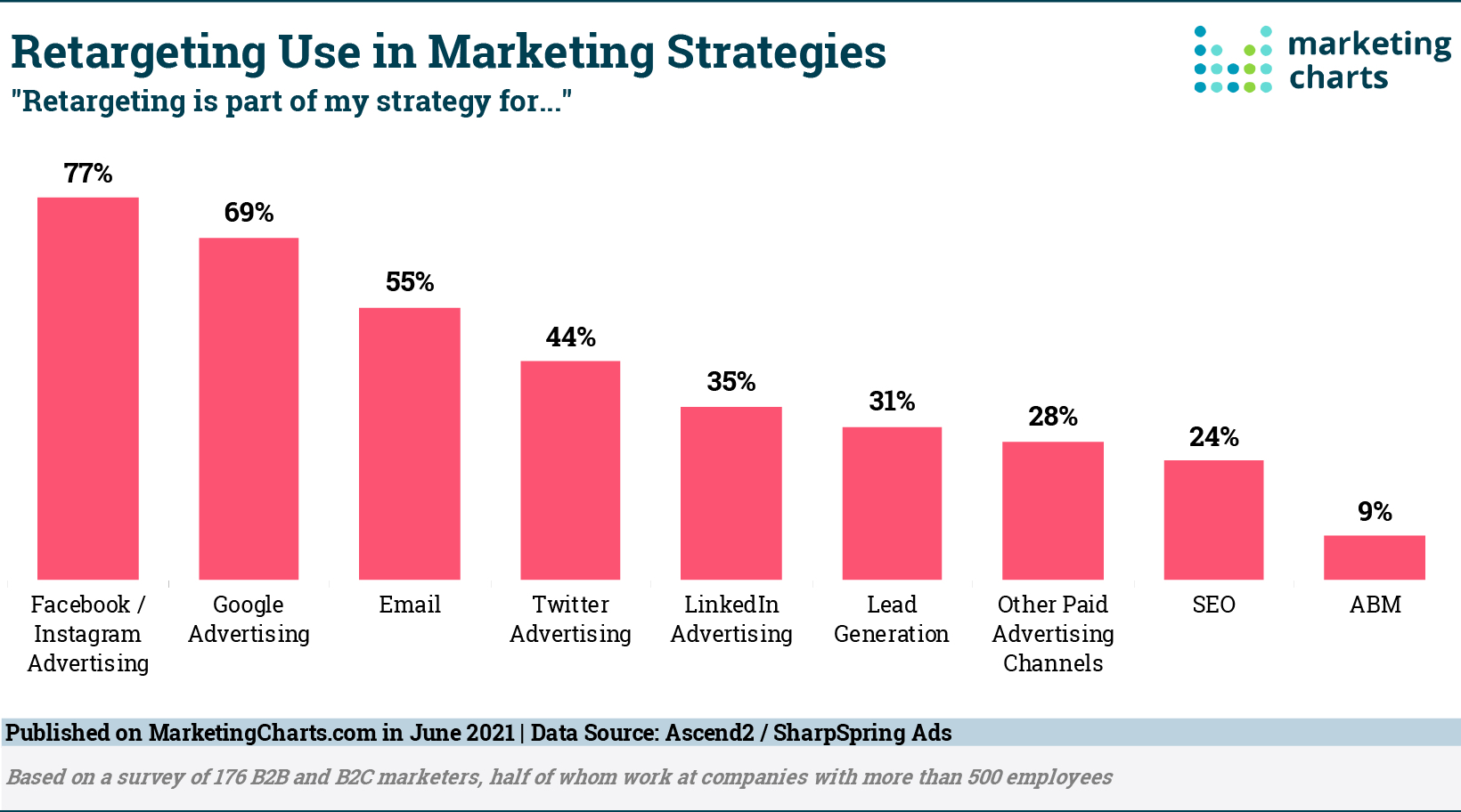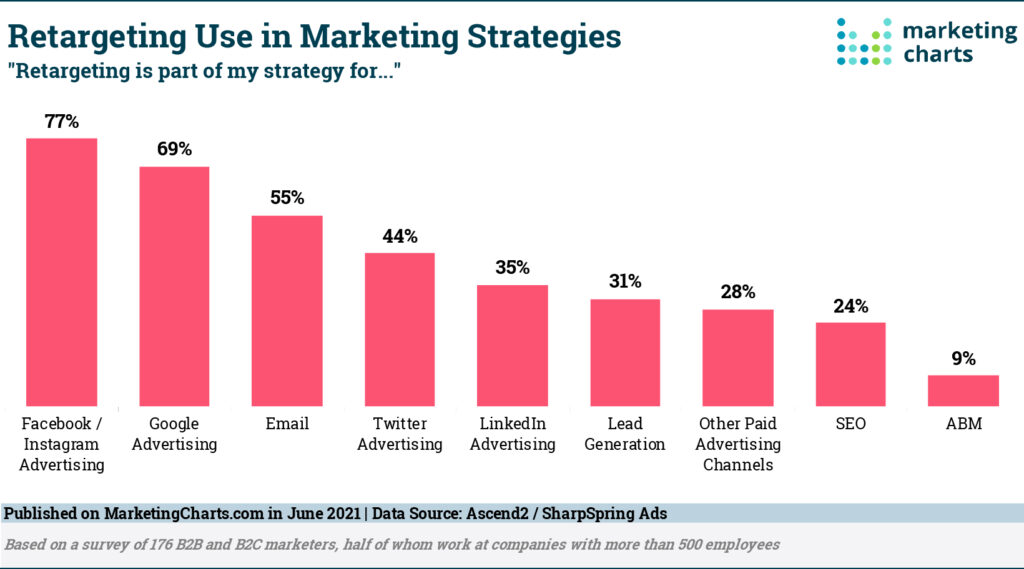 Source: SharpSpring
This is going to assist in generating more awareness for your brand, ultimately jump-starting the social media lead nurturing process. Once people have discovered you and engaged (followed your profile, joined your email list, etc.), it's your job to keep building the relationship. Don't miss out on doing this when a lead is hot and newly interested in your brand.
If running traditional social media ads isn't up your alley, you can always consider an influencer marketing campaign. This is fantastic because it allows you to take advantage of an active audience with which a creator has already built a level of trust. Their recommendation can bring tons of new leads.
5. Review Analytics and Tweak Your Strategy
Finally, you'll want to review your analytics after some time has passed to measure the success of your social media presence thus far. You can review your performance every month, but do a deeper dive every quarter if you find that works best for you. Review things such as: 
Follower growth 

How much engagement posts are getting

Which posts generate the most attention
Use this information to shape your strategy moving forward. If you find your audience loves it when you cover certain topics, keep talking about them. If videos are performing better than written posts, create more of them. And if something isn't performing as well as expected, ditch it or make some changes to make it more appealing next time around.

Improve Your Company's Sales Automation
Here at MXTR, our marketing automation specialists can work with you to enhance your overall sales process and help you in generating more leads. Everything is tailored to your business to deliver the best results possible.
Schedule a demo to see if it fits your company's needs.
Featured Image: istockphoto