Email marketing automation has become a powerful way to connect with your target audience. And the best part is that it doesn't require you to deal with ever-changing algorithms like social media.
Here's why you should consider automating your email marketing: 59% of consumers say marketing emails influence their buying decisions. That means if your business isn't utilizing email as a way to make sales, you're leaving money on the table. 
In this post, you'll learn what exactly it means to automate your email marketing, why it's beneficial, and some simple steps that will help you get started.
Key Takeaways
Email marketing is a powerful way to educate your audience while also building relationships with your subscribers.

Done right, email marketing automation is effective for building loyalty and increasing revenue.

Using the right automation tool is crucial to ensure the deliverability of your emails.
What is Email Marketing Automation?
Email marketing is the act of sending personalized, mass emails to a list of subscribers to grow your business. When this process is automated, emails used to educate, build relationships, and promote your offerings are sent out automatically when certain conditions are met.
This means you don't have to send thousands of emails to your list manually. After all, that would be rather time-consuming and tedious.
Here are a couple of email marketing automation examples that businesses love to use:
Drip Campaign:

This type of automation happens after someone has taken an intentional action. For example, a welcome sequence could begin sending after a user has joined your email list or downloaded a lead magnet. This is great for building relationships with new prospects.

Trigger-Based Automations:

In this case, a specific trigger prompts a single email or a sequence of emails to send to a subscriber. A common example of this would be follow-up emails sent to someone after they've abandoned their shopping cart in your online store. This type of sequence helps recover lost sales.
Essentially, email marketing automation is done on autopilot and requires little action from you after everything is up and running.
How Email Marketing Automation Can Help Your Business
As with anything in business, you'll need to put some effort and money into developing a strong email marketing strategy and the content that goes along with it. So, it's understandable that you or the higher-ups may question if it'll be a worthwhile investment.
Whether you need some convincing yourself or you have to convince an employer that email marketing automation is the way to go, there are four key benefits to consider:
It'll Boost Brand Loyalty:

When someone first joins your email list, they're at peak engagement due to their newfound interest in your brand. So this is a great time to send a welcome sequence to introduce yourself, establish trust by adding value, and begin cultivating a loyal community.

It Can Increase Revenue:

Email is a great way to promote your offerings in business since you're targeting an audience that's already warm (meaning they're engaged and likely ready to buy). For instance, one popular option is to send emails for abandoned carts. Sending three abandoned cart emails as opposed to one has resulted in

69% more orders

.

It'll Save Time in the Long Run:

Everything will run on autopilot once you have your email marketing automation set up. Just be sure to check in monthly and quarterly to ensure you're receiving the desired results. This will free up your time to focus on other essential tasks in your business.

There Are No Algorithms to Deal With:

One of the biggest frustrations with social media is the algorithms that can cause your content's reach to decline. With email, you don't have to worry about this. Instead, you can reach and connect with people where it matters the most: their inbox.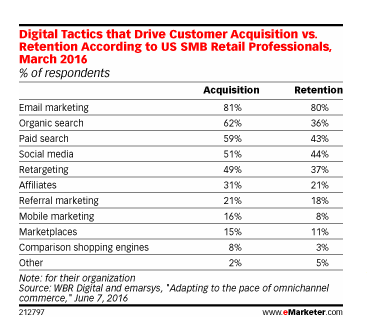 Source: emarketer.com 
Nearly every business will see these benefits when properly implementing email marketing automation. That's because it's an incredible way to foster new relationships and directly reach those who are most interested in what your business has to offer.
5 Tips for Getting Started with Email Marketing Automation
Intrigued? Here are five simple steps you should follow to get started with automating your email marketing:
1. Find the Right Tool for the Job
There are tons of marketing automation tools on the market, so do some research to determine which one is right for you. You'll want something user-friendly, enabling you to quickly and easily send emails to your list. It would even be wise to ensure the tool you choose offers detailed analytics so you can track your key performance indicators (KPIs).
2. Set Goals for What You Want to Achieve
In business, everything always seems to start with knowing your goals. When you know what you hope to achieve, you can take strategic action to get you from where you are now to where you want to be. Plus, your goals will help you see which metrics to track in your analytics. This way, you'll know if you're on the right track or if you need to make changes.
When it comes to email marketing automation, you need to determine what you'd like to get out of it. Are you looking to drive traffic to your website, generate more engagement, or drive sales? When you know your end goal, you can create content that will help you make it happen. And then, tracking your KPIs will let you know if everything is working accordingly.
3. Create Your Campaign
Next, you can begin creating your first automated email marketing campaign. The best place to start is by creating a welcome sequence that helps you connect with your newest subscribers. Use it as a way to introduce your business, position yourself as an authority, and provide value. You can even let them know what they can expect from you as subscribers. After this, you can work on more complex sequences (like ones for abandoned carts).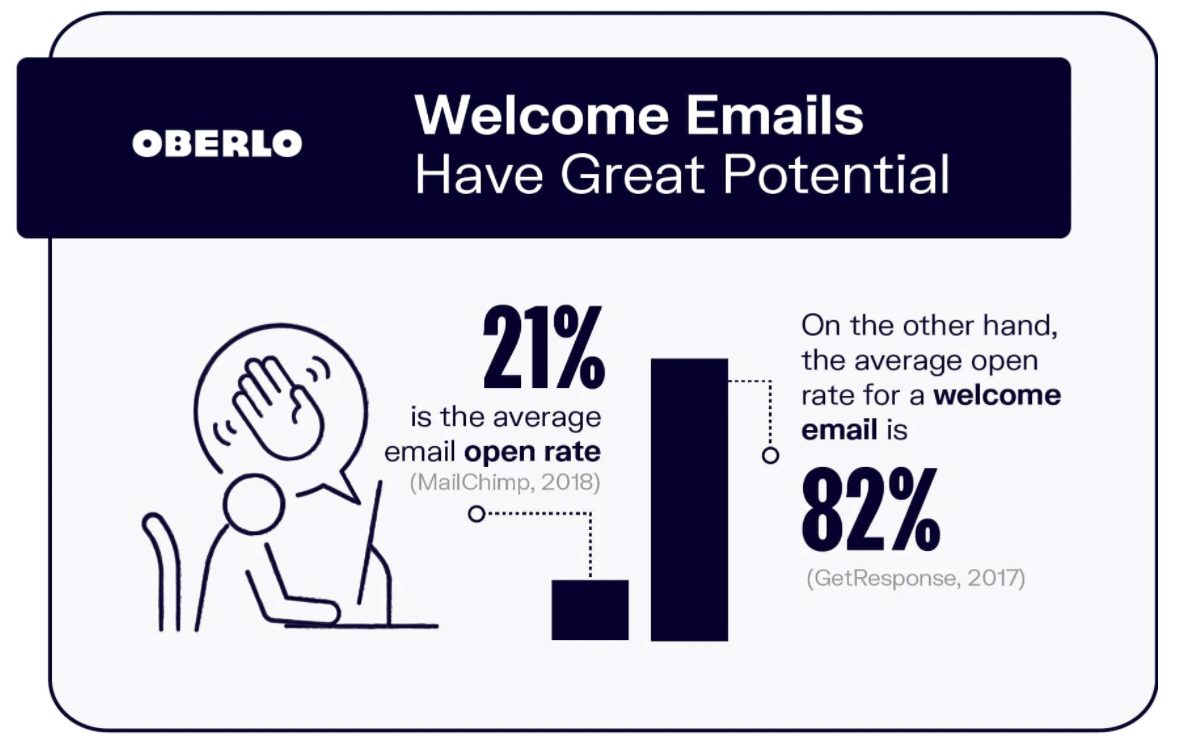 Source: oberlo
*Fun fact: Welcome emails are very effective! The average open rate for a welcome email is 82%.
4. Focus on Getting Subscribers for Your List
Once everything is set up and ready to go, you'll need to begin building your list. Otherwise, you won't have anyone to send your emails to! People aren't always so quick to give up their personal information these days. It always helps to have some sort of incentive that gives people a reason to join your list.
Consider what type of incentive would appeal to your target audience. It could be a free download or even a discount for your online shop. Once you have their name and email, you'll have the ability to reach them again and again through various campaigns.
5. Track Key Metrics of Your Campaign
Which KPIs will indicate whether or not your email marketing automation is successful? Again, this will go back to knowing your goals. Some of the most common KPIs to track include: 
Delivery rate

Bounce rate

Open rate

Click-through rate

Unsubscribe rate
You want to ensure your emails are landing in your subscribers' inbox, getting opened, and getting clicks.
Choosing the Right Automation Tool
At MXTR, our team of marketing automation specialists can help take your business to the next level with email. We have skilled designers, copywriters, and automation gurus who know what it takes to boost brand awareness and generate sales. And we've developed a tool that will allow you to nurture leads with an entirely automated process.
 Schedule a demo with our team to learn how our marketing automation tool can help.
Featured image: istockphoto