Digital transformation is how businesses change and adapt to new emerging technology. This adoption transforms how organizations perform their tasks, relate to each other, and connect with customers. However, a customer-driven digital transformation puts your customers at the heart of your changes.
Learn how to create a customer-centric digital transformation and the benefit of putting your customers in front of your business.
Key Takeaways:
Digital transformation changes your tools and mindset to accept new ideas and software.

Customer-driven digital transformation focuses on the customer and their needs over your products and sales

.

An effective customer-driven digital transformation begins with understanding your customers through feedback, high engagement, and customer journey mapping

.

What Is a Digital Transformation?
Digital transformation is at the forefront of marketing messages today. Thought leaders use this phrase alongside other terms like artificial intelligence, big data, and machine learning. Generally speaking, digital transformation is the changes you make to adopt new technology.
However, the concept runs much deeper than that. It's also a shift in the culture and mindset of your business. It isn't just about using the latest software or going digital. It's about forward-thinking and replacing outdated and traditional systems with new processes that open the door to growth in a fast-paced digital environment.
For example, digital transformation is adopting a data management system that replaces paper filing cabinets. However, it's also an agile methodology that continually tests and adjusts your marketing strategies.
About 40% of businesses say digital transformation's top benefit is improving operational efficiency. Meanwhile, 35% say they can better meet changing customer expectations.
Why Your Customer Should Be the Center of Your Transformation
Before digitally transforming your business, you need to define what a digital transformation is to you and your business. For example, are you looking at replacing your software with updated tools or changing your company mindset?
No matter how you define it, one aspect should remain fixed. Your digital transformation should be customer-centric. About 75% of customers don't just expect businesses to offer products. They want them to improve their quality of life.
What you choose to update and change should be about who you're reaching, not what you sell.
In other terms, a product-centric business focuses on making a sale. It defines your business by what you sell and how your products are superior. This might look like a list of product features and large images of the latest items added to your inventory. Your choices are also motivated by data about your products and how they perform.
However, shifting to customer-centric transformation means your customers become the center. For example, you might post pictures of consumers using a product in their daily lives instead of posting a picture of a giant product. Another example is that you might market the benefits of your products versus specific features.
Jeff Bezos made this statement about being customer-centric:
"If you're competitor-focused, you must wait until a competitor is doing something. Being customer-focused allows you to be more pioneering."
Being pioneering and innovative is the true motivation behind digital transformation, even more than adopting new technology.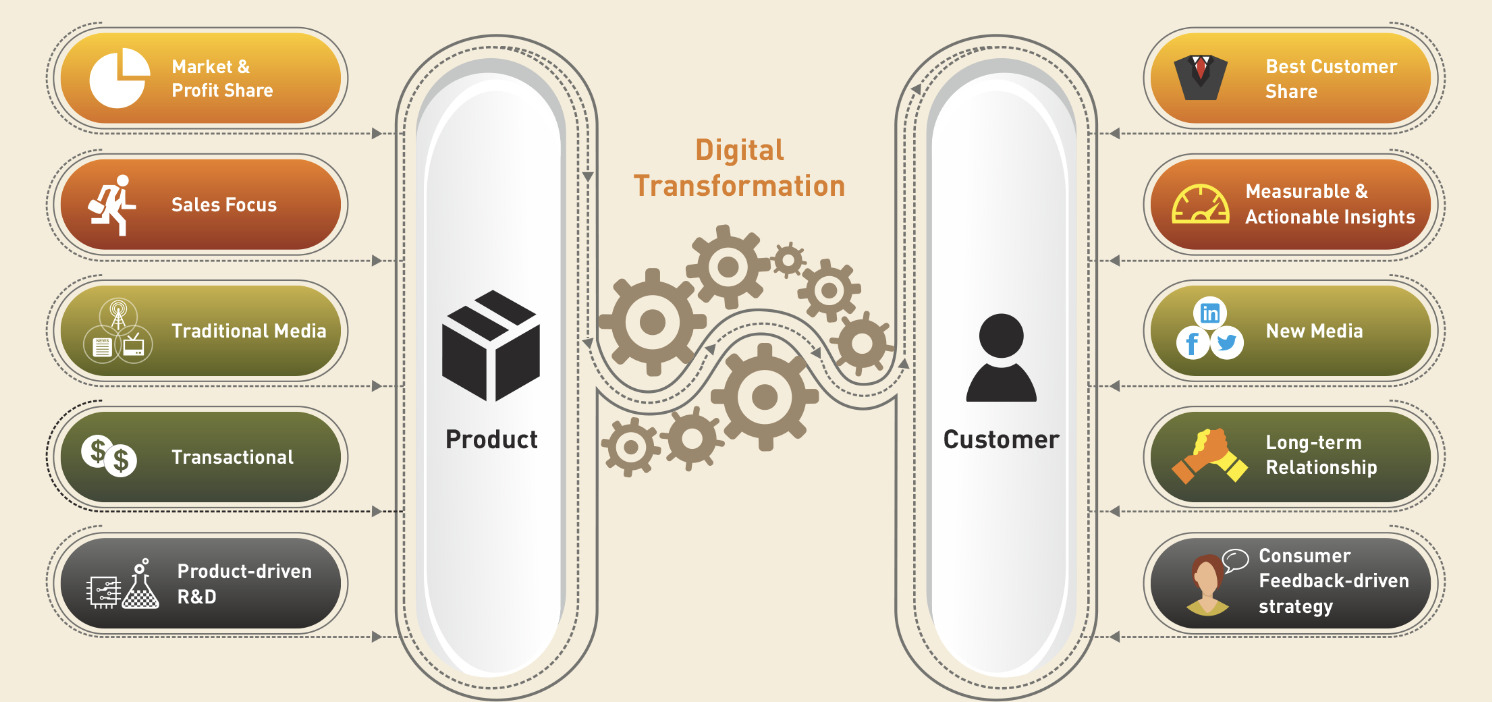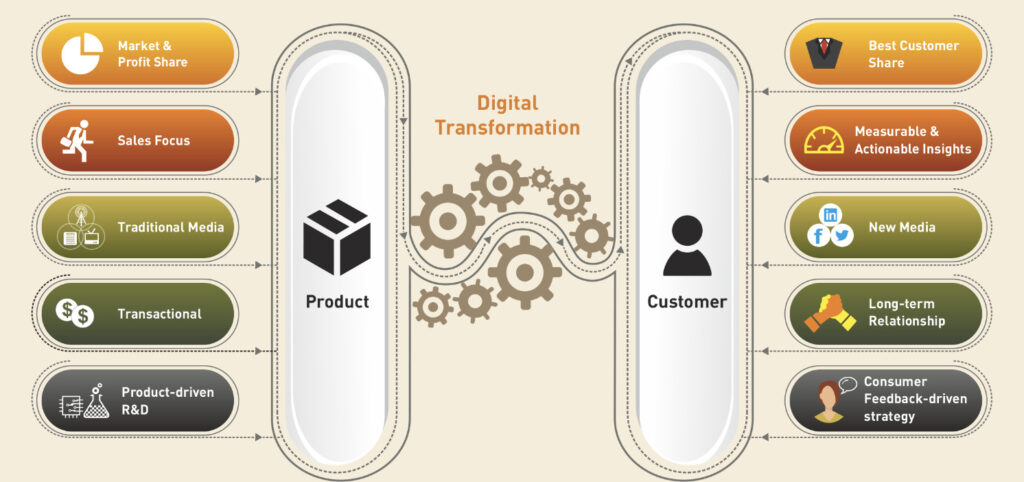 Source: WNS
5 Ways to Have a Customer-Driven Digital Transformation
Use these five strategies to create a connected and seamless customer experience through digital transformation.
1. Understand Your Customers
Data is everywhere now, and most experiences take place online. People shop, socialize, and research online, leaving millions of digital footprints to follow. Building your digital transformation on data requires knowing how to sift out the most relevant information.
The data you want to use tracks your customers, behaviors, and needs. For example, if you're selling software to a marketing agency, you have to understand what marketing agencies need. Often, marketers are more interested in lead generation benefits than how they might save money. Knowing this will help you shift your marketing and branding to highlight those needs and differentiate you from your competition.
One of the best ways to find out what your customer needs or might keep them from purchasing is to map their journey. Customer journey mapping follows an average customer from their first touchpoint until purchase. It also notes when loyal customers grow stagnant.
2. Don't Monetize Your Business Too Soon
A digital transformation isn't about finding new ways to monetize your business. Monetizing your company too early will do more harm than good. Instead, today's digital tools and upgraded mindsets focus on building a positive customer experience.
Taking the time to nurture your customers and build relationships is the best way to see revenue growth. When customers are loyal, they are more likely to purchase from you. About 81% of customers want to build a relationship with brands. In addition, 52% of customers will make more purchases from brands they trust and are loyal to.


Source: FinancesOnline
3. Invest in Better Customer Engagement
Engaged customers are more loyal to companies because they feel like part of your brand's community and trust your company more. To build this relationship, you must invest in channels that allow your customers to be involved in the company. This includes technology for boosting customer feedback, omnichannel experiences, and more diverse customer service options.
4. Unify Your Departments
A digital transformation can unify your company and all your organization's individual departments and franchises. Without digital tools like customer management systems, each area of your business will operate in a data silo with limited information or contact.
Once you connect the branches of your business, you also join the flow of data and strategies. This ensures that everyone is working towards the same goals. Everyone is also working with the same information, which helps team members make more educated decisions and improve the customer experience.
5. Only Adopt Relevant Technology
You don't need to own all the latest technology to digitally transform your company. For example, even though Amazon is one of the largest e-commerce brands doesn't mean all e-commerce businesses should adopt the same technology and toolsets it uses. That would be a waste of resources.
Instead, focus on the most relevant tools for your industry, company size, and goals. Avoid getting caught up in the latest technology trends and focus on what your business and customers need. For instance, if you're a franchise, you would find more value from platforms and tools built specifically for franchises.

Take Control of Your Customer Experience
Start your customer digital transformation by focusing on a unified brand voice and customer experience across your franchise. MXTR's platform connects your marketing and sales team to ensure each customer receives a personalized and streamlined experience that improves your customer relationships and boosts your sales.
Schedule a demo to see our platform's impact on your business's processes.