Direct mail automation enables your organization to streamline its direct mail marketing campaigns. That way, you can reach your target audience at the scale you need.
A common myth is that print material is dying off due to digital ad campaigns. That couldn't be further from the truth. In fact, direct mail campaigns cost organizations $38.5 billion a year. It's the largest segment of U.S. advertising spending. 
Direct mail campaigns aren't going anywhere, even in this digital age. Here's why and how your organization should use direct mail automation for your campaigns.
Key Takeaways:
Direct mail automation enables your organization to automate manual processes associated with launching direct mail marketing campaigns.

The benefits of direct mail automation include saving you time, money, and resources. It also delivers personalized mailers to potential and existing customers.

Automated campaigns reduce errors, are quick and efficient, and allow your teams to track engagement, ROI, and insights regarding consumer buying patterns.

Various direct mail methods include letters, flyers, brochures, postcards, and catalogs, to name a few.

What is Direct Mail Automation? 
You can sum up direct mail automation with one sentence: This form of marketing automation makes sending physical mail to customers and potential leads as simple as sending an email. 
Software as a Service (SaaS) providers offer these automation tools to streamline and simplify the planning, development, designing, printing, and sending of print ad campaigns via the U.S. postal service. 
Old processes involved even small businesses dedicating entire mailrooms to processing direct mail campaigns. Investment in equipment, inventory, and labor made direct mail ads costly and less effective than other marketing strategies. 
Today, automation has taken the hassle out of mail campaigns. The new way not only automates manual processes but also reduces real estate demands, meaning less operational costs associated with renting office space. And those aren't even the benefits that drive people to adopt automated direct mail procedures.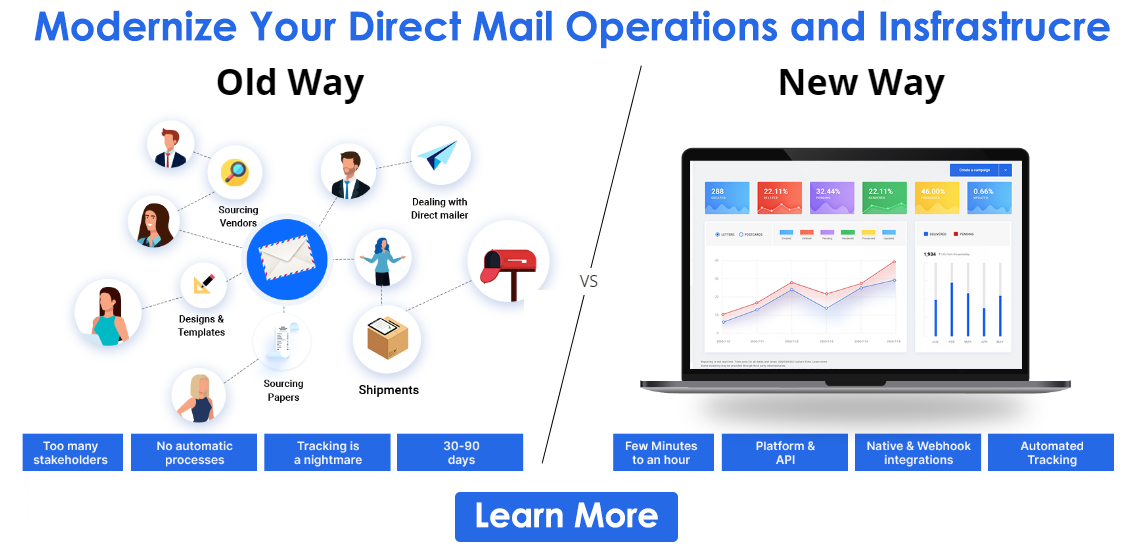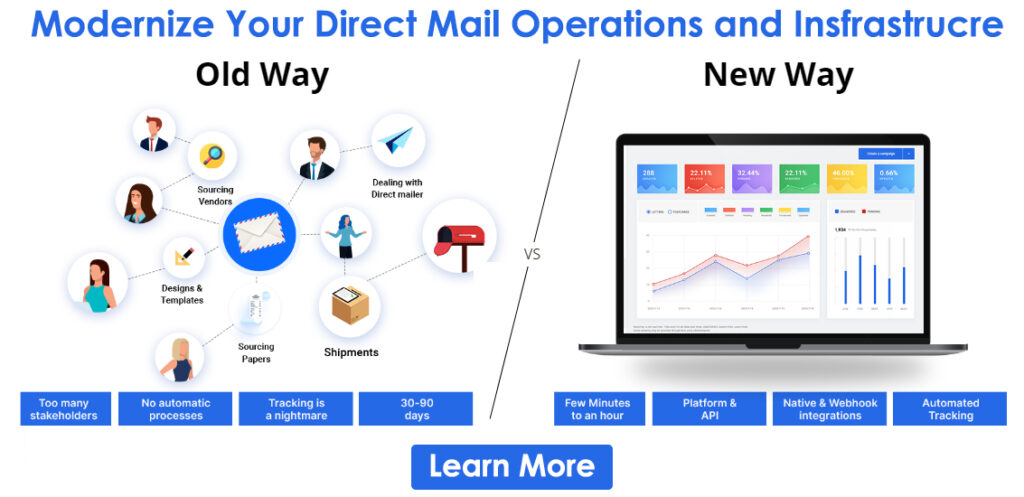 Source: PostGrid
Benefits of Direct Mail Automation   
Direct mail marketing campaigns work in every sector at every level of an enterprise. Small to medium-sized businesses, international corporations, and every entity in between can use and benefit from using direct mail automation. 
Lili Thompson from Multifamily Real Estates does a great job at breaking down how her enterprise benefits from direct mail marketing campaigns. Check out what she has to say in this short video.
Here are some of the benefits of automated direct mail marketing to flawlessly execute campaigns:
Saves Time  
In-house teams were once tasked with sourcing, purchasing, and stocking inventory for direct mail materials. Not to mention the tedious tasks associated with preparing letters, flyers, brochures, and other print media for mailing. 
That doesn't even account for the time spent traveling to and from the post office, waiting in line, dealing with inclement weather, etc. Going to the post office for bulk mailings is inconvenient, to say the least, and inefficient at best. Every tiny detail is a struggle. 
Eliminate these tasks with direct mail automation software. Empower your teams to send tangible copies quickly, efficiently, and for less.
Saves Resources    
Traditional direct print and mail require extensive investment in expensive equipment, including the time and potential of your employees. 
Direct mail automation enables the entire operation to run with just a few clicks to initiate the campaign. You won't need to worry about printing suppliers, mailers, or inventory management with direct mail automation.
Delivers Accuracy   
Get seamless CRM integration with your direct mail automation software. Fetch addresses, batch labels, and bundle mailing lists. Use segmentation to refine even more personalized direct mail campaigns. Reduce human errors and ensure every piece of mail gets to its recipient.
Reduces Manual Tasks
Eliminate the work that goes into planning, developing, and launching your automated direct mail campaigns. Speed up the entire process by replacing manual tasks with direct print and mail features for quicker processing.
Automates Any Process 
You can automate more than just your direct mail campaigns. With automated direct mail software, you can automate any marketing process from designing the piece to launching and printing a successful campaign without draining resources.
Gives Insights
Track the performance of your direct mail campaigns. Do this by either adding QR codes, trackable links, or promo codes. It will give you the insights you need into what customers are saying and how often your campaign's efforts pay off. 
You can also use automation to track other forms of marketing results, like email, social media, and paid searches.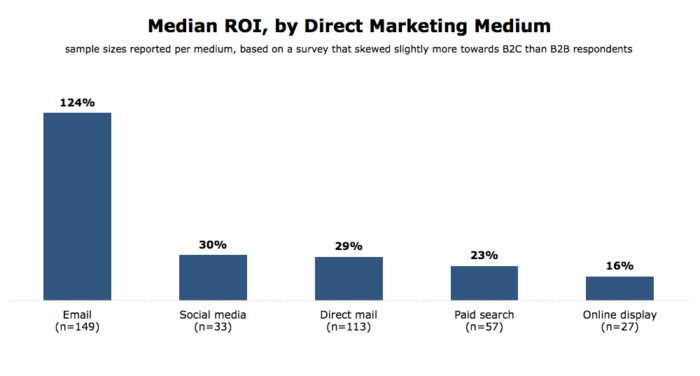 Source: PostGrid   
Different Direct Mail Methods You Can Automate  
Depending on your business's target market, the purpose of the campaign, and even your budget will determine which direct mail strategy is best. Tailor messaging, adapt brand voice, and scale distribution as needed for every direct mail campaign.
Here are the most common methods of direct mail automation:
Letters:

Communicate with customers

to convey gratitude for a purchase or information regarding upcoming events tailored to the customer's buying habits.   

Flyers:

Automated flyer printing allows you to reach your target audience to boost leads in a cost-effective manner.

Brochures:

Opt for an automated brochure for a compact version of your branding message. Since you can fold them to the size of a letter, they are another cost-effective method.

Postcards:

Automated postcard printers and mailers are one of the cheapest ways to mail consumers.

Checks:

Pay clients and vendors on time by signing up for an automated check printing and mailing service. 

Catalogs:

A printed catalog enables shoppers to have full access to your entire product line when digital methods are inconvenient or unavailable. 
The features that make direct mail automation worth the investment include CRM integration, mailing lists, and scalability. These features increase productivity, streamline the mailing process, and enables you to reach consumers limited by other channels.

Marketing Automation with MXTR
Direct mail automation tools seamlessly integrate with your existing systems. It allows you to take tedious manual processes and automate them with simple add-ons. Set up printing in-house or outsource printing and shipping according to the needs of your organization.
At MXTR, the art of marketing automation comes from our experience. When you work with us for your marketing automation strategies, we bring a seasoned team of automation specialists ready to help you launch your next direct mail campaign.
Is it time to invest in a better direct mail automation strategy? Request a demo today to see how our marketing automation campaigns can increase your engagement.
Featured Image: istockphoto