CMOs and CSMs face enormous difficulties driving top-line growth and providing transparency on marketing spending and sales KPIs. The number of channels available to reach consumers has never been more significant. 
As a result, it's become increasingly difficult for companies in the modern marketplace. COVID-19 has changed consumer preferences, but this shift in consumer behavior started years before the pandemic. Read on to discover 10 sales KPIs and metrics that can help you increase sales performance and get the most out of your marketing budget.
Key Takeaways:  
What sales KPIs you choose to pay attention to can drastically impact your performance.
Sales KPIs and metrics must provide a holistic overview of your entire sales cycle.
Effective tracking of your most important sales KPIs needs to be automated, easy to understand, and accessible by everyone in your organization. 
Sales KPIs and Metrics Need to Mirror Your Omnichannel Strategy
Despite the rapid shift in consumer behavior, marketing managers across many industries must deal with the same marketing budget yearly. These marketing budgets must stretch further across a growing ecosystem of customers, suppliers, and partners.
The engagement bar is at an all-time high, and everyone expects immediate gratification with personalized offerings at the right time in the right channel. To deliver on these expectations and optimize every marketing dollar spent, leaders must rely on automation that allows real-time access to the most relevant sales KPIs and metrics. 
Understanding and implementing the right sales KPIs will allow you to stay agile, build new capabilities and effectively respond to the change in your customer's purchasing behavior. A business can focus on many things, but identifying the right things can be difficult. Your customers are everywhere, and you are almost guaranteed to overspend and underdeliver without a precise way to measure and track customer interactions.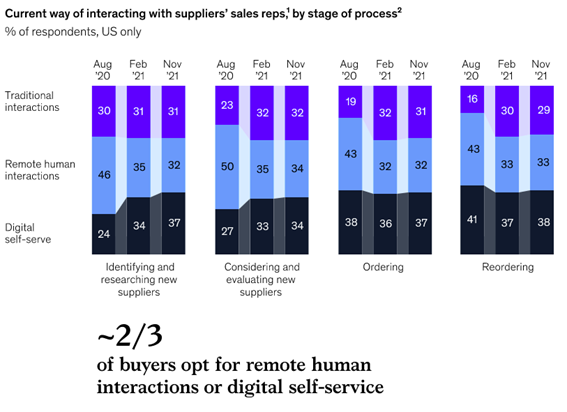 Source: McKinsey
What Are Sales KPIs?
Sales KPIs are key performance indicators that sales leaders use to measure and track the success of their sales teams. By monitoring sales KPIs, sales leaders can identify areas of improvement and optimize their sales strategies accordingly. 
Today's technology makes an astonishing number of data points available to anyone looking for it. Getting caught up in tracking everything or tracking different sales metrics each month is easy. If this sounds too familiar, it may be time to identify a few most critical metrics, align your executive compensation accordingly, and invest in a technology infrastructure that allows easy implementation of those things that mean the most.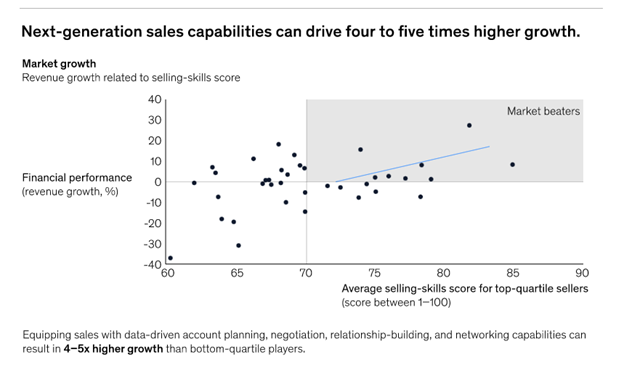 Source: Mckinsey
Deciding Which Sales Metrics Are Most Important
Let's look at some of the most fundamental sales metrics that will provide insights into your entire sales cycle from start to finish.
1. Sales pipeline health – Measures the sales pipeline at various stages, from initial contact to close. It helps sales leaders understand where deals are stalling, and more attention is needed. It also allows marketing managers to understand the effectiveness of their strategies.
2. Lead conversion rate – Estimates the percentage of leads converted into customers. It's a key metric for sales leaders to track to assess their sales team's effectiveness. If the lead conversion is poor, focus more on your sales training. 
3. Average lead response times – Calculates the average time it takes for sales reps to respond to new leads. Quick response times are critical for conversion rates. Customers expect you to be everywhere at all times.
4. Percentage of leads followed up on – Measures the percentage of leads those sales reps proceed with to follow up. It's a key metric for sales leaders to track to assess their sales team's effectiveness.
5. Average time to close – Estimates the average time it takes for sales reps to close deals. Closing times are critical for understanding the actual return on your marketing dollars.
6. Average deal size – Calculates the average size of deals that sales reps close. Combined with the average customer acquisition cost, it's a critical metric for setting payroll and marketing targets.
7. Customer lifetime value – Measures a customer's average value over their relationship with a company. This is an excellent opportunity to increase your top-line revenue year over year. Sometimes it's easier to get more value from your existing customers than create new ones.
8. Upsell and Cross-Sell Rates – Measures the percentage of customers who take advantage of other products and services available from your company. 
9. Sales volume by location – Calculates the sales volume by location. It's a key metric for sales executives to understand where additional training and development resources are needed.
10. Competitor pricing – Tracking competitor pricing is a crucial metric for sales and marketing managers to monitor and compare against their current market offers.

Simplify Your Management of Sales Metrics with MXTR
Sales KPIs are important because they help organizations track the success of their sales teams. By tracking what matters the most, sales and marketing leaders can identify areas of improvement and optimize their sales strategies accordingly.
Knowing your sales KPIs and using your sales KPIs to improve your sales performance are two different things. To use your key sales performance indicators, your data needs to be accurate, automated, easy to understand, and accessible by all stakeholders. It is time to eliminate the manual spreadsheets and switch to a modern sales dashboard tool.
MXTR platform helps businesses accurately assess and improve their sales and marketing performance. Helping you concentrate all efforts on those areas that matter the most and help you drive growth for your business! Schedule a demo today!
Featured image: istockphoto