In this digital age, consumers crave the ability to connect with their favorite brands online in a truly effortless way. They expect brands to be accessible through the platforms they're already using. And they also want prompt responses to their messages, especially when there's an issue. More than ever, consumer messaging is crucial to your brand's success. And those that are failing to implement this practice are missing out on key relationship-building opportunities.
In this article, you'll discover what consumer messaging means exactly and some of the most popular communication platforms brands use. Plus, there are a few tips on improving your messaging, so you can stand out above the competitors in your field.
Key Takeaways:
Consumer messaging is about how your brand communicates with its audience to establish and nurture relationships over time.

The most common ways for brands to connect with their consumers include live chats via their website, social media platforms, and text messaging (SMS).

An important element of successful messaging is a skilled customer service team representing your brand and effectively connecting with your consumers.

What Is Consumer Messaging?
Consumer messaging allows brands to connect and communicate with their audience. Messaging plays a role in the overall experience someone has when engaging with a brand. It's imperative for building strong relationships, as it can assist in establishing the Know, Like, and Trust Factors. Plus, when done correctly, it can produce profitable outcomes in business by driving sales.
Source: Revechat
One of the things to note about consumer messaging is that it can take place on any platform where you and your audience are currently active. That means they'll be inclined to choose the medium that's most appealing to them. So, you'll want someone on your team who can oversee any comments or direct messages you receive on various platforms to address them promptly.
Here are a few consumer messaging platforms brands use today:
Live Chat on Website:

Adding a live chat feature to your website makes it easy for people to reach out whenever they have questions or concerns. They're great for real-time conversations and resolving issues quickly and easily. Just be sure to publicize your virtual office hours, so anyone who contacts you knows when you're online and available to chat.

Social Media:

Arguably one of the most popular ways to implement consumer messaging, social media makes it easy for brands to nurture relationships with their audience. Messages can come through posts about you, replies/comments, or direct messages.

Text Messaging:

More and more brands are using traditional text messages (SMS) to stay connected with their consumers. You're taking advantage of a channel your audience is already using all the time, making you more accessible. The video below from Shopify shares some tips on using SMS as part of your marketing strategy.
How to Improve Your Brand's Consumer Messaging
You've already implemented some consumer messaging tactics for your brand. But now, it's time you're more strategic about how you're handling this process. If done well, you can deliver a satisfying customer experience, and you may even be able to drive a few sales. Here are some tips:
1. Build a Dedicated Team for Communicating With Consumers  
Make sure you build a dedicated customer service team if you haven't already done so. The members of this team will become the main contacts for your brand and should therefore be able to represent you in only the best light. Choose team members who have great communication skills and are respectful and patient. They should also be well-versed in the different messaging tools your brand uses to jump in easily and begin responding to messages that come through.
Alternatively, there are benefits to automating some aspects of your consumer messaging. For instance, when addressing commonly asked questions, tools like chatbots can automatically reply with a canned response. Your team will be more productive by allowing them to focus on other, more intricate issues that a chatbot wouldn't be able to resolve. The graphic below shows other automation benefits.
Source: Groove HQ
2. Direct Your Attention to the Right Platforms 
As mentioned above, there are different ways for your brand to connect with its consumers. Which ones you choose to implement will depend largely on where your consumers are spending their time online, particularly when it comes to social media. If there's a platform your target audience is actively using, you'll want to make sure your brand has a presence there so you don't miss opportunities to engage.
Beyond social media, consider what else will appeal to your unique consumer. After all, Gen X will want to connect with brands differently than Millennials and Gen Z. Will SMS messaging or email marketing resonate with them more? Accessibility is key, so make your brand available to them in the ways they find easiest and most appealing to communicate.
3. Implement Tools to Support Your Team's Daily Tasks
When you consider how many platforms your brand needs to be accessible on, managing it all can feel overwhelming, especially if you have a smaller team and a large online community that reaches out frequently. It would be wise to implement some tools to support your team's consumer messaging tasks, such as ones designed to assist with social listening. They make it possible to find and respond to every mention of your brand online quickly and easily.
4. Always be Authentic in Your Messaging 
Don't forget that consumer messaging goes beyond the platforms you use to connect with your audience. Now more than ever, it's important for brands to be open and honest. A study showed that 88% of consumers felt authenticity was important when choosing brands they liked and wanted to support. Authenticity should shine through in the way your brand presents itself online.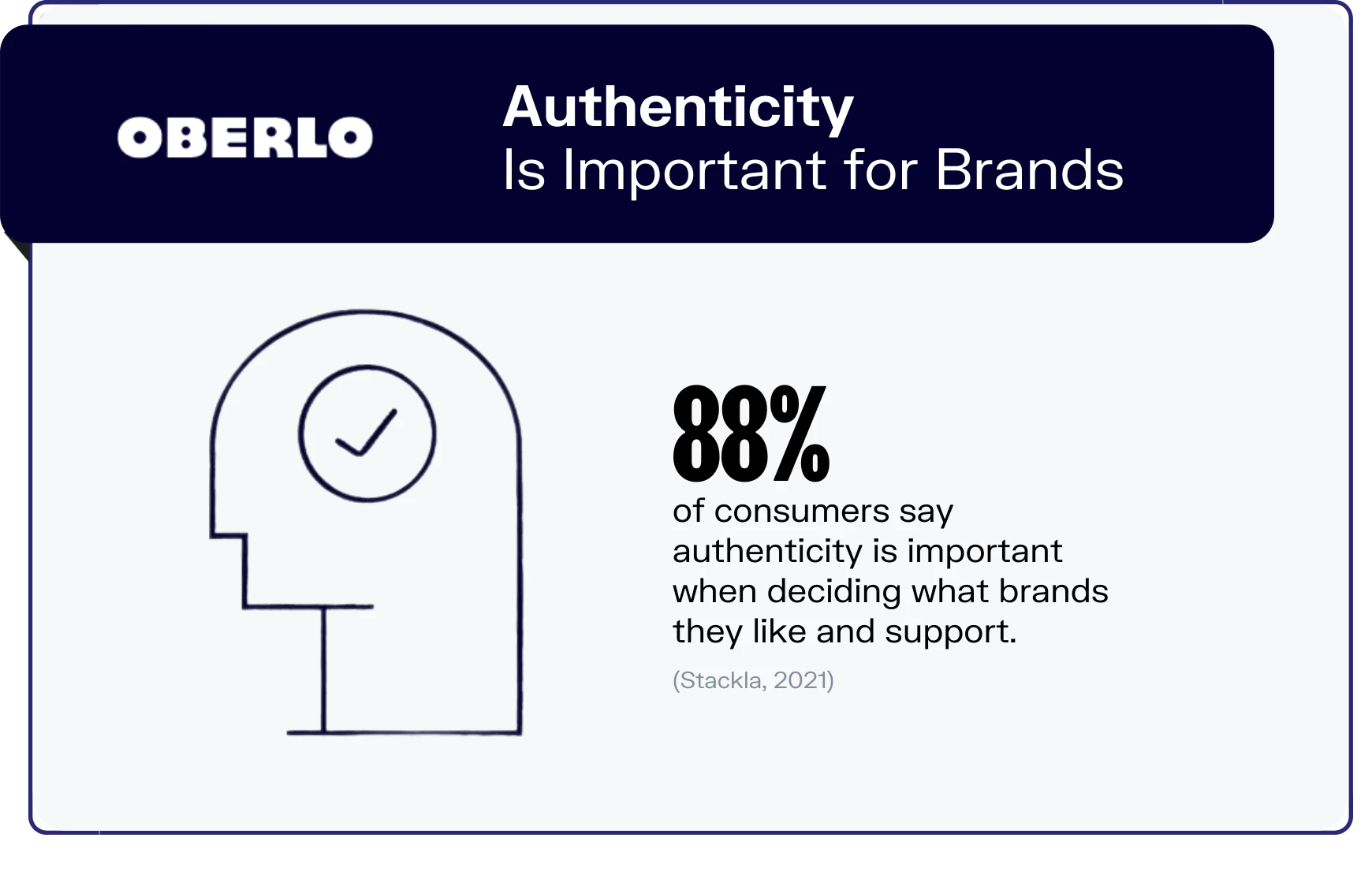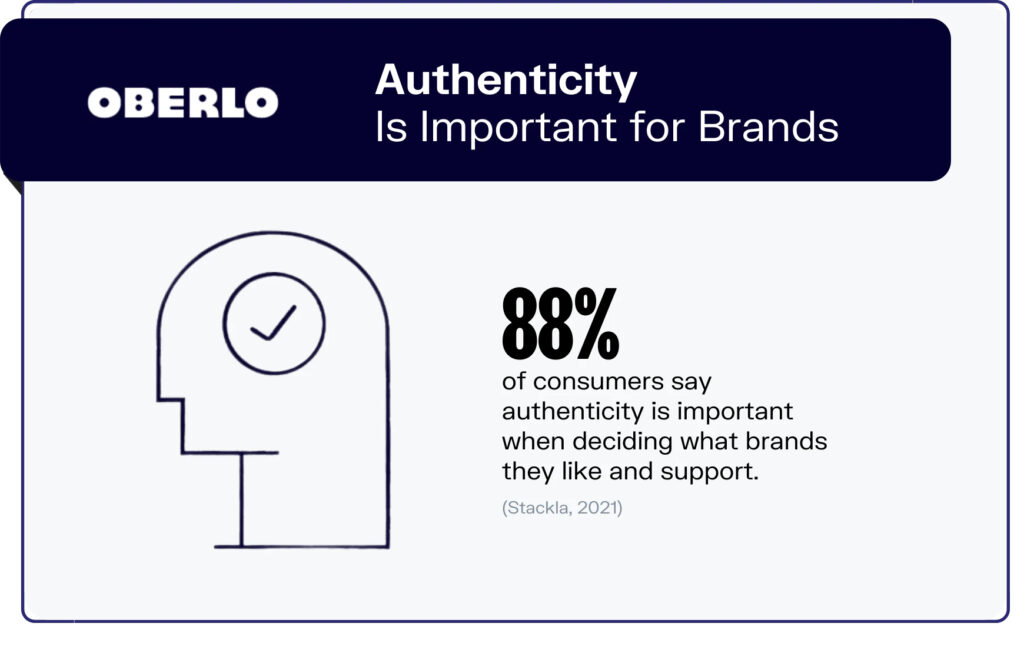 Source: Oberlo
Showcase your authenticity by first clarifying your brand story and values. Then communicate it in your messaging on your website, social media, and with your consumers. In time, being authentic will pay off by differentiating your brand from others.
5. Set Performance Targets to Track Success
To make sure your brand's hard work is paying off, set targets for your team to reach weekly, monthly, or quarterly. For example, you can have a goal regarding your team's average response time to ensure consumer messages receive prompt replies. You'll also want to track how many issues your team handles, so you know they are making progress in answering questions and resolving problems before they escalate.

Use Marketing Automation to Enhance Your Messaging
Here at MXTR, our goal is to make marketing easier than ever. We can help you maximize your time and resources, nurture relationships with your target audience, and more. The best part? You can automate much of it to have more free time to focus on the tasks that will propel your business forward.
Schedule a demo to learn how our marketing automation can help your business better connect with its consumers.
Featured Image: istockphoto