If your website lacks a lead capture form, generating leads for your business won't be easy. Without these forms, you'll have no way of collecting pertinent information from website visitors. And even if you do have a lead capture form, it needs to be well done to be successful.
In this article, you'll learn lead capture form best practices for setting up and increasing conversions on every form on your website.
Key Takeaways:
Lead capture forms provide your business with an easy way to collect essential data from potential customers, allowing you to learn about and connect with your audience

Contact forms, newsletter subscription forms, and other registration forms are all ways of gathering information from leads that are interested in your business

A great lead capture form will stand out on your website, have captivating copy that will make visitors want to submit their information, and should be easy to complete

What Is a Lead Capture Form?
A lead capture form is a form you place on your website to collect information from your visitors. These forms can be simple, only requesting their name and email address.
However, in some cases, the forms will be more detailed. Should you want to use a lead capture form to qualify leads at the same time, you'll likely want to request additional details from them. This could include their demographics, interests, etc. You'll collect all this information in the hopes of turning casual website visitors into customers for your business.
Here are a few examples of ways you might use a lead capture form:
Contact Forms:

By adding a contact form to your website, it's easier for customers to get in touch with you. They need to fill out the requested fields and add their message, which they can do without ever having to open their inbox.

Newsletter Subscription Form:

If you have an email newsletter you'd like people to join, you'll need to create a form that requests information like their name and email address.

Other Registration Forms:

A lead capture form will be necessary if you want people to sign up to access a product or a webinar you're hosting. You can also use these forms as an application when people want to book one of your services.
How to Build the Ultimate Lead Capture Form
It's not enough to just put any old lead capture form on your website. You need to make sure the form grabs attention while being enticing and user-friendly. A poorly made form isn't likely to attract many leads, which is the form's sole purpose. Here's some advice to keep in mind: 
1. Select an Ideal Spot on Your Website to Place the Form 
Where you place your lead capture form can essentially make or break how successful it is. A form buried at the bottom of your page will go unnoticed. However, a form that is "above the fold" will get all the attention of your website's visitors. What does that mean, though? 
If something is above the fold, it means that your visitor won't have to scroll down your page to see it. Instead, it'll be visible immediately after your site has loaded in their browser. For example, you could place a newsletter subscription form at the top of your sidebar for added visibility if you want to increase email subscribers.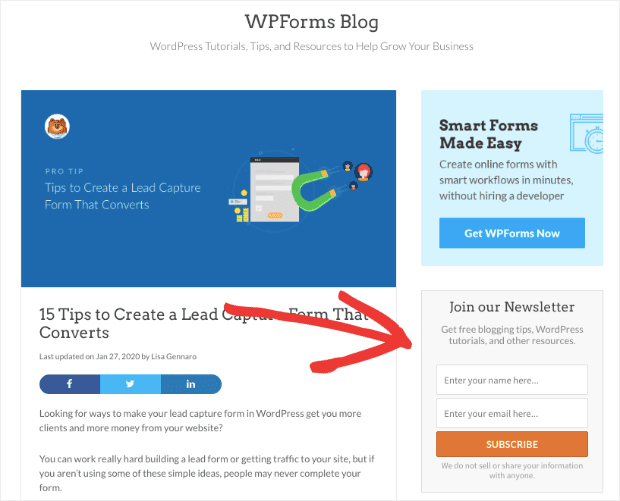 Source: OptinMonster
It won't always make sense to have your forms above the fold. Sometimes, you may want to add a form at the end of your blog post or the bottom of a landing page. Or you might want to use a pop-up form, like the one pictured above. You must consider what makes the most sense for the form.
2. Grab Attention with Your Headline 
You're probably well aware that a headline plays a vital role when it comes to how many clicks a blog post receives. Well, the same goes for the headline of your lead capture form. This is your chance to grab a visitor's attention and draw their eyes to your form so they can see what it's all about. Communicate what they'll get for completing the form, whether it's access to a freebie, your email newsletter, or something else. If they don't know what's in it for them, they likely won't bother.
3. Ask for Only the Essential Information
People aren't quick to hand over too much personal information these days, so you only want to ask for the essential information. In many cases, all you need to request is their first name and email address. After all, those are the only details you'll need if you're collecting data for an email list.
However, there will be instances where you'd like to collect more data. In those cases, be sure that you aren't going overboard or getting too personal because you run the risk of people abandoning the form halfway through. Statistics show that even asking for a phone number can reduce a form's conversion rate by up to 5%.


Source: WPForms
Even requesting their address, age, and location can lower the conversion rate. So, if you want to prevent yourself from losing potential leads, only ask for the information you truly need.
4. Build Trust with a Privacy Policy
Building off that last tip, one of the reasons people are so reluctant to give out their personal information is privacy concerns. Data breaches have put people at great risk of having their details leaked onto the dark web, which is a scary thought. To ease any concerns your visitors may have about submitting their information via your lead capture form, include your privacy policy on the form.
You can establish trust with a potential lead by expressing your commitment to protecting their data. Do this by including a simple statement at the bottom of your form. Then, include a link to your complete privacy policy that they can read if they want to learn more about what you do with their data.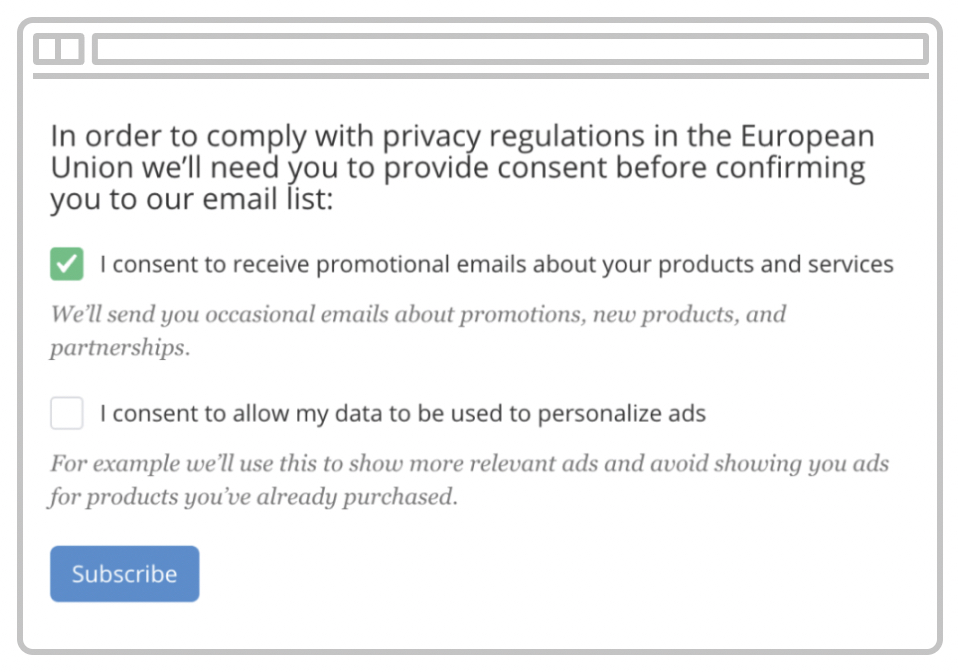 Source: ConvertKit
It's also crucial that you comply with General Data Protection Regulation (GDPR) and the California Consumer Privacy Act (CCPA) when collecting and using this information.
5. Choose a Strong Call to Action for the Submission Button
Finally, don't overlook the text on the submission button of your lead capture form. In many cases, templates default to "submit" for these forms, but it's not always the most effective. Phrases like "click here" or "go" could drive more conversions with your audience.
Don't be afraid to test different CTAs for the button text. What your audience responds to may differ from what works for someone else. Without testing, you won't know what truly resonates or produces the best results. So, don't be afraid to experiment.

Generate More Leads with MXTR 
There are many ways you can generate more leads for your business, including the use of a lead capture form on your website. Here at MXTR, we are passionate about helping you find success by attracting tons of qualified leads who are interested in your products and services.
Curious how MXTR can improve your lead generation strategy? Schedule your free demo today! 
Featured Image: istockphoto