Understanding what is happening in your industry and with your competitors is vital if you want your business to succeed. That kind of information is formally called market intelligence. As technology has developed, more businesses are relying on analytics and automated processes to help collect market intelligence.
According to Gartner, by 2023, more than 33% of large businesses will be using intelligence to model future decisions and business outcomes. If you want to get ahead of the competition, your business should consider adding advanced market intelligence capabilities to your marketing toolbox.
Want to learn how to do that? Keep reading, and we will explore common market intelligence collection techniques and how you can use that data to boost your sales.
Key Takeaways
Market intelligence is any data you collect about your customers, your competition, and your opportunities for growth.

Your business needs a clearly defined goal to collect the best market intelligence.

The right market intelligence can help you explore new markets, gain a new audience, and increase your sales.

What Is Market Intelligence?
Market intelligence is information about your competitors, your customers' needs, and potential opportunities for growth. You can use that data to help you decide what products or services to sell and at what price.
Market intelligence is known by other names, too, including:
Product intelligence

Customer insight

Market intelligence research

Competitive intelligence
Market intelligence differs from business intelligence. Business intelligence is solely focused on internal company data, while market intelligence focuses more on an external view of the market a business is in. When used together, market intelligence and business intelligence can give business leaders a clearer picture of their target market.
Market intelligence may sound similar to market research. However, they have two different goals.
Market intelligence gives you a broad view of your market, while market research delivers specific information on customers and their preferences. Many businesses use market research as part of their overall market intelligence collection efforts.
How to Collect Market Intelligence
Market intelligence can give you a deeper understanding of your industry, your customers, and your competitors. A well-developed market intelligence program can help you make better business decisions and grow your sales.
1. Create a Goal 
To begin your market intelligence journey, start with the end in mind. What do you want to achieve with your market intelligence research? Brainstorm a list of goals, no matter how big or small, to start clarifying the scope of your market intelligence.
Here are some examples of market intelligence goals:
Evaluate existing products in existing markets

Develop new products lines

Grow in your existing market

Improve your brand awareness

Market existing products to new audiences

Understand changes in your industry
The goal you choose will guide you toward the metrics and methodology you should use.
2. Choose Your Metrics
The metrics you use in your market intelligence will depend on the goal you want to achieve. In addition, metrics will vary depending on the type of business you run.
Consider using some of these metrics:
Market size:

If you study your market, you could measure annual revenue, expected growth, or number of potential customers. 

Pricing:

Determine the average price for products and services in your market segment.

Customers:

What are your customers' average income, age, and annual spending?

Competition:

Count how many competitors you have and what their market share is.
As an example, let's say you want to introduce a new type of flooring for homeowners. You should consider the following metrics for your market intelligence research:
How many households update their flooring each year in your selected market?

What is the average income for your intended target audience?

What is the annual revenue for flooring manufacturers?

What is the average price per unit for flooring?
Another metric to consider is what your expected ROI is. You will need a budget to collect your market intelligence and hopefully will earn more than you spend after analyzing and applying your market intelligence.
You should also consider the traditional five forces in your market intelligence research, as illustrated in the image below.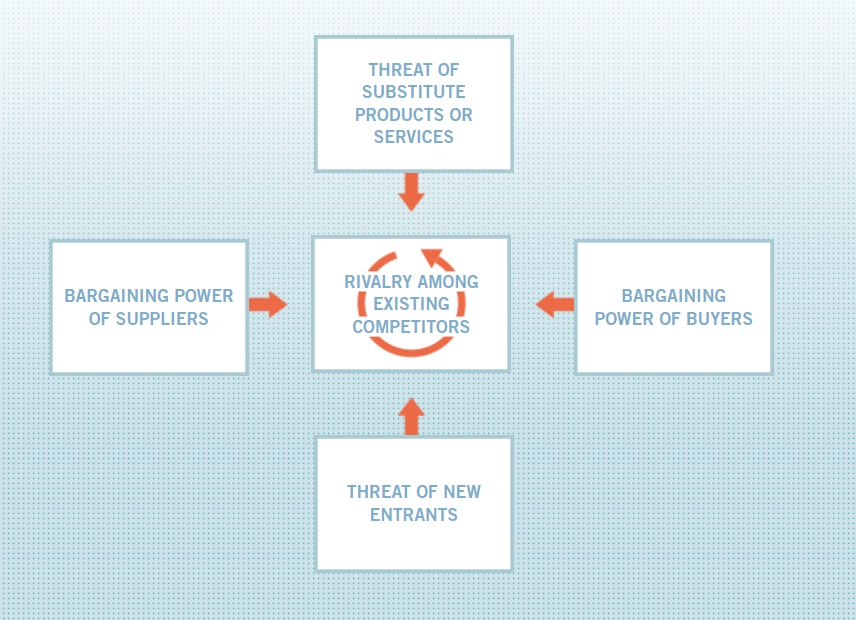 Source: isc.hbs.edu
3. Design Your Research Strategy
Depending on your market intelligence goals and your budget, there are several research strategies you can use:
Online Surveys:

Surveys are a simple, cost-effective way to gather valuable customer insights. They can give you intelligence on your brand positioning, products, and customer perceptions of your products.

Expert Consultations:

While working directly with experts may be more costly, it can give you valuable results. Experts can also take you through the market intelligence process step by step.

Online Research:

Use the power of the internet to do your own research. You can read trade journals, customer reviews, and articles written by industry experts. You may have to pay to access some data, especially if it is metrics on your competition, like annual sales and profitability.

Data Analytics:

Data analytics gives you access to vast amounts of information from large databases. You usually have to pay to access this type of information.
4. Gather and Analyze Data 
Once you have gathered your intelligence data, it is time to start turning it into useful information.
Who are your top competitors?

Where do you sit compared to the competition?

Are they any up-and-coming competitors?

Are they new product demands from your customers?

Are they any market segments that are declining or growing?

Are customer behaviors changing?

What customer data trends do you see?

Should you

segment your audience

differently?

Is there a market opportunity that will generate more sales?
Once you have answered any relevant questions, create a report to share with business leaders. This report should specify the next steps and what pertinent departments can do to act on your results. Strong visuals like a word cloud or list of the top 10 keywords gathered from feedback can give the results more impact.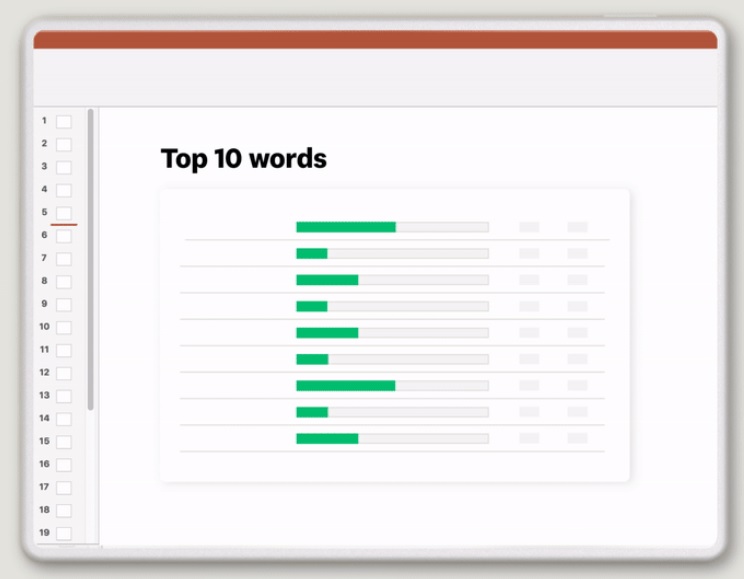 Source: surveymonkey
Benefits of Market Intelligence
Collecting and acting on market intelligence can have some incredible benefits for your organization. These may include:
Uncovers New Markets:

Your market intelligence may reveal new markets your business has yet to explore.

Minimizes Risk:

Bad decisions can be expensive. With your market intelligence, you can make more informed, less risky decisions, especially when it comes to entering new markets and releasing new products and services.

Keeps You Ahead of the Competition:

Even if you are already a leader in your industry, your competitors are always looking for ways to beat you. Market intelligence can help you stay ahead of the game or leave your

competition in the dust

if you have struggled in the past.

Improves Your Brand Positioning:

Market intelligence can help your find ways to distinguish your brand from others and establish your position firmly in the minds of your target audience.

Increases Sales:

When used correctly, market intelligence can give you a boost in your sales.

Put Your Market Intelligence to Work with MXTR
At MXTR, we specialize in marketing automation. With our automated technology, we can help you reach your market intelligence goals and boost your sales.
Ready to gain the insight and intelligence your business needs? Request a free demo with MXTR today.
Featured Image: istockphoto