If you are in a more complex industry, you have probably heard the term "technical sales." However, do you understand what it is and how it is different from traditional sales strategies? 
We will give you some examples and necessary strategies that your technical sales engineers and representatives should know to ensure you use the best method for promoting and selling your specialized products and services.
Key Takeaways:
Technical sales require specific industry knowledge and expertise.

A technical sales representative often works with an engineer to combine sales methods with industry knowledge.

Sales reps share technical sales knowledge that should solve the end user's problems, not just educate the consumer.

What Are Technical Sales?
Technical sales are the promotion and selling of technical or scientific products and services. According to the U.S. Department of Labor Statistics, there were 13,120,320 employees in sales-related positions in 2020. Of that number, there were about 288,150 in technical sales positions.
The two key players in technical sales are the representatives and engineers.
Technical sales representatives

 perform the broader sales functions like creating a value proposition and managing the customer experience. They also invest in building strong customer relationships.

Technical sales engineers 

handle the technical side of the sales. They are more familiar with the complex insights of your business and can provide industry-specific information.
How Is Technical Sales Different Than Traditional Sales?
Technical sales are more specialized than traditional sales. Often a traditional sales representative can use their sales knowledge across industries with minimal variance. However, technical sales require more knowledge and training, so it is often a combined effort of representatives and engineers who can join sales knowledge with industry expertise.
Despite the job-specific knowledge technical sales representatives need, they will often get it through experience over education. About 67% of technical sales representatives have a bachelor's degree. Only 29% have a higher education than bachelor's. However, 63% of companies require three or more years of experience in technical industries.
Technical Sales Examples
Here are a few examples of common industries that use technical sales:
Manufacturing

Computer and software technology

Telecommunications

Biology

Chemistry

Biotech, life science, and pharmaceuticals

Medical equipment
According to the U.S. Bureau of Labor Statistics, the five most common industries with technical sales are professional and commercial equipment, nondurable goods, computer systems, electric markets, and software publishers.

Source: U.S. Bureau of Labor Statistics
5 Specific Duties of a Technical Sales Engineer or Representative
We will look at the five duties of a technical sales engineer or representative that will help them promote and sell specialized products.
1. Solve Consumer Pain Points
Technical sales are more data-driven than traditional sales because of the complexity of products and services. However, your sales engineers and reps shouldn't get so caught up in the data aspect that they forget that they are addressing humans with needs during their sales pitch.
Instead of offering mounds of irrelevant information that overwhelms the end-user, your reps and engineers should focus on what data will meet your consumer's needs. This requires understanding your audience and their pain points. They can then use data and technical details to demonstrate how the specialized product or service will solve that challenge.
2. Remove Potential Roadblocks
With traditional sales, your reps and engineers need to understand why consumers might hesitate before buying the product. According to general sales statistics, the biggest challenges in sales are aligning with other departments, getting in touch with the right prospects, and a lack of appropriate training.
However, with technical sales, the hesitation can often be because of a resistance to change or a lack of understanding of the technical product and why it is necessary. Since those are common roadblocks, consider finding ways to address those roadblocks near the start of the sales process so that your consumer is more open to listening to your sales pitch.
3. Know the Technical Details
One of the essential aspects of technical sales is a more in-depth understanding of the product. That means your sales engineers need to fully understand how the product was created, how it functions, and how the end-user can use it.
The engineers should have enough knowledge to answer any technical questions the end-user may have. However, they should also have good communication skills to take complex information and present it simply, as not all end-users will understand the details behind the product.
For example, many marketing tools have very technical aspects that help streamline the sales process – but not all marketers understand complex technology topics like artificial intelligence and data lakes. Therefore, a technical sales engineer will need to know how to explain complex software tools in familiar terminology so that everyone who might use it can understand what the product is.
4. Understand the Business
Your technical sales engineers are the bridge between your scientists and your end-user. They will often work closely with the scientists to understand their business and the end-user's business. While they often promote products to consumers, they also help with product development by tracking market needs to assist with company research.
Additionally, when technical sales engineers understand the business, they will have a clearer picture of the ideal audience for prospecting. More than 40% of prospectors don't target the right audience. This can come from not understanding the business and product and who it is designed for. Once a sales engineer or representative understands this background information, they can target the right audience to increase their conversion rate.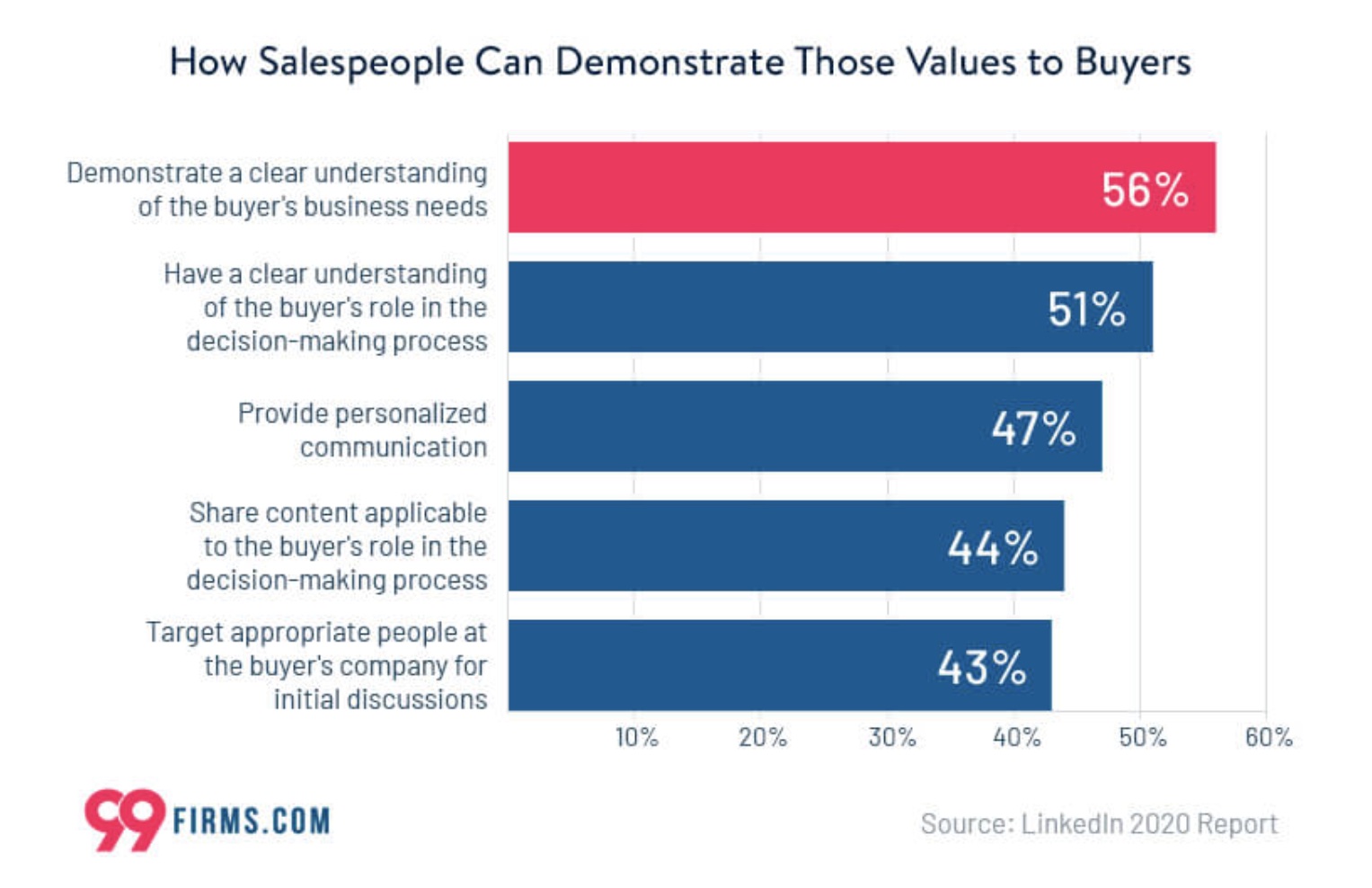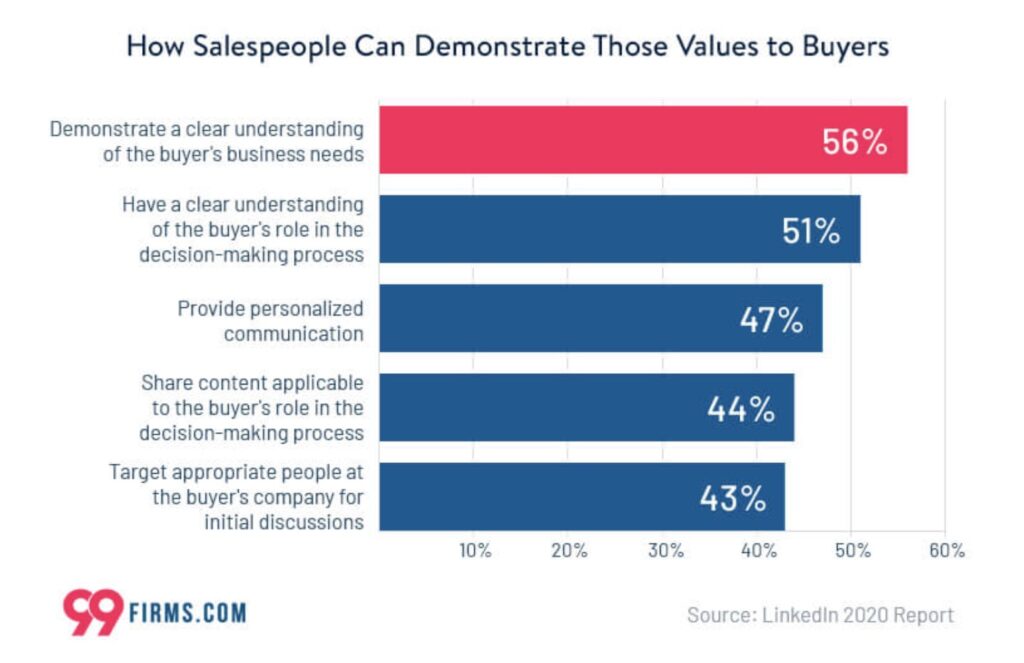 Source: 99Firms
5. Meet with the End-User
Traditional sales methods will often use a well-placed advertisement or strategic content marketing. While these sales and marketing techniques can help with technical sales, they are not enough on their own.
Instead, technical sales will require more face-to-face interactions where the end-user can ask questions and the technical engineer can provide detailed presentations. These interactions are also opportunities for demonstrations if the product is specialized equipment or software.
Because of the move toward virtual interactions, many sales representatives opt for virtual demonstrations using webinars, live video, or augmented reality where consumers can interact with products and devices through 3-D visuals. As a result, about 75% of B2B customers prefer remote sales interactions over in-person sales.

How Automation Can Help Track Your Technical Sales
Technical sales are far more complex than traditional sales methods and put you at greater risk of losing leads along the way as the leads travel from engineers to representatives. However, you can cut down on this risk by automating the tracking and distribution of your leads among representatives.
Book a demo to learn more about our automated lead tracking platform for franchises.
Featured Image: istockphoto