Many companies are so focused on expanding their overall reach that their primary marketing goal is to attract new customers to their base, sometimes at the cost of losing their existing customers. However, retention is just as important, if not more so than acquisition. Customer retention for multi-location businesses can pose additional challenges to marketers, but we're here to help simplify the process.
The five customer retention strategies we explore in this article can help businesses with multiple locations prioritize, nurture, and grow their existing base of loyal customers. If you're ready to learn more, let's get to it!
Key Takeaways:
Investing in customer retention increases average order value (AOV) and customer lifetime value (CLV), boosts profits, and creates brand ambassadors.

Multi-business locations can improve their customer retention by prioritizing consistent customer care and connecting their locations' services with an omnichannel approach.

Additional customer retention methods include building a loyalty program, creating communities for education and engagement, and focusing on broad, brand-specific promotional efforts. 
Why is Customer Retention Important?
Customer retention relates to a business's ability to turn customers into repeat buyers and maximize customer lifetime value (CLV). Consider this: the average success rate of selling to an existing customer is 60-70%, but selling to a new customer is only 5-20%. And yet, despite this statistic, many companies pour most of their marketing dollars and resources into acquisition rather than retention as part of their primary marketing strategy.
Prioritizing customer retention brings a list of benefits:
Increased profits:

Customers who are already familiar and happy with a brand are more likely to continue making purchases. Boosting customer retention by 5% can

raise profits by 25-95%

.

Higher average order value (AOV):

Repeat customers are likely to spend an

average of 67%

more than new customers.

Lower cost compared to customer acquisition:

Maintaining an existing customer

costs five times less

than acquiring a new one.

Brand ambassadors:

Loyal customers willing to freely share their positive experiences, write reviews, post on social media, and recommend your business through word-of-mouth marketing are priceless.
5 Effective Customer Retention Strategies for Multi-Location Businesses
Maintaining customer loyalty is a long process of continuous nurturing, support, and communication. This happens on various levels, especially for businesses that operate multiple locations and need to service their clientele on a broad brand level and a more intimate local level. Companies that prioritize customer retention recognize that it's the most significant retail revenue driver.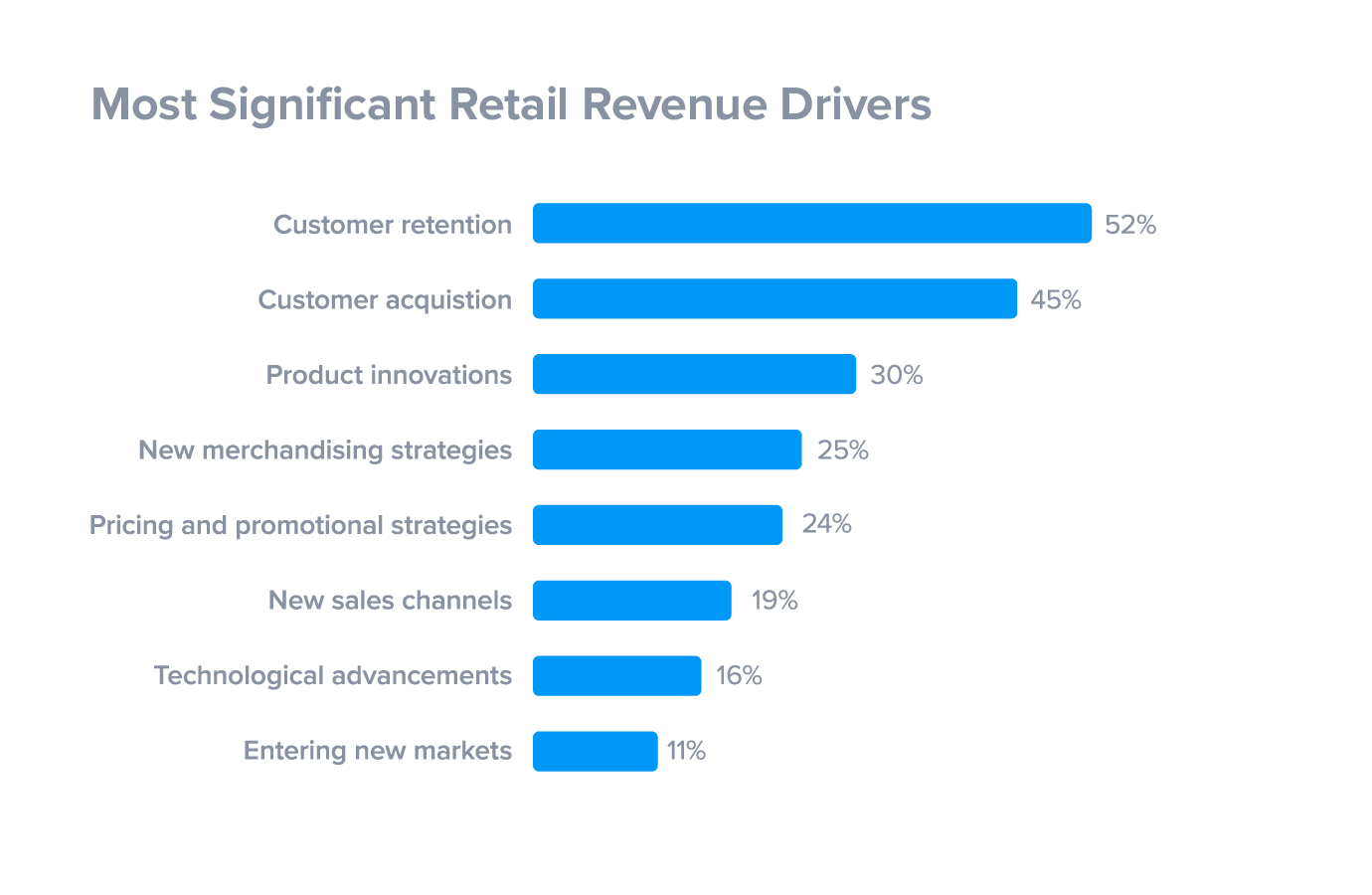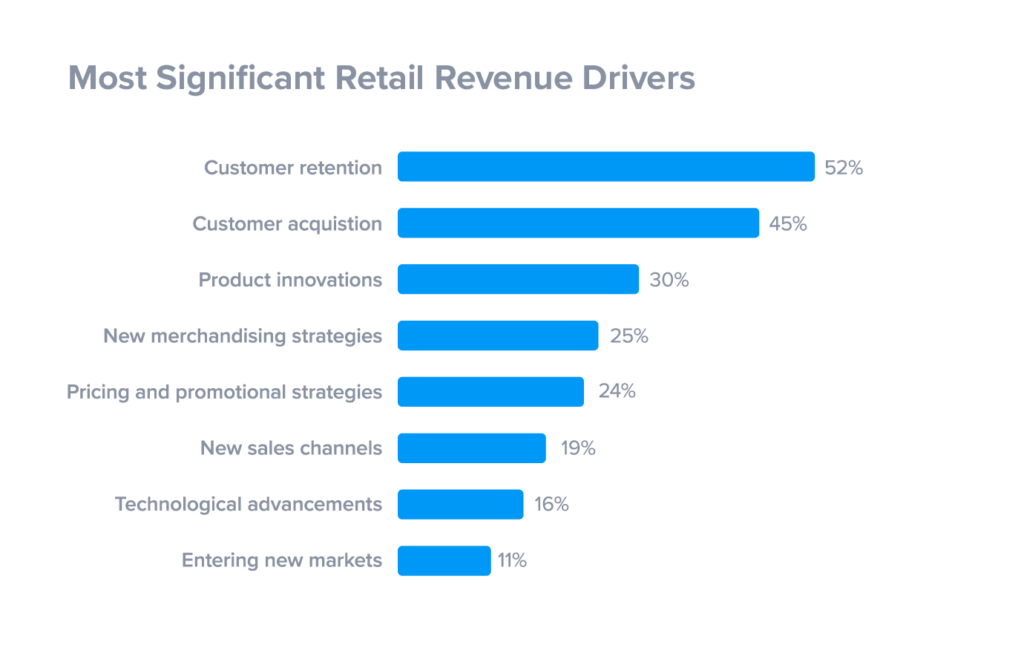 Source: SuperOffice
1. Provide a Centralized Training and Onboarding Program for Consistent Service
When it comes to providing phenomenal customer care, consistency is key. Sixty-five percent of respondents say they would become long-term customers if a brand provides a positive experience through every stage of the customer's journey. For businesses that operate in multiple locations, delivering consistent service at every branch can be a challenge. Different managers may have different training methods and expectations, but this might be taking a toll on your customer retention.
Some companies solve this problem by onboarding new employees through one centralized corporate location before sending them back to the smaller branches. If this isn't feasible for your business, start by getting your trainers and managers on the same page. Create a standard operating procedure (SOP) to set uniform training and onboarding guidelines at every location for a uniform approach to a winning customer care strategy.
2. Foster a Community That Educates and Encourages Conversations 
If your goal is just to sell, sell, sell… we have some bad news. Customers aren't overly receptive to that approach. The companies that sell a product and then leave their customers to figure it out for themselves will have a poor retention rate. Education and continued engagement should be part of your plan to increase customer retention for multi-location businesses.
In addition to thoroughly training your teams to provide top-notch assistance regardless of which location a customer visits, consider investing in:
Educational material like tutorials, product demos, webinars, ebooks, etc.

Email marketing

campaigns that continue to engage customers with tips, tricks, features, and success stories

A social media community that encourages people to post photos and engage in positive conversations about their experiences

Workshops and hands-on activities at your various business locations to directly engage with local communities

Virtual or face-to-face training options with a customer experience specialist
3. Use Omnichannel Methods to Connect Your Locations 
Today's consumers expect brands to create a seamless omnichannel experience that extends beyond virtual platforms like email, social media, and eCommerce. Omnichannel also includes a customer's experience in stores, which is why segmenting your locations in a way that cuts off their connectivity will have a negative impact on your customer retention.
As far as consumers are concerned, the location is irrelevant – they expect your stores to operate as a cohesive unit rather than singular entities. With the right tools, software, and communication platforms, multi-location businesses can step up to meet omnichannel demands and equip their stores to freely send and receive information, handle inter-store transfers and returns, check inventory at other locations, access customer accounts, and more.
4. Build Customer Loyalty Programs 
Did you know that 72% of U.S. adults belong to at least one loyalty program? The most successful loyalty programs are simple to set up and maintain. Many of them reward customers for making reoccurring purchases through an online account or mobile app. Customers earn points they can redeem for special perks like freebies and discounts.
Loyalty programs incentivize customers to continue making purchases while also rewarding them for their continued patronage. In addition, the point-reward system often causes consumers to adjust their spending habits to maximize their points, creating opportunities for you to increase their CLV.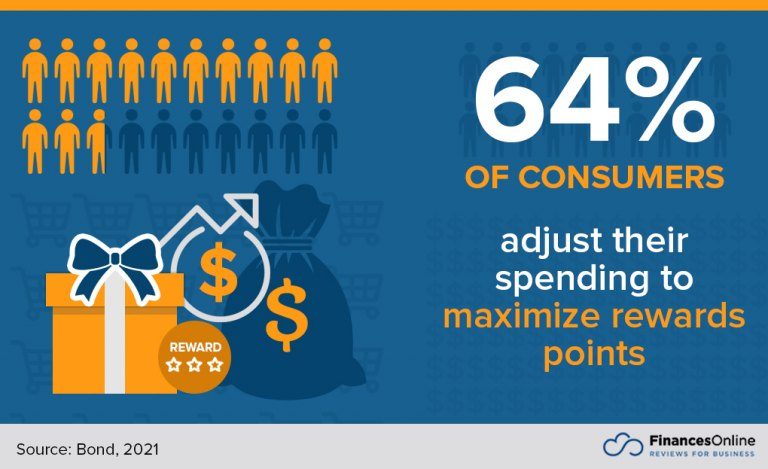 Source: FinancesOnline
5. Create Brand-Specific (Not Location-Specific) Promotions 
While location-specific promotions have their benefits for local marketing, your goal should be to prioritize reaching your customers wherever they are so no one feels left out. For businesses that operate multiple locations, the best way to do that is to offer broad incentives that apply to any store.
Telling a customer that you can't honor a promotion for another location isn't a good first impression. Not only have you likely just lost that customer, but you're also opening the door for negative reviews that will damage the brand. Make sure any coupons, promo codes, or special deals apply to all your locations.
Invest in Customer Retention for Multi-Location Businesses with MXTR
Customer retention can, quite literally, make or break your business. Considering the cost difference between retention and acquisition, the numbers don't lie – companies can't survive if they lose more of their long-term base than they gain with marketing campaigns targeting brand-new customers.
MXTR provides all the tools you need to create a full-service package. Nurture high-quality leads into customers, and then invest in retaining those consumers to become part of your loyal, long-term base.
Are you ready to give your customer retention rate a boost? Schedule a demo to see how lead nurturing and marketing automation can improve your relationships with your customers.
Featured image: istockphoto