Part of being successful in business is knowing how your target customer interacts with your brand, knowing what inspires them to take action, and guiding them from being a new follower to a paid supporter. Mapping out this process and tracking your customer journey analytics provides several benefits for businesses of all kinds.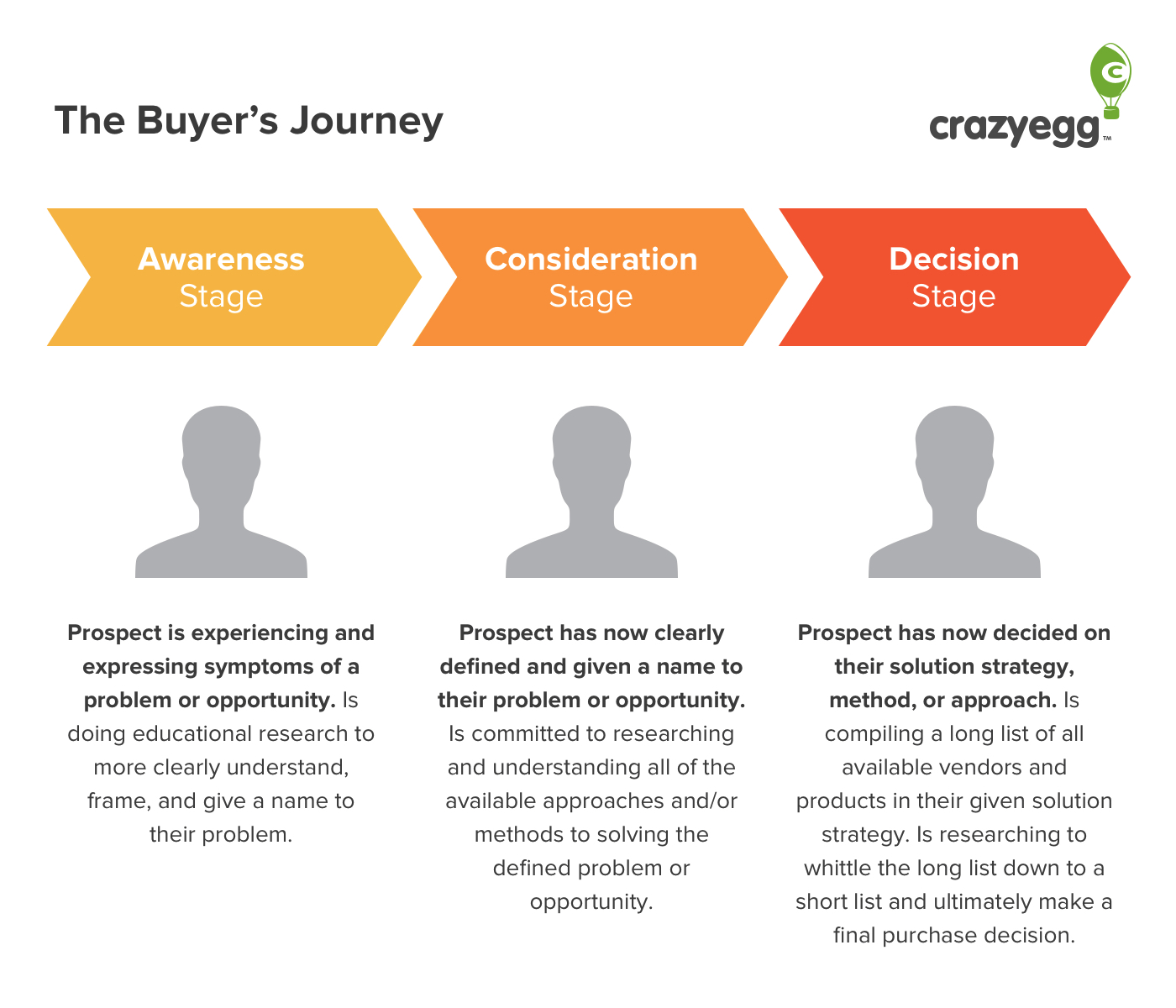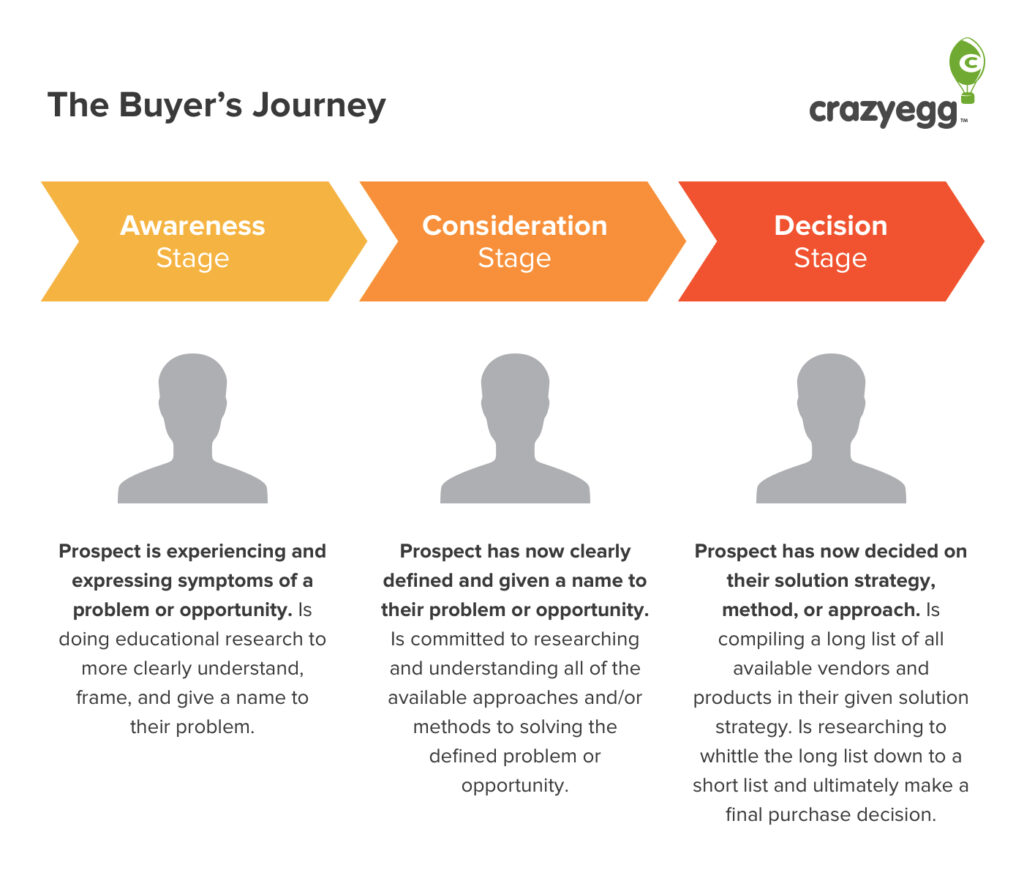 Source: Crazy Egg
First, it allows you to better understand what new prospects want to see from you. From there, you can establish a stronger connection with them through the content you publish. And ultimately, you'll be able to boost engagement and your conversions.
However, it's not enough to just map out your customer journey and call it a day. It's essential to have the right tools, know which metrics to track, and understand the best practices to ensure this is a successful venture for you. This post shares everything you need to know.
Key Takeaways
By creating a visual representation of your target customer's journey, you'll be able to spot gaps in your content strategy, make improvements to your user experience, and more.

With the right tools in your arsenal, you can easily view your customer journey analytics and see what you can change to drive better results.

Always review your data regularly to ensure you're on the right path toward your end goal.
What is the Customer Journey?
The customer journey reflects the overall experience a customer has while engaging with your brand. It outlines everything from the initial discovery of your brand to making that first purchase and the evolution of the relationship thereafter. 
However, the customer journey goes beyond just the buying process and actions your customers are taking. It also looks at how they feel after interacting with your brand.
Determining what your customer journey looks like isn't something you can just guess. To effectively map out your customer journey, you're going to need data. Data that you've gathered from your existing analytics, as well as data from having one-on-one interviews with your target customer to understand their motives and needs better.
It's helpful to map out this process by creating a visual representation of the steps someone goes through from being a prospect to a customer of your business. For instance, it begins with the awareness stage where someone first discovers your website and begins consuming your content, moves into that next step where they may join your email list, and ultimately leads into that critical buying stage where they make their first purchase.
Taking the time to do this allows you to identify any gaps in your content marketing strategy and provide insights into providing a better experience for your customers. After all, 33% of customers will consider switching to another brand after only one bad experience.
Helpful Customer Journey Analytics Tools
Once you've created and implemented your customer journey map, you'll need to monitor results along the way. This is how you'll ensure a high rate of people are moving from prospect to customer.
Here are a few tools that will get the job done:
Google Analytics:

Most creators already use

Google Analytics

to track page views, popular content, and more. However, you can also use it to set specific customer journey-related goals to track awareness, engagement, and conversions.

Adobe Customer Journey Analytics:

While most know Adobe for its photo editing tools, they also offer

customer journey analytics

so businesses can efficiently analyze cross-channel data to remove barriers in the customer conversion process.

MXTR:

And of course, we have to mention

our own tool

! We help our users visually map out their customers' journeys and

automate their marketing

. Then, we provide tailored data to make enhancements through various journey stages.
Metrics to Track in Your Customer Journey Analytics
As you begin mapping everything out, you'll see that there are different stages that a customer will move through, from first discovering you to purchasing. This means there are different metrics to track in your customer journey analytics, depending on the stage they're in. Here are a few to watch: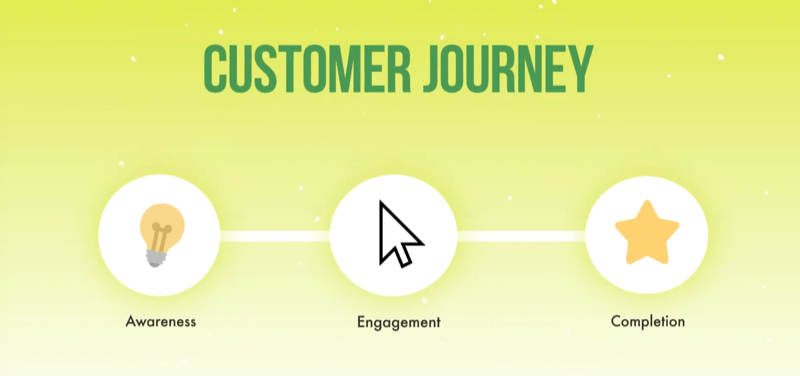 Source: Social Media Examiner
Awareness:

How many people visit your website, and how are they discovering you? To get people into your funnel in the first place, you need to increase traffic by publishing optimized content and promoting it via your social media channels.

Engagement:

In this stage, you'll want to pay attention to actions taken, such as visits to a sales page or joining your list. With

31% of B2Bs

believing that email newsletters are key to nurturing leads, you'll want to track subscriptions to your list since that's where you'll be able to promote offerings.

Completion:

The all-important final step is when someone fully commits to your brand by making their first purchase. In fact,

78% of B2Bs

view lead conversions as a performance metric, as it indicates how their content, strategy, and customer journey map is performing overall.
Best Practices for Mapping and Analyzing Your Customer Journey
These tips will help ensure you're successfully mapping out each step of your customer's relationship with your brand.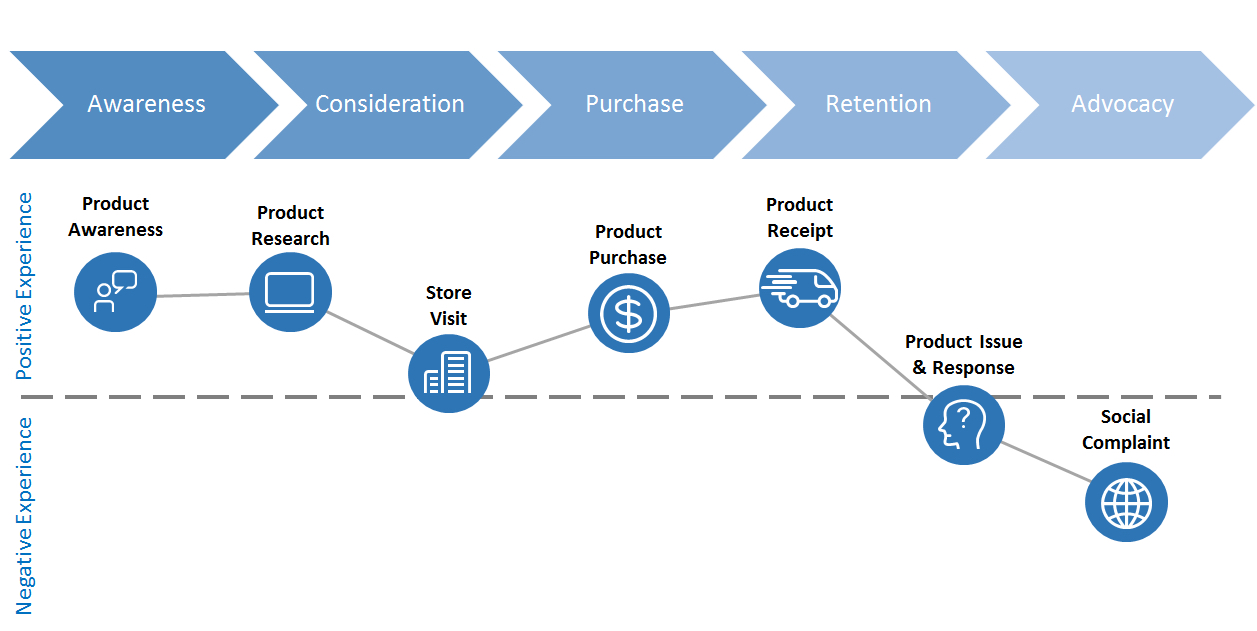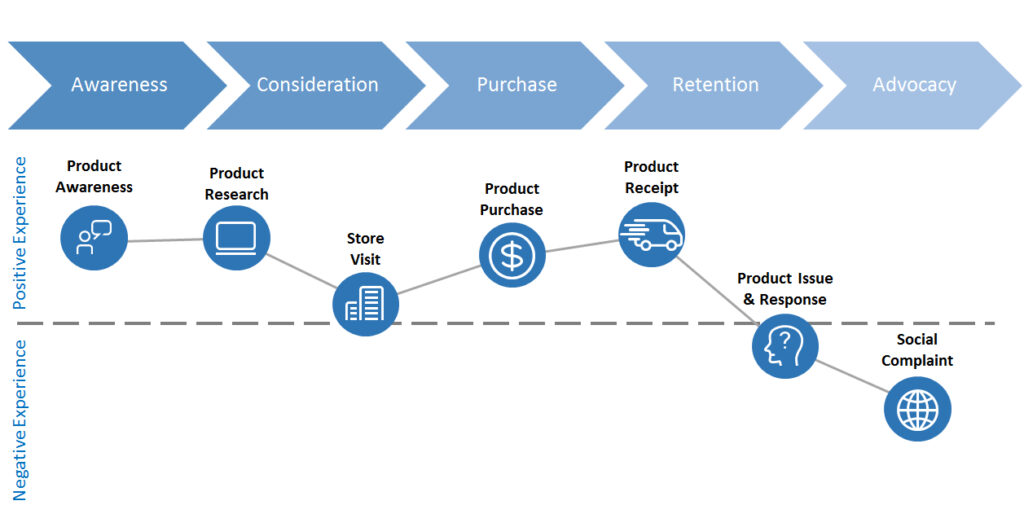 Source: Medium
1. Get Clear on Your End Goal
When you think of someone visiting your website for the first time, what actions do you want them to take? You probably want them to read your content, join your email list, and eventually make a purchase. The point here is that knowing your end goal allows you to work backward to lead a new prospect to that final stage where they make a purchase.
2. Develop Maps for Each Different Buyer You Serve
The customers in your business are all unique, not just in their demographics but in how they engage with your brand and what drives them to make purchases. That's why it's essential to understand the different buyer personas of those who are going to be interested in your brand. This way, you can create a customer journey map that speaks directly to their needs.
3. Review Customer Journey Analytics Regularly and Tweak as Needed
This isn't one of those "set it and forget it" types of things when it comes to your business. You need to check in with your customer journey analytics every so often to see how things are performing. If you're not seeing your desired results (for instance, conversions), then you'll know that you need to change something in your content or your overall strategy.
Do a deep dive into your analytics quarterly, at least. This way, you can make any necessary tweaks. However, if you release a new offering in your business before then, you'll want to review your customer journey map and refresh it after that launch, so it reflects your current products and services.
Use Automation to Enhance Your Customer Journey 
Because you can't be there manually sending messages to nudge your customer from one phase of their journey to the next, you need tools to help you get the job done.
At MXTR, we are committed to making marketing automation easier and stress-free. With our tool in your arsenal, your entire customer's journey will be visually mapped out. From there, you can view data that will help you enhance the customer's overall experience, optimize messaging, and more.
Interested? Schedule a demo to see how our marketing automation tool can assist with buying decisions and generating leads in your business.
Featured Image: istockphoto