Customer data is the driving force behind every successful marketing campaign. However, many businesses have varying marketing channels, causing customer data to be scattered or incorrect. That's where a unified customer view comes into play.
With a unified customer view, you connect all the data you collect from your customers and distribute it among your departments in one centralized profile, so you reach your customers with customized, updated information.
Let's look at how to build a unified view across your channels.
Key Takeaways:
A unified customer view helps you offer personalized service and customized marketing campaigns.

You will build a unified view through a centralized database like a customer data platform.

Your teams will need access to the database to use the most recent information when interacting with customers.
What is a Unified Customer View?
A unified customer view is also known as a single customer view or a 360 customer view. It refers to collecting data across all your channels, then bringing it together in one centralized database where all your departments can access it whenever they interact with the customer.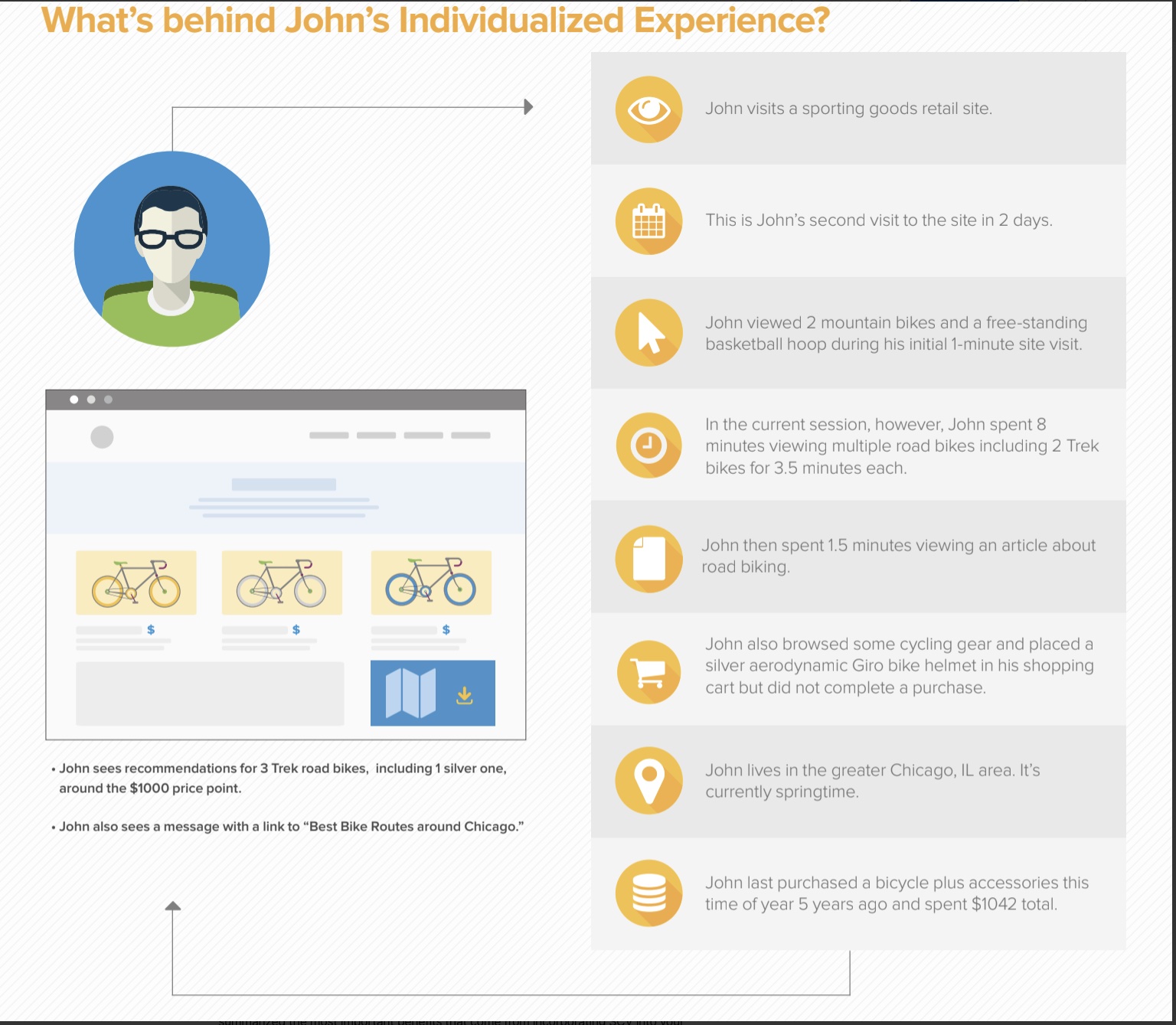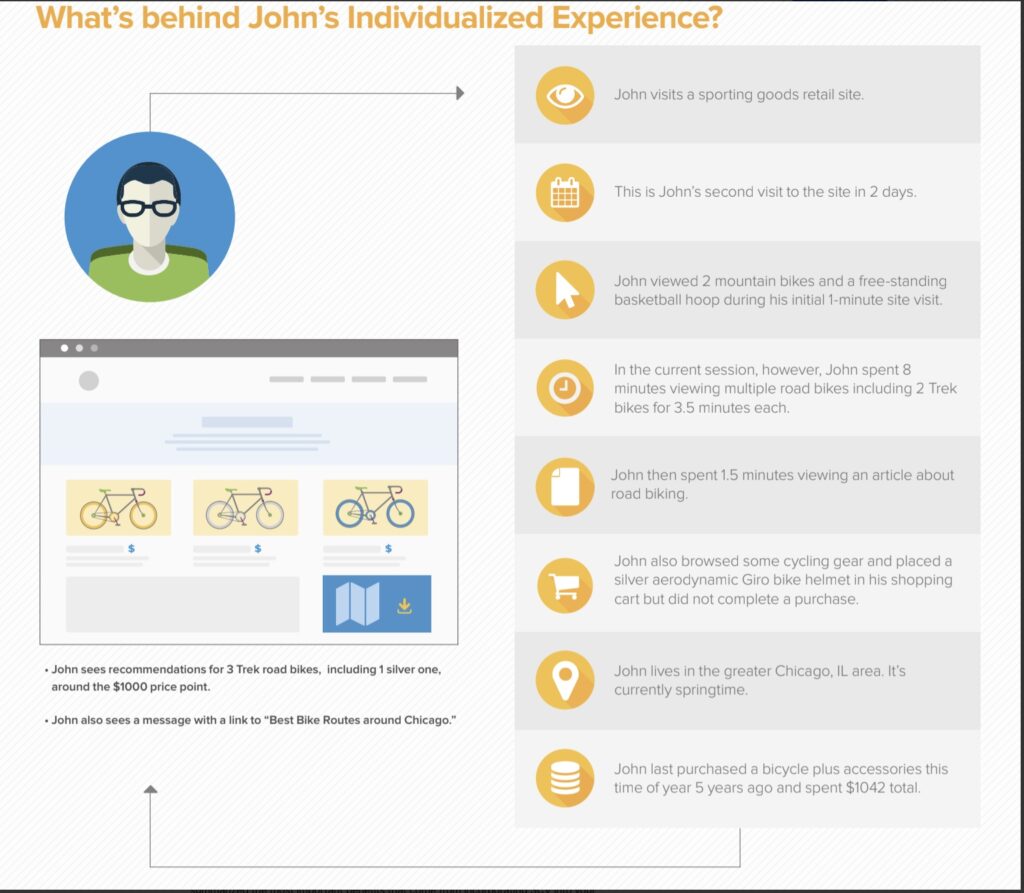 Source: PIWIK
Here are eight common channels through which you might collect customer data.
Social media platforms

Email marketing

Purchase history

Past conversation with sales, marketing, or customer support

Phone interactions

Website visits and comments

Surveys

Online reviews
Without a centralized system, that data might remain in separate analytic reports or combined as an anonymous summary of customer activity. Instead, a unified profile consolidates the data and keeps it tied to specific customers.
Why is a Unified Customer View Important?
When you have a single customer view, you unify your departments and enable customized customer experiences through data you collect in real-time across all your channels. Here are a few specific examples of how a unified customer profile helps the customer and your business.
Benefits for the Customer
The customer will receive offers, suggestions, and information based on their shopping and search history, which will target what they want and need more than randomized suggestions. Then, when they run into issues or need support, your team can offer a personalized experience by first analyzing their previous concerns and understanding their activity history.
According to one survey, 80% of the respondents said they want a personalized shopping experience. Your unified customer view allows you to keep up with that demand for greater customer satisfaction.
Benefits for the Business
Your business will also profit from having a single customer view as it will increase the level of customer service you provide. In addition, that personalized experience encourages more consumers to become loyal customers while reducing your churn rate.
The insights you receive from a customer's profile give you the information you need for customized product suggestions, increasing your upsell and cross-selling rates. Then, you can provide ads specific to each customer's needs on every channel they cross to increase the likelihood of a conversion.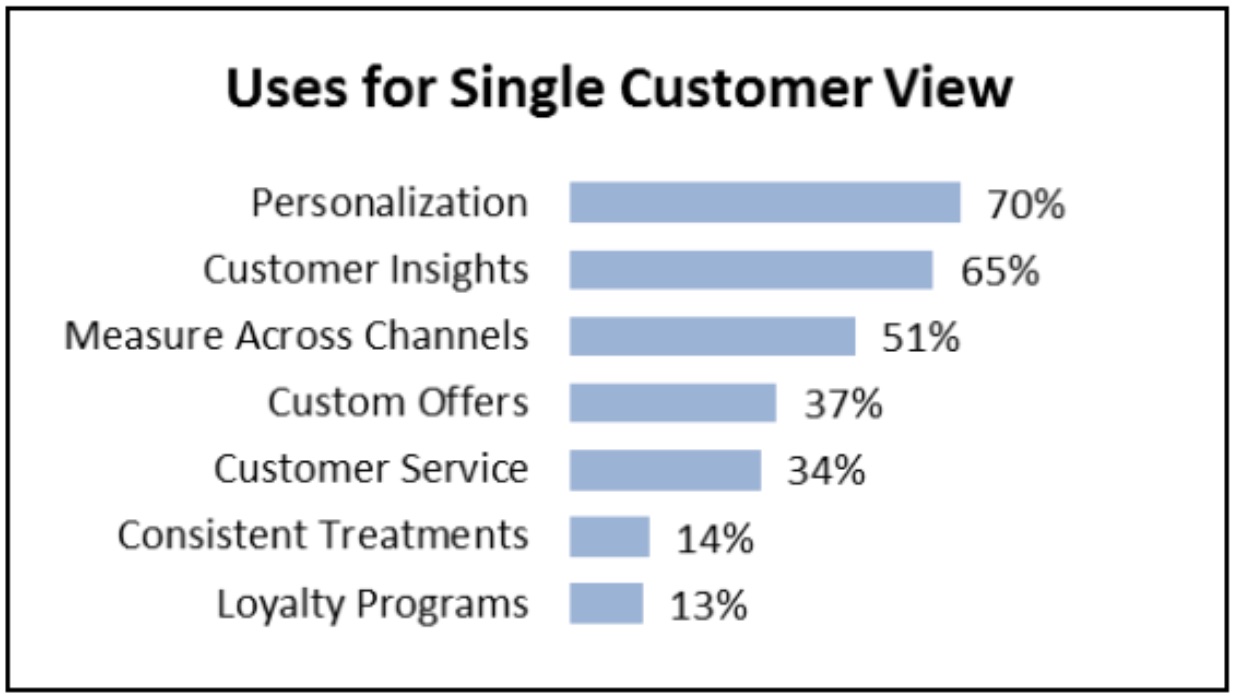 Source: MailUp
5 Ways to Build a Unified Customer View
Here are five steps your business can take to create a unified customer profile across all your channels.
1. Use a Centralized Database
A centralized database is where you will store your customer information so your entire company can access the data you collect. Many businesses will use customer relationship management (CRM) software for storing their information.
However, CRM platforms work best for analyzing a large amount of information, whereas a customer data platform (CDP) saves information under specific customer profiles. This feature allows you to track an individual customer's journey through the sales pipeline and store the information for a limitless time, so your staff always has each customer's history on hand.
2. Connect to Multiple Channels
Once you have a platform for storing your data, you need to connect that source to all your channels like social media, email correspondences, chat interactions, and website visits. You will want to connect as many channels as you can to your database so you never miss important information on a customer that might lead to a sales opportunity.
Connecting your channels also ensures you have the latest information as it updates in real-time. This first-party data is more valuable than any leads you acquire elsewhere. Since 90% of customers expect consistency across channels, you want to ensure each employee has the most updated information during interactions.
3. Examine Customer Data for Inconsistencies
Every year around 25%-30% of your data becomes outdated due to changed information or errors. That's why the system you use for unifying your customer view is also essential for customer data management. Otherwise, you will end up inputting information into a database where it remains stagnant.
Your system should regularly maintain your customer profiles by checking for duplicate, updated, or inaccurate information. For example, suppose a customer used two different emails. In that case, your system could still detect and combine that profile so you can gather information from both email accounts under the same profile.
4. Share the Data Across Multiple Departments
Your customer data is only helpful if those who need it can access it. That's why you should share access to your system across your business. If you have a multi-locational business, you will also want to share it across all your locations for when a customer switches between stores.
When your customer success team has access to a single view of the customer, they also provide unified service and back each other up on suggestions based on the same information for a better customer experience.
5. Train Your Employees
Businesses began using CRM tools back in the '90s, followed by the introduction of data management platforms in the 2000s. However, CDPs didn't arrive until somewhere around 2012. So, while the concept of saving customer data isn't new, the technology is still relatively new to the market compared to some of the more familiar types of software.
For a successful unified customer view, your employees, IT techs, marketers, and others will need to understand the system and how to use it so they can take advantage of all its features. Your employees should take training courses to keep them updated on the latest changes and trends in CDPs so they can always offer the best customer experience.
Create a Unified Customer View in Your Company
Are you ready to offer your customers a personalized experience with unrivaled service? Then it's time you implemented a CDP in your business so your employees have a unified customer view.
Contact us at MXTR to see how our marketing automation can help you collect, store, and view customer data.
Feature Image: istockphoto