Did you know the digital marketing and advertising market in the U.S. is currently estimated to be a whopping $460 billion? Companies around the country see the value in digital marketing and are pouring tons of money into their social media and online advertising efforts yearly. Those wanting to implement multi-location marketing automation are no exception.
In this article, you'll learn the benefits of automating marketing tasks for a company with multiple storefronts. Plus, we'll walk you through a step-by-step process of developing a marketing strategy.
Key Takeaways:
Multi-location marketing automation is efficient, will help nurture leads, and will increase revenue.

You can automate your email marketing, social media marketing, and online advertising with the help of retargeting.

Automation begins with understanding your audience and their customer journey so you can effectively map out important marketing tasks for every stage.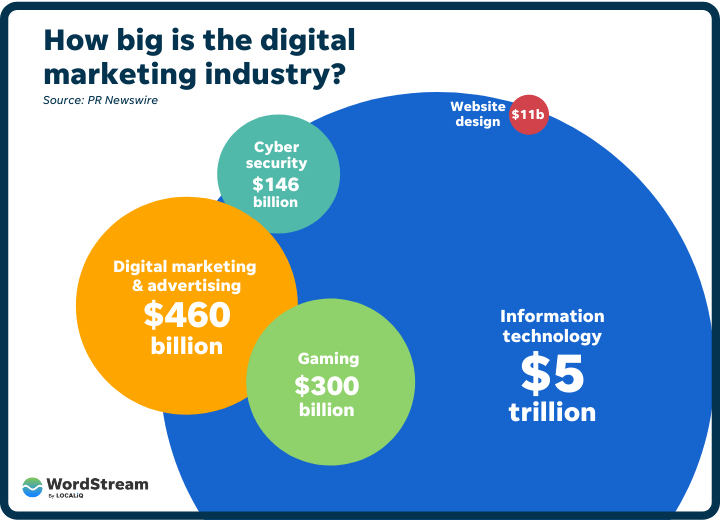 Source: Wordstream
What Is Multi-Location Marketing Automation?
When you have a business with multiple locations, you must approach your marketing strategy from a different perspective when compared to a business with only one location. This is because how you market each location will depend on the unique customer base shopping in your storefront.
For instance, a store in New York might not stock or offer the same products as a store in California. For that reason, you must consider what will appeal to customers in each location if you want to succeed. The video below offers great insights into this, so it's worth watching.
Because managing marketing tasks for so many locations can often be challenging, it's smart to use tools to automate what you can so these processes can run on autopilot. This allows you to easily handle your workload. Here are some benefits of implementing multi-location marketing automation:
It's More Efficient:

Your time is precious, so don't waste it! Increase your efficiency and save time by automating some of your repetitive tasks. This will free up your schedule to focus on other things that will propel your business forward instead of spending hours on mundane tasks weekly.

It'll Help Nurture Leads:

It's important to nurture your leads if you want them to convert, but this can require a lot of time and energy if done manually. Instead, you can automate tasks that will allow you to nurture your leads on a larger scale instead of connecting with them individually.

It's Great for Increasing Revenue:

When your multi-location marketing automation is done right, you will see more leads becoming paying customers. That will ultimately increase your company's revenue and ensure you're steadily bringing in sales monthly.

Curious about some of the tasks you can automate? Well, email marketing is a common one. You can segment your email list based on the location of your subscribers. You can send emails at specific times that are optimal for them or triggered based on an action a subscriber takes. Social media marketing automation is also common, allowing you to schedule posts to be published when your audience is most active online. This way, you don't feel pressured to post in real-time.
You may also want to automate your advertising with the help of retargeting. This will allow you to display relevant ads on websites (such as Facebook) to reach people who have already engaged with your business in some way. You'll be in good company by getting on board with marketing automation, as this market will only grow over the next few years.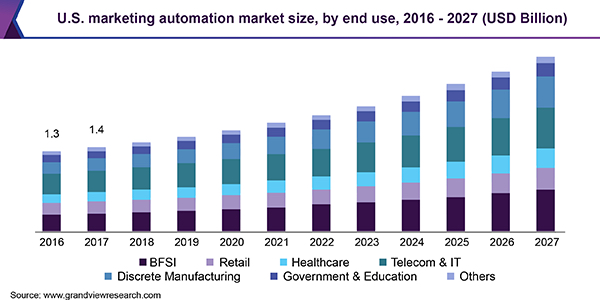 Source: Grainview Research
How to Develop a Multi-Location Marketing Automation Strategy
Now that you understand what multi-location marketing automation is and its benefits let's talk about developing a strategy that will help you put this process to use. Here are some tips:
1. Determine What Your Goals Are
In the world of business, it all goes back to your goals. Before going any further, it's crucial that you set goals so you know what you'd like to achieve with your marketing efforts. For many companies, their primary focus is to increase conversions and revenue. It doesn't matter what you're working toward, but you need to know, so you'll know which metrics are important to track later.
2. Get to Know Your Audience
When you have multiple locations to manage, getting to know your audience can be a tricky task. You'll need to spend time gathering data on the customers visiting each location to determine their interests and needs. Understanding their pain points will allow you to craft marketing messages that will specifically appeal to them. From there, you can personalize content accordingly.
3. Map Out the Customer Journey and Appropriate Tasks
Another important aspect of multi-location marketing automation is getting clear on the journey someone takes from discovering your company, becoming a lead, and ultimately converting into a paying customer. When you know what this journey looks like, you can create messaging and map out marketing automation tasks to lead customers into one stage after the next.
For example, you can develop a nurture sequence that automatically begins sending once someone joins your email list. Instead of reaching out individually to forge those relationships, you can create targeted content that gets sent out on autopilot. 
4. Check on Your Marketing Workflows From Time to Time 
Although marketing automation may seem largely hands-off, it's not something you can set up and ignore. You will need to check your marketing workflows to see how things are performing. After all, you want to make sure your efforts are paying off by delivering the desired results in converting leads into paying customers.
Make it a point to check in on your workflows monthly, quarterly, and yearly. This will allow you to measure your success based on key metrics related to your previously set goals. If you're consistently hitting those goals, you're golden. If not, you'll know that something needs to change about your multi-location marketing automation strategy to turn things around. 
Get Started With Multi-Location Marketing Automation
Interested in implementing marketing automation for your multiple-location business? MXTR can help! Our automation specialists can assist you with copywriting, email marketing, and more so you can maximize your time and resources while shortening the sales cycle.
Schedule a demo with our team to learn more!
Featured Image: istockphoto