Running a business that operates in more than one location adds complexity to your marketing strategy. That is why you need to use proven multi-location marketing strategies.
There are a lot of considerations that go into marketing for a multi-location business. For example, does each location sell the same products? Are the locations spread out from city to city or even state to state? The answers to these and other questions will help guide your marketing strategy.
While online sales continue to grow, more than 80% of all retail sales are still made in a physical store. However, 81% of consumers still searched online for a local business in 2021 before heading to a store.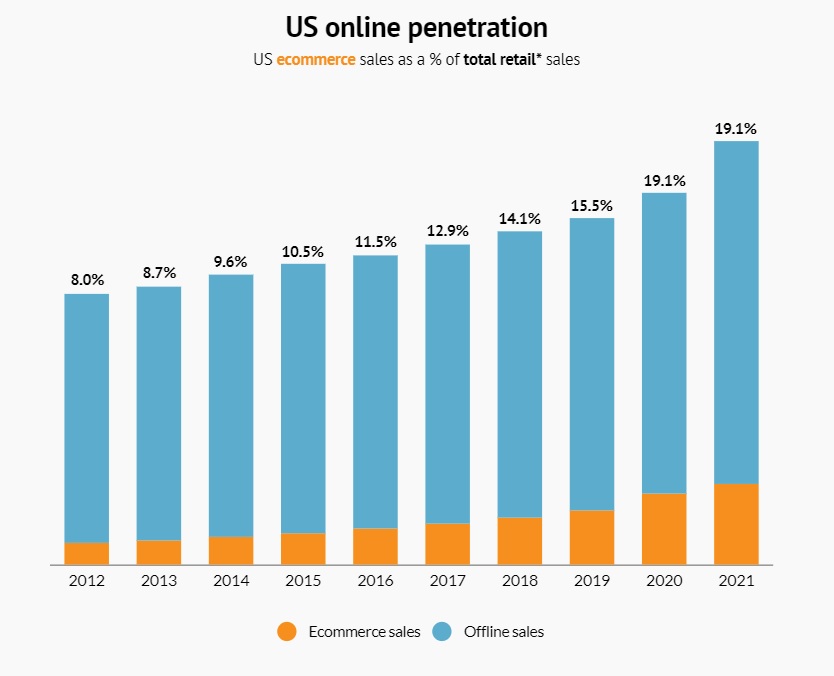 Source: Digital Commerce 360
These statistics show that without an effective online marketing strategy for all of your locations, you will not get the business you need. If your locations don't show up in the right online searches, you are losing business.
Try some of these multi-location marketing solutions to attract the customers your business needs.

Key Takeaways
Each location should have unique online content that differentiates it from other locations.
Multi-location marketing requires a cohesive, consistent brand message between locations.
Each location requires its own Google Business Profile to attract local customers from online searches.
Businesses should create customized email marketing campaigns and PPC ads unique to each location.
7 Strategies to Develop Unique Multi-Location Marketing for Each Location
While you should have an overall cohesive brand strategy, each of your locations has unique needs that need to be addressed if you want to attract the right customers. Consider these 7 strategies.
Each Location Needs Unique Content
It can be tempting to use the same website content for each of your locations. However, Google does not like duplicate content, and your sites might not get the ranking they need.
Instead, each location needs a unique page with unique content. You can still, of course, cover the same topics, but each page needs to have focused keywords that target the right location and right audience.
Many multi-location businesses have a "home store" that would serve as the main source of your product information. This page lets customers know what they can expect when they visit one of your locations. From there, you would need a unique page for each location that would highlight any exclusive products, operating hours, a local map, and other location-specific announcements.
Another way to differentiate each location page is to add consumer reviews or testimonials specific to each location.
Add Google Business Profile Pages for Each Location
When searching for a local business, consumers turn to Google more than any other online source. 
To make sure each of your locations appears in the appropriate local searches, you need a Google Business Profile (GBP) for each location. If you only have a GBP for your main location, you could be losing customers at your other locations. Each GBP also gathers reviews for each location.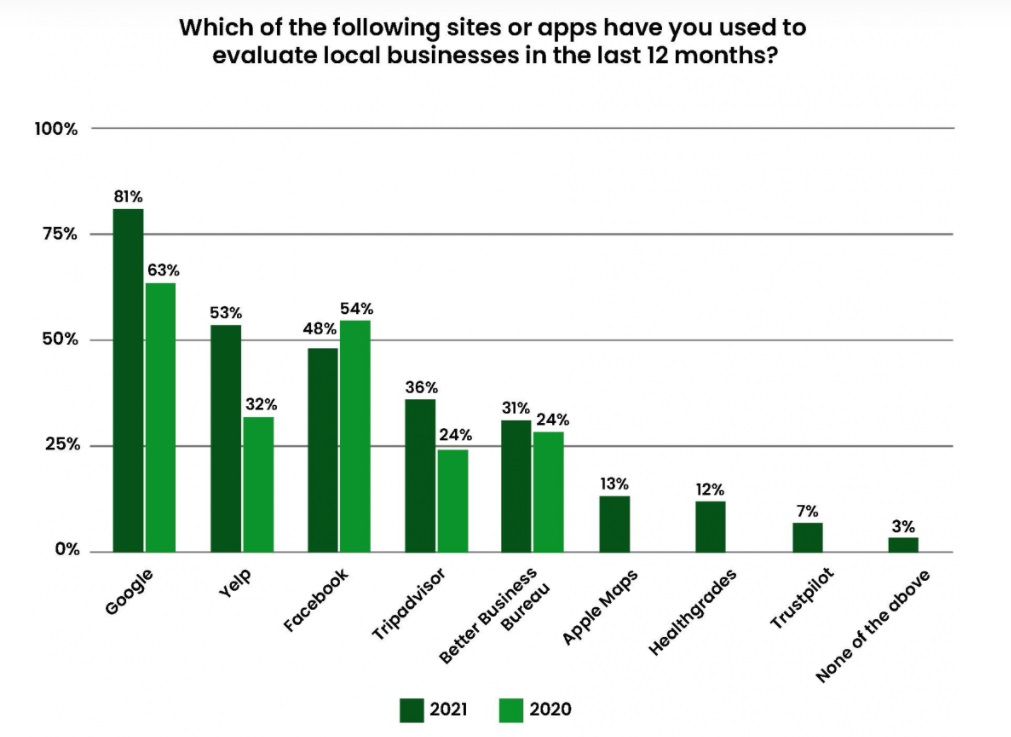 Source: brightlocal
Create Buyer Personas Unique to Each Region 
The customers at each of your locations are going to be different. They will have different needs and pain points. Create customized buyer personas for each of your regional locations. Use these questions to help you create each persona:
What problems do your customers face?

Are there local landmarks or events you can use to customize your local messaging?

Who are your local customers?

What are the local demographics?

What solutions can you offer your customers?
Keep Information Consistent
Yes, you need unique information for each location. However, that information should be consistent between all the locations. For example, consumers should be able to find contact information in the same place for each location. Each site should also follow a consistent format so the information between locations looks and feels the same.
Having overall brand guidelines is an excellent way to maintain consistency and present a cohesive message across all locations.
Customize Email Marketing Campaigns for Each Location
Email marketing can be an effective strategy to reach local customers. While you should share company-wide information in your emails, customizing messages to each location can improve your local appeal.
The newsletters could include local news specific to each customer's location along with local deals and coupons. This shows your customers that your overall brand cares about each location and knows what's going on.
Run PPC Ads for Each Location
With multiple locations, you have a wider customer base to draw from than other local businesses. Using PPC ads that are customized to each location can help you capitalize on your extensive customer base.
You can use the same ad format and design for each location, but there should be some feature that changes to match each location, for example, the name of the city where the store is. If someone clicks on the ad, it should take them to a landing page that lets them know they are in the right place. This could be as simple as including the city name at the top of the page.
This video offers some tips and suggestions on how to run PPC ads for a multi-location business.
Get Involved in Community Events
The best way to connect with a local community is to be a part of it. Give your location managers some freedom to participate in local events, such as charity drives, community festivals, or sponsoring local kids' sports teams.
When you are involved in the community, your business name will quickly become well known in the area, and your customers will keep coming back.

MXTR Can Automate Your Multi-Location Marketing
To attract customers to each of your locations, you need unique content for each location. This can feel overwhelming, especially if you have numerous locations. With the right online presence and marketing strategy for each location, your business will grow.
To achieve that marketing success, you need the right marketing partner. At MXTR, we specialize in marketing for multi-location businesses. That means we understand what it takes to get each location to stand on its own with the right messaging.
If your marketing strategy has been struggling, our automated, full-service packages can accelerate your growth.
Want to see how our marketing solutions can work for your business? Schedule a free demo today to get started.
Featured Image: istockphoto